Yaya Toure holds the key: Why the Manchester City man is likely to be the decisive figure in the title race
As the Premier League title race heats up, Manchester City visit Everton on Saturday Night Football. Adam Bate reckons this is just the sort of stage for Yaya Toure to make his presence felt...
Last Updated: 03/05/14 12:48pm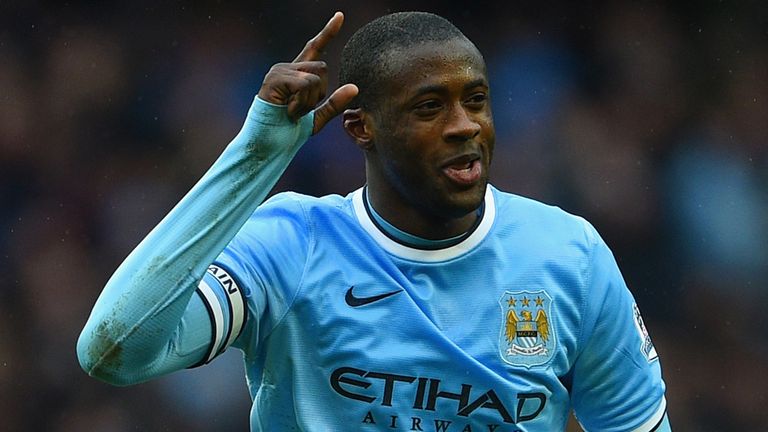 Yaya Toure emerged as a surprise free-kick expert this season. No player has scored as many in the Premier League. Whip, pace and accuracy. But why has this skill only come to the fore now?
"I was able to take free-kicks because in training I was good at them," Toure recently told Sky Sports. "But in the game it was difficult because Carlos Tevez was not talking too much and Mario Balotelli sometimes with his mindset is saying 'OK, I'm feeling that, let me shoot'."
It sums up the relaxed attitude that many perceive Toure to convey. The languid body language and that distinctive running style with the low knee-lift point to a player operating within himself. Free-kick expert? Naturally. And yet, Yaya didn't want to make a fuss.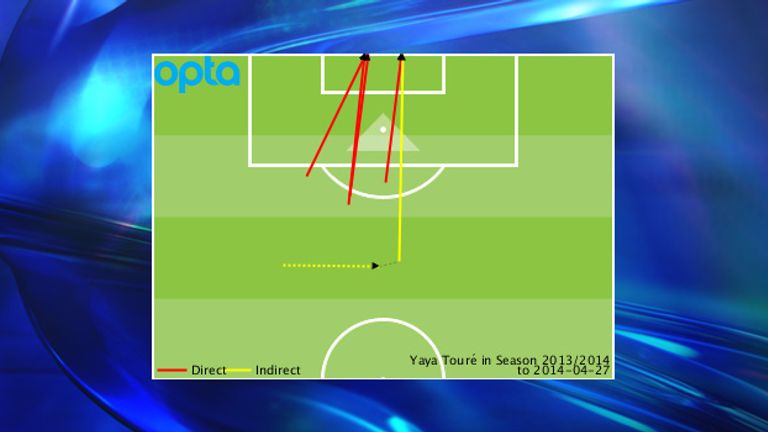 But it raises a question. Sometimes body language can be misleading. Do we misunderstand Yaya Toure? When Gareth Barry was a guest in the Sky Sports studio, Jamie Redknapp asked the former Manchester City midfielder whether his old team-mate was a bad trainer. There was a conspiratorial tone to the question, hoping for a bit of behind-the-scenes insight.
It wasn't that Barry clammed up. He was happy to throw out the name of Sergio Aguero as a colleague who came alive in front of the crowds. But there was a look of bemusement at the suggestion that Toure's standards might drop when away from the limelight. It should hardly be a surprise. All the evidence is that the Ivorian is an incredibly driven individual.
Not for him the cossetted world of a Premier League academy. Toure took a rather more circuitous route to fame and fortune. Beginning his European journey with Beveren in Belgium, the now 30-year-old midfielder has taken in adventures in Ukraine with Metalist Donetsk and Greece with Olympiakos. Moves to Monaco and Barcelona followed. And Toure has been learning all the way.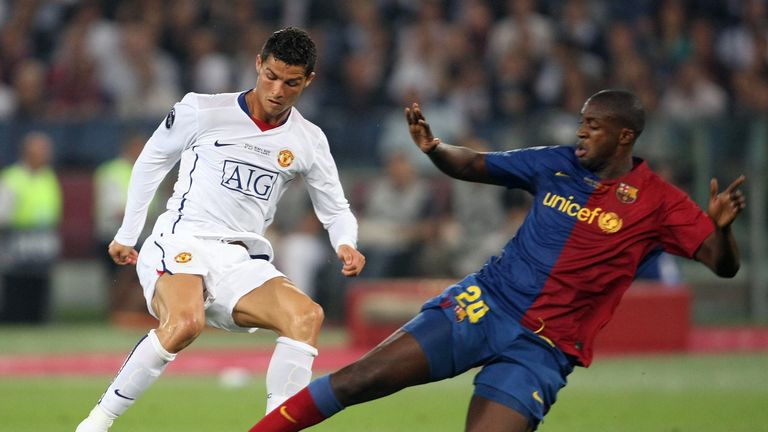 As a result, there is a maturity to his game now. It's a conviction that's been fortified by his experience of various positions and styles. Seen as a forward by Arsene Wenger when on trial at Arsenal, Toure spent a season as a second-striker. At Barcelona, he found himself in the back line. Tiki-taka? No problem. Defender or striker? Fine.
Since arriving at Manchester City, the Toure intervention has become a familiar sight when needed. We've seen it so many times. When Aguero understandably took the plaudits for that goal against Queens Park Rangers, it might have been forgotten that it was Toure's brace at Newcastle the previous week that did much to put City in pole position in the first place.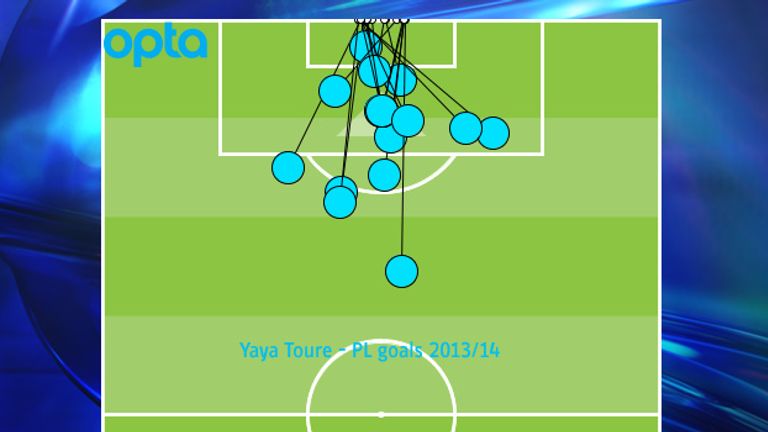 This season, there have been goals home and away against Manchester United. Indeed, Toure is having the best campaign of his career in front of goal. Having never scored more than six goals in a Premier League season, he's on 19 for 2013/14. That's more than his previous three years with City combined. There was even a first ever hat-trick in a 5-0 win over Fulham.
Of course, that goal tally is some way short of Luis Suarez – the man leading Liverpool's charge for the title.  But in his midfield role, Toure is a more influential figure in general play. As it stands, he is the only player to make 2000 successful passes in this season's Premier League. This is an imposing presence at the heart of the game with genuine end-product as well.            
Premier League Pass Masters
Player
Club
Successful passes
Goals
Yaya Toure
Man City
2002
19
Mikel Arteta
Arsenal
1833
2
Gareth Barry
Everton
1792
3
As a member of the Football Writers' Association, this journalist is asked to nominate the footballer of the year. Unfortunately, that vote must be cast before the final week of the season. Were Suarez to fire Liverpool to a first title in 24 years, the Uruguayan would be an irresistible choice. But the nagging feeling remains that it is Toure more likely to deliver the decisive blow.
It might not come against Aston Villa in midweek. The final fixture at home to West Ham has all the makings of the scene of a Sergio Aguero glory goal. But the critical contest comes this weekend against Everton at Goodison Park. That's a game that demands a Yaya Toure moment. Such is the nature of the man's character, we should know to expect nothing less.