Manuel's mission
Sky Sports News reporter Fraser Dainton looks ahead to Manchester City's trip to Goodison Park on Saturday.
By Fraser Dainton
Last Updated: 02/05/14 10:11pm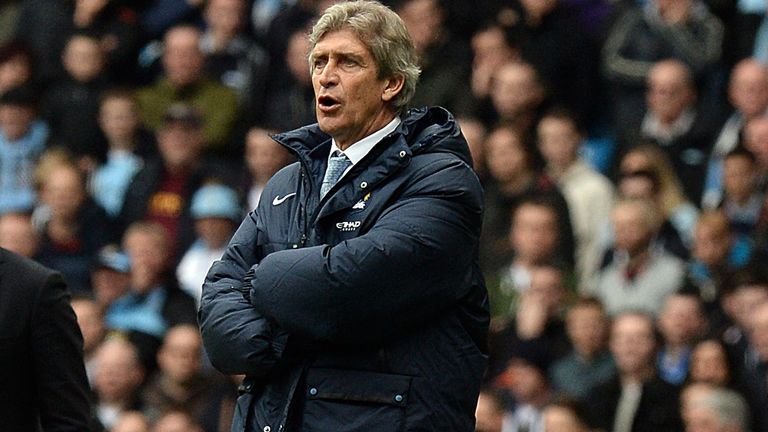 A wry smile flashes very quickly across Manuel Pellegrini's face when he is asked about how he feels, now that the title race has swung back in Manchester City's favour.
In a season that's seen more twists and turns than a corkscrew at a wine tasting, he has the calm and assured look of someone who's seen it all before.
He wisely pronounces: "When we lost against Liverpool, everyone was saying that the title was finished, the title was Liverpool's. Maybe it still can be, but all the games must be played in football before you can see what you can do."
When Jose Mourinho managed to do what Manuel couldn't - win at Anfield - there's no doubting the air of resignation that seemed to have settled over City was suddenly lifted, and the subsequent professional performance at Selhurst Park saw it replaced with the "favourites" tag.
"When you just depend on what you can do, it's better for all the players," added Pellegrini.
"After we lost against Liverpool, of course, maybe the mood was not the same. That's why we didn't play so well against Sunderland. At this moment the motivation is very high, and now it's important that the performance must also be high."
But the champagne isn't on ice just yet. City have to go to a ground where they've lost on the last four visits.
In fact City have beaten Everton at Goodison just once in the last 15 league matches, and Pellegrini refuses to get excited.
He said: "In football, the only truth is to think about the next game. Everything else is just speculation. Maybe the media know what the score will be in a lot of games, but for me it's impossible to know."
For his part, Roberto Martinez is in no mood to do anyone any favours.
An Everton win would hand the impetus back to their cross-city rivals, but the Toffees have priorities of their own - they're still chasing a Champions League place.
"I don't think there's any doubt about the integrity of our football club towards the league, and towards the competition," said Martinez.
"We want to win every single game that we go in to. They are precious points for us, so we can't really afford not to give everything we've got for every point left at this period. Helping other teams is not the way we do our work."
As always, the Everton boss is full of the joys of the excitement the Premier League can produce.
"It's fascinating to have three teams with mathematical possibilities to win the title, to have two teams fighting for fourth place, the margins are very, very small," he said.
"City have had a fantastic season and are going to go from strength to strength. After seeing their performance against Crystal Palace, the team looks ready to finish the season really strong."
Ask most Evertonians and they'll tell you, it's been a phenomenal season. They've won 13 games at home, losing only twice.
Victories over Chelsea, Arsenal and Manchester United will live long in the memory, and Martinez would love to finish their last home game in style with a win over another side chasing the title.
He said: "We've got sixty nine points and we want to beat that total. It's not easy to be able to go in to the last two games of the season and be able to add to that tally. We don't take that lightly.
"The fans want to come to Goodison, and enjoy and be proud of the performance of the team. If that adds some spice, or more twists and turns to the title race, so be it."
Watch Everton take on Manchester City live on Sky Sports 1 at 5.30pm on Saturday.