Niall Quinn
Football Expert & Columnist
Financial Fair Play punishments can give Man City unity to win in Europe, says Niall Quinn
Manchester City's FFP punishments can give team the 'resolve' to do well in Europe, says Niall Quinn.
Last Updated: 20/05/14 3:53pm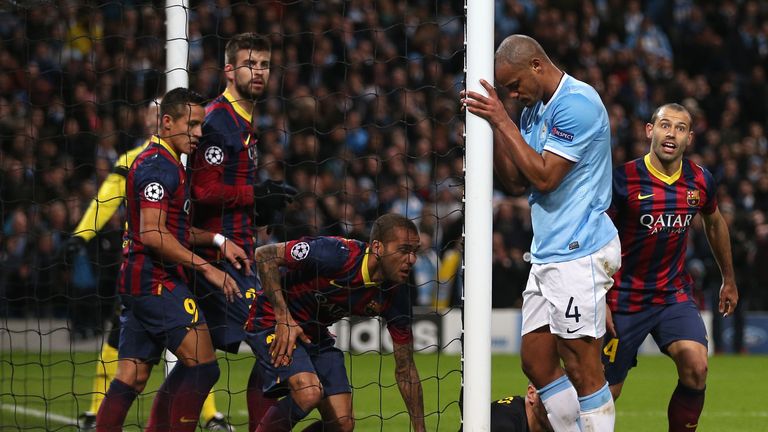 City were fined £49m by UEFA, £32m of which is suspended, and can only name 21 players in their 2014-15 Champions League squad, while that squad's wages must not exceed last year's total. The club has also been restricted to spending £49m, plus any transfer fees received in this summer's transfer window.
The Manchester club, who reached the last 16 of Europe's elite competition for the first time this season, are desperate to add the Champions League to their trophy collection after winning Premier League, FA Cup and League Cup titles over the last three years.
Sky Sports expert Niall Quinn says the sanctions forced on his former club may create a better sense of togetherness and help in their quest for European glory.
He told Sky Sports News: "The Champions League is the next great frontier for them to conquer...and you could tell at times, with tough league games either side, that the squad does get pulled apart and stretched, and you do play players out of position.
"Martín Demichelis came in to the squad for the massive game against Bayern, he hadn't been in and that showed.
"Little things like that catch you out, whereas the team who have no issues and have 25 top players to come in will have an advantage, there's no doubt about that.
"Maybe it will bring the resolve in to the dressing room a little bit more; a little bit of coming together and trying to show UEFA up over this and bringing a squad unity is probably the best they can do with it."
No complaints
Abu Dhabi royal, Sheikh Mansour bin Zayed, bought the club in 2008 and has financed their losses, posted at a combined total of almost £149m over the past two seasons. But despite this huge investment Quinn claims the Sky Blues are still very much a family club.
He said: "I'm not one of these people who will complain about Manchester City doing what they did, in the manner they did, to get to the top because the manner in which they did it boded well for everything connected with the club.
"Its hard on them. They accepted it, fair play to them. They do everything right at that club and it's a pleasure to go there and see all the ex-players going to all the boxes, going to all the fans forums and doing what they can.
"There's a real family attitude at the club and they haven't become a financial institution that doesn't care, anything but that, and we mustn't forget they've won a big trophy."