Peter Beagrie
Football League Expert & Columnist
Football League: Peter Beagrie on which strikers Burnley should buy
Who should Burnley buy to replace the departed Charlie Austin? Peter Beagrie suggests some options...
Last Updated: 07/08/13 5:26pm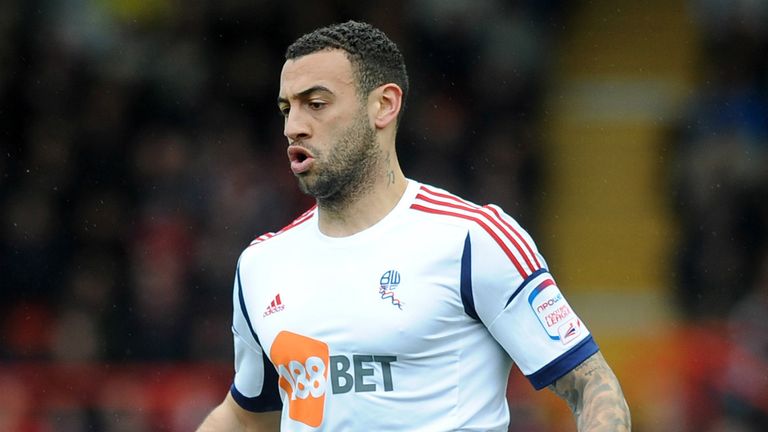 The former winger, who played over 770 games, representing clubs in all four tiers of the English footballing pyramid, including Manchester City, Everton, Bradford, Sheffield United, Scunthorpe, and Grimsby, forms part of the Sky Sports punditry team for all the big matches in the Championship, League One and League Two.
So if you have a poser for Peter, whether it's about your team, a player, match or incident that has caught your eye, or a wider point on the Football League, make sure you send it in.
Read below for this week's column where Beags gives his take on which strikers Burnley should purchase, Oldham, Derby's Will Hughes and more...
WHERE NEXT FOR CLARETS?
With Charlie Austin having gone to QPR, Burnley now look a little light up front. Who do you think would be a good replacement? Alex Shaw
BEAGS SAYS: With £4.5million in the bank, there are various strikers of note that Burnley boss Sean Dyche could go for - albeit at different stages of their career. If he was looking towards young and hungry, I would put forward the names of Crewe youngsters Mathias Pogba and Max Clayton and former Crewe man and current Man United player, Nick Powell, although the latter, of course, would only be a loan deal. If Sean wanted proven, then he could go for Craig Davies - who may be surplus to requirements at Bolton but is a guaranteed goal scorer who was brilliant at Chesterfield and Barnsley and champing at the bit to establish himself in the Championship - Southampton's Billy Sharp or one of Nottingham Forest's strikers, including Darius Henderson and Dexter Blackstock.
Cardiff, meanwhile, seem to be overloaded with strikers following the arrival of Andreas Cornelius, so Nicky Maynard, who is desperate for first-team football, could be the one; Burnley might be able to get him for around £2.5million and then bank the other two from Austin's sale. However, looking outside the box, I would be tempted to offer £2.5m for the Bradford pairing of Nahki Wells and James Hanson. They play together, know each other, and form a great big man-little man combination that upset many Premier League teams in the Capital One Cup last year. I've given you all kind of options there, Alex, so take your pick and let me know which one you think is best.
DERBY TO DELIVER?
Where do you think Derby will finish this season? Also, where do you see Will Hughes in five years' time? Sam Morris
BEAGS SAYS: There will be more expectation at Derby this season as Nigel Clough, the Championship's longest-serving manager, achieved his highest finish with County last term (10th) and has not only managed to keep the nucleus of his squad this summer but also added to it. Lee Grant, an experienced campaigner, has returned to the club to fill the goalkeeping slot, while Derby fans will be hoping new signing Johnny Russell (pictured) can add goals, something the club have been lacking. Russell scored 20 goals in all competitions for Dundee United last year and after exciting supporters in pre-season, scored a debut penalty against Blackburn in Sunday's Sky Live game. He looks to be the perfect foil for Chris Martin, who has ousted Conor Sammon from the line-up, and with Derby having what you would consider their strongest midfield in a while, anything between 12th and sixth is achievable.
As for Will Hughes, who had a great debut season last time out, playing the majority of games, he seems to have developed physically - but most definitely did not need to develop mentally. He is on a level with players in the Premier League psychologically and his vision, awareness and football bravery - wanting to get on the ball even when his team are behind and the fans are a bit restless - are fantastic, and he will definitely play in the Premier League and international football. How true the rumours linking him with Barcelona were, I don't know, but he is a young talent I am expecting to flourish this year. He started off brilliantly against Blackburn, playing just off the striker and dropping into midfield when needed, and he could be the ace in Derby's pack this season.
ATHLETIC PROWESS?
How do you think Oldham Athletic will do in League One this season? Ross Heighway
BEAGS SAYS: I think Oldham will do very well this season and will definitely better their 19th-placed finish of last year. With the loss of giant striker Matt Smith to Leeds, Lee Johnson has proved that his scouting network is every bit as good as his father's and a fantastic 4-3 win over Stevenage on the opening day of the League One campaign, showed the spirit, resolve and footballing prowess of Oldham's newly-assembled charges, with Cristian Montano's fantastic individual goal and a two-strike salvo from last year's star Joe Baxter standing out. Everything looks rosy in the Boundary Park garden.
BEAGS' BIG WISH
Which club do you wish you had played for that you never did? Paul Hargreaves
BEAGS SAYS: It would be very easy to say any number of top teams but as I played in many cities with two-team rivalries I will remain loyal to the sides I represented. I never played in London and possibly regret not singing for Chelsea or Tottenham when I had the opportunity, as playing in the capital certainly gives players' international chances a boost. Spurs also played in free, express-yourself style that suited mine and one of my old England Under-21 team-mates waxed lyrically about the facilities and training methods. However, when I think of the rapport I had with the fans of the clubs I played at, I would have loved to have played for Newcastle, which would have completed a full North East set for me after starting at Middlesbrough and playing at Roker Park for Sunderland, and Kevin Keegan (pictured), my idol growing up, would have been my ideal manager. Eleven clubs, including Everton twice, 778 appearances, and 104 goals - I was blessed to play the best game in the world until I was 40 years young and now love analysing it for the media. Thanks for your question, Paul.
WHITES ON CUE?
With the likes of Luke Murphy and Noel Hunt joining Leeds over the summer, what chance do you give us of a top six finish? Sam Jonesy
BEAGS SAYS: Even after the fantastic home victory over much-fancied Brighton and taking into consideration the fan factor and incredible home support, the chances of a top-six finish may just be out of Leeds' capabilities. The top 10 should be comfortable but to break into the play-off places I think a couple of wide players, in the vein of Max Gradel and Robert Snodgrass, and a quick centre-half need to be signed. I have gone on record saying it's a waste of time having one of the best managers in the Championship without giving him the pound notes and even though I am not sure GFH Capital have the real finances, it will be disappointing for the fans and Brian McDermott if the promise of money does not materialise.
GOLDEN GARY
Do you think Gary Rowett will end up managing at a higher level? Thanks, Tim Grouse
BEAGS SAYS: If Gary maintains his level of desire and keeps progressing Burton, there are bound to be admiring glances from bigger clubs. Acknowledged by many as a great student of the game, Rowett has worked very well over the summer to ensure the loss of Calvin Zola (Aberdeen) and Jacques Maghoma (Sheffield Wednesday) does not stop them from beating last term's fourth-placed finish; Rene Howe and Billy Kee can be relied upon for goals and experience, while the acquisitions of Ian Sharps and particularly Rory Delap prove Gary can build a squad. Home form will be key to a successful campaign but the opening-day 2-2 draw at much-fancied Cheltenham, in which Albion fell 2-0 down, would have felt like a victory and they are one of the standout sides in League Two.