Adomah eyes Brazil
Our latest Football League spotlight sees Graeme Bailey catching up with Middlesbrough's star winger Albert Adomah.
Last Updated: 02/05/14 8:24pm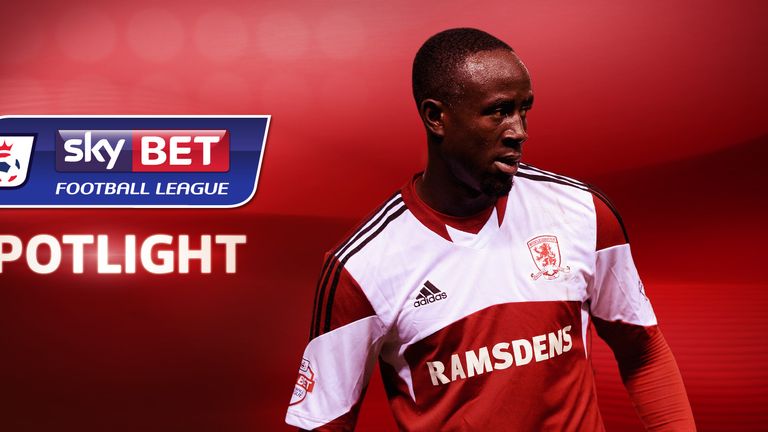 The 2013/14 campaign is almost finished and we are bringing you the final few of our exclusive Football League spotlights.
Here at Sky Sports we have been at the very heart of the Football League over the last nine months, with our Spotlight features intended to give you a greater insight into the clubs and players that keep us on the edge of our seats.
We have now covered nearly every club in the 72 as we chalk of the last few remaining teams.
Next up is Middlesbrough as Graeme Bailey chats with their star winger and Ghana international Albert Adomah.
It has not been the best of seasons for Middlesbrough as a club, but you have enjoyed probably the best of your career to date, is that how you see it?
You are right, for Middlesbrough it has not been the best of seasons, but for me as an individual I think I have done OK. I have scored goals playing on the wing and that is what I like to do - I like to attack and create, and I think I have shown that.
A new manager came into the club part way through the season, that must have been a bit of a disruption, but you seemed to take that in your stride?
"Yes, that was a bit strange but that is football and that can always happen. I have been letting my football do the talking, playing well for my club and then people back home have seen that and it has helped me get to the World Cup."
You are enjoying the best season of your career and have hit double figures, and this has seen you linked with the Premier League, clearly you would love to play there one day?
"My mission is to play at a higher level, one day - that is right. I have played in the Championship for a fourth season and think I have shown that I am good enough, but I am with the national team. I believe if I keep playing like I am then playing at the highest level will come, but I would love to be in the Premier League - that is one of my goals."
And you have no doubts that you can feature at the top level?
"Now I am playing for my national team, I think that is proving that I am able to play in a top league as most players from the Ghana national team are playing in the top leagues like in Spain and Italy."
We talk about the Premier League as a possible destination, but is playing abroad something you would consider or even desire?
"At this moment it is not something I would think about, but if a team abroad was an option you would look at it - in football you never know. I would have to consider things and speak with my family - it is not just about me."
You have moved to Middlesbrough from the south, and the north east is traditionally a place that is sometimes a struggle for some players - but you have not suffered from that?
"I have settled down really well, having my family close is good. I think if I was by myself it would be a different subject but that is the reason I am 'surviving' up north. But it is cold, I even bought myself a onesie! And it is always cold in training."
Away from Boro, you have a real summer to look forward to with Ghana as your are heading to the World Cup - you must have to pinch yourself sometimes to see how far you have come in the last few years?
"I didn't even dream of this, I did not even think that one day I would be playing professionally, let alone nationally - it is a dream come true. It is a big achievement going to a World Cup, and after the last World Cup watching them on TV, now hopefully I will get the chance to play. Playing for Ghana means so much to me as it is where my mum and dad are from and it is a great feeling being with the national team."