Saturday Summary
After wins for Man City, Everton and Liverpool the Soccer Saturday panel have their say.
Last Updated: 30/09/12 10:23am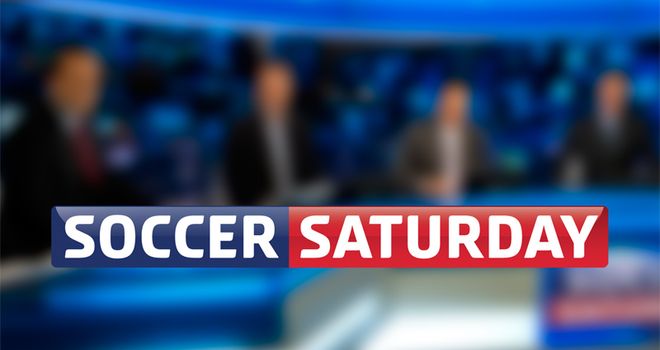 Paul Merson on Everton's 3-1 win at home to Southampton
"Even though it was 3-1 Southampton gave it a right go. I couldn't take it away from Southampton, especially if they play like this every week. In the second half they were a lot tighter.
"Southampton started very well and went 1-0 up after six minutes. There was a mistake by Howard: he came out for a corner and he was nowhere near it and Ramirez scored with an easy header at the far post.
"But then Everton started playing. They played some lovely football down the left hand side with Baines and Fellaini and Pienaar. Rodriguez missed a great chance to make it 2-0 for Southampton and then all of a sudden this goal came down the right. Mirallas with a great ball in, Jelavic went for it and it just rolled for Osman and he put it in the top corner.
"Then after that they were rampant. Jelavic scored a good goal before adding a third with a header. When it went to 3-1 you thought it was going to be sixes and sevens but fair play to Southampton they came out in the second half and were a lot tighter. First half it was gung-ho.
"I know Southampton lost but I think the manager will be quite pleased with how they played in the second half. I thought they coped OK with Fellaini, restricted him to long shots. But then Everton came from other places - Baines was bombing forward, Pienaar was sitting in the hole and I was impressed with Mirallas.
"Everton might think they can finish in the top four. If they get their full team out they can give anyone a match, they are playing that well."
Tony Cottee on Manchester City's 2-1 win at Fulham
"Without a doubt City were the better side and deserve credit because they went a goal down. I'm sure Roberto Mancini will be moaning about the penalty decision but personally I thought it was a foul. Great skill from Riise, he put the ball through Zabaleta's legs. Zabaleta then put his arm up and brought Riise down. It's just a question whether it was in the box or not. The penalty was given and it was a good finish from Petric.
"Having gone a goal down I thought Man City recovered really well, they dominated possession throughout the rest of the game and got back on level terms just before half-time. I thought Tevez had a really good game in the first half and he passed it to Silva, Silva shot and it was parried to Aguero who followed up to make it level just before the break.
"In the second half Man City dominated again but they didn't make too many clear cut chances. Mancini made the change, bringing Dzeko on, and he cracked it into the top corner to give them what could be three precious away points. I wouldn't say it was a champions' performance but we always say if you haven't played well at least get the three points.
"Berbatov was missing today for Fulham. He's the focal point, the magician who's going to score the goals and create things and make things happen. My question mark for Fulham is that with Baird and Sidwell in the centre of midfield there wasn't much creation. Things tended to break down for them. They missed their talisman and without him they're a completely different side."
Charlie Nicholas on Liverpool's 5-2 win at Norwich
"Sometimes the manager can deflect pressure a little by introducing youngsters. Liverpool had three teenagers in their side today. I was impressed by Wisdom. He's a real threat in the air, he's got a presence when he goes in there and attacks it. For a young lad he looks very mature. Stelling was good again and little Suso played on the left side. He looks like a lovely little link-up player, all one and two-touch passes - a typical Brendan Rodgers-style player.
"Suarez got off to an absolute flyer. It wasn't the best defending but he took advantage with only two minutes on the clock. It wasn't the sweetest of strikes but it found its way into the corner.
"The second was suicide. Ruddy passed it out to Garrido, who plays it to Turner. He doesn't know Suarez is behind him, he nicks it off him and bends it into the corner. He missed a peach before that - he could have had a hat-trick by then.
"Liverpool started the second half well, Sahin got a tap-in after good Suarez work before Suarez got his third.
"Holt came on to help Norwich but Norwich were abysmal defensively today. Not nearly good enough. Chris Houghton will be very upset by that defending.
"Suarez also had an absolute stonewall penalty turned down at 1-0. A defender stamped on the back of his leg. People are asking whether his reputation is going ahead of him. Well, you don't get any clearer than this and they all got it wrong."
Matt Le Tissier on Sunderland's 1-0 win over 10-man Wigan
"Jordi Gomez tackled Danny Rose from the side and, for me, he didn't have any intention of hitting Rose. He's got his eyes on the ball but as he slid in he caught Rose. For me it's a foul, possibly a yellow card but he's sent him off.
"Red cards are being handed out far too easily for me at the moment and I think something needs to be done. What really annoys me is the inconsistency. Jonny Evans had two feet off the ground with his studs showing last week. This tackle was a one-footed tackle, yes his studs were showing, but I didn't feel there was any intent - and that has to be taken into consideration when you're thinking of getting a red card out.
"In the first half Wigan had been the better side and could quite easily have been 2-0 up at the break. McArthur and Kone were both denied by brilliant saves by Mignolet.
"The game turned on the sending off without any shadow of a doubt. Midway through the first half I could only see one winner and that was Wigan. But the red card changed it all and Sunderland took advantage of it four minutes later with Steven Fletcher.
"James McClean's shot was going so far wide it would have gone for a throw-in but fortunately for him it was straight into the path of Fletcher who stabbed it in. From that moment on Wigan didn't really threaten again. They threw on Di Santo but they never really tested Mignolet after that."
Matt Le Tissier on Theo Walcott's ambitions to be a striker
"I think he's probably played on the wing long enough now and I think, with the attributes and qualities he's got he's better suited to playing as a centre forward.
"He doesn't seem comfortable playing on the wing and I don't think the way Arsenal play suits Walcott playing as an out and out winger. He's got enough attributes there to at least deserve a chance up front to see what he can do.
"I'm not sure Arsenal's style suits Theo Walcott. I think he'd be used much better in a team that doesn't have the majority of the possession."
Paul Merson on Liverpool's refereeing complaints
"They've got a point because I think they've been bang unlucky. I thought the Luis Suarez incident was a penalty and it wasn't given because it was Suarez. It is hard to call but if he'd given a penalty no one would have moaned. It could easily have been given as a penalty and easily not given.
"Bar the West Brom and Arsenal game they could have won all their games. They could have beaten Man City and I thought they were a better team on the day than Man United.
"The most important thing is the players have the bottle to stick with doing what they're doing. When you keep on losing football matches people start thinking 'I don't really want the ball'. If they win one game I see them going and winning six or seven. I thought they were very good last week."
Tony Cottee on Tottenham and Andre Villas Boas
"He's going to be tinkering in his early days at Spurs as he tries to get his own systems and his own tactics in place at Spurs. It's going to take time.
"In my opinion don't change what's not broken. Last year they were playing 4-4-2, they've had four fantastic seasons under Harry Redknapp and they would have qualified for the Champions League if Chelsea hadn't won it. Why change it too much?
"I understand he wants to bring in his own players but he's got to get the best out of the key players who are already there. Gareth Bale is a key player and you want him in midfield, not in defence. I'm not sure he knows what his best system is - but I think that will come in time."