A touch of class
Jamie Redknapp and Glenn Hoddle heaped praise on David Silva after City's win against Tottenham.
Last Updated: 11/11/12 7:29pm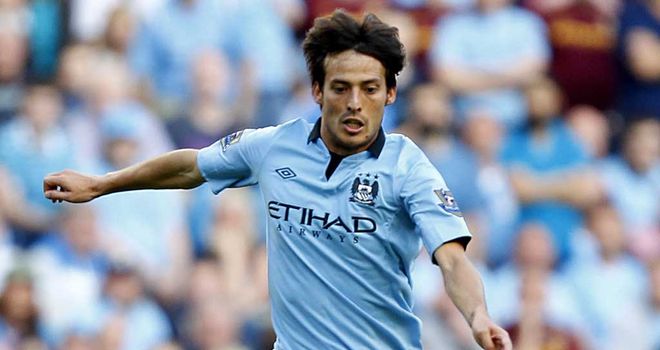 Jamie Redknapp and Glenn Hoddle heaped praise on David Silva after Manchester City's win against Tottenham.
The win gave City fans something to cheer about after drawing their Champions League mid-week game with Ajax. Tottenham took the lead through Steven Caulker's header, but a change of system from Roberto Mancini helped City back on track as Sergio Aguero took City level before super-sub Edin Dzeko hooked in a sublime pass from Silva just two minutes from time.
"In this day and age we talk so much about system but when you have got a bit of genius on the field that is what wins you games," said Redknapp.
"The two bits of genius came from firstly Aguero and then that pass from Silva, who is a magician and who gives Manchester City a completely different dimension. When Silva plays well then City play well.
"Also that is nine points that Dzeko has earned City coming on as a substitute, it just shows you what a difference he makes and you need players like that in your team."
A bit more needed
Glenn Hoddle also had praise for Silva but says he wanted more from both City and Tottenham.
"I said that Silva may not be at his best because he has been injured but he is the difference and his pass proved it," he said.
"The backspin he put on that pass and the distance he had to squeeze it in - above Tottenham's defenders and to drop it in so it does not just shoot off is just exquisite. It is a wonderful finish from Dzeko.
"If you were in the Tottenham changing room being 1-0 up, you would have said, 'hang on there is more to come from us - we are not playing well enough here. City went to sleep on a set play and we have scored a good goal but there is more to come'.
"I wanted to see Tottenham play better - the first half was a strange game with neither team playing anywhere near the way they can play.
"You have got to say that City deserved the win, they showed character and ability and they forced it. Yes they changed the system and went into a back three and it worked for Mancini - last time he got slagged off because it did not work. This time it did improve their performance and that is what you want from a coach."