Lee Clark picks his #One2Eleven for Fantasy Football Club
Michael Owen, Alan Shearer or Andrew Cole - who did Lee Clark leave out of his first-choice XI of all time?
Last Updated: 26/08/13 4:07pm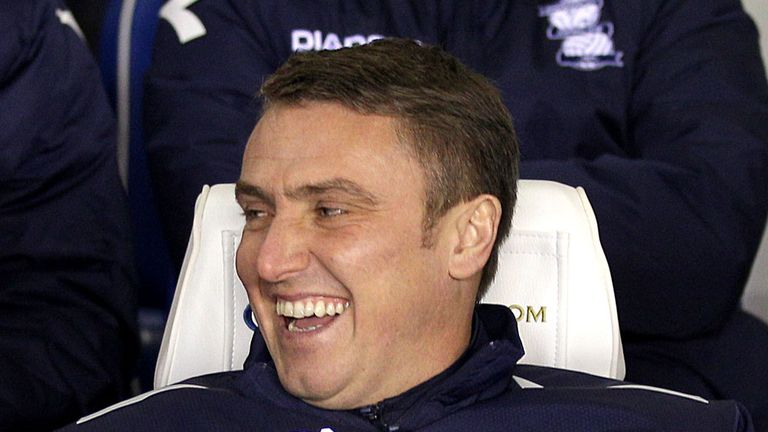 The former Sunderland, Newcastle and Fulham midfielder was especially fortunate to play alongside a host of great goalscorers, including Alan Shearer, Andrew Cole, Michael Owen, Faustino Asprilla and Les Ferdinand.
So which of those world-class strikers made it into his best XI?
This is Lee's #One2Eleven...
GOALKEEPER - Edwin van der Sar: This is a really tough decision for me because I consider two of them as really world class goalkeepers: Edwin van der Sar from my time at Fulham and Shay Given from my time in Newcastle. I will plumb for Edwin with his haul of medals swaying it. He was not only a great goalkeeper with his hands but he was technically very good with his feet. The modern goalkeeper has to have that in abundance. Apologies to Shay but the No1 slot goes to Edwin.
CENTRE-HALF - Stephen Carr: He was not the biggest of lads but he was very good in the air and very mobile and very quick. He would be on the right side.
CENTRE-HALF - Philippe Albert: In the play-making, sweeping type of role would be Philippe Albert. For a central defence who was a 6ft 3in/6ft 4in powerhouse, he had the touch of an angel. He was like a No10 really playing at centre-back. He could split open a defence with a pass or hit a 30-yard shot into the top corner. He was just brilliant. He was just brilliant. He came into Newcastle and his personality was brilliant and we absolutely loved him.
CENTRE-HALF - Chris Coleman: I didn't play with him for long because his career was, unfortunately for him, cut short by a serious car accident. He was very accomplished but very physical and a mobile centre back.
RIGHT WING-BACK - Steve Finnan: On the right-hand side would be my right-wing back Steve Finnan, who went on to have a terrific career after his time with me at Fulham. He did well there and went on to Liverpool and won the Champions League. He was a great defender but also someone with great fitness levels who could get up and down the line. So, I would have thought the wing-back role would suit him down to the ground. I really enjoyed playing with Steve. He is a great lad and a top, top player.
LEFT WING-BACK - David Ginola: On the left for his attacking prowess more than his defending prowess would be David Ginola. We would obviously have to play a very attacking formation and I'd expect David to cause numerous problems on the left-hand side. Myself and Steve Watson, the young players in the squad at the time, got him acquainted to the North Eastern hospitality, which is frequenting a couple of public houses in the city, and David thought a couple of hours of doing that was more than enough. But we convinced him to carry on having a couple more beers.
MIDFIELD - Jamie Redknapp: I was lucky enough in the England Under-21s to spend a lot of time with Jamie Redknapp. He was a great passer of a football; a greater striker of a ball and his technique was brilliant. He could get around the pitch so he would be the one who was told to hold in that position.
MIDFIELD - Rob Lee: He was very dynamic. He actually came into Newcastle as a right winger. He did really well there but 18 months into his time there Kevin Keegan moved him into a central midfield area and he ended up winning most of his England caps in that position.
MIDFIELD - Peter Beardsley: I consider him to be the best player that I have ever played with. He was just a phenomenon. We went to Tottenham and won 2-1 with him producing two bits of magic, two wonder goals going past four or five people as if they were not there and putting the ball in the top corner. He made goals for people with slide-rule passes. He was just an unbelievable player.
STRIKER - Alan Shearer: One thing I was lucky with in my career was the type of striker I have played with. Mickey Quinn, David Kelly, Faustino Asprilla, Les Ferdinand, Andrew Cole, Alan Shearer, Niall Quinn, Kevin Phillips, Louis Saha and Michael Owen. No an easy choice. But I have gone for, I think I am right in saying, the two record goalscorers in the Premier League. Alan Shearer was the best striker of his day. He was up there with the world-class players of his era. He had a phenomenal goal-scoring record.
STRIKER - Andrew Cole: From my time at Newcastle I have got to include Andrew Cole. I think he was averaging something like a goal and a half every game he played so it was a phenomenal record.
We were next-door neighbours who used to share lifts. One morning it was his turn and I was hanging around waiting for him. I didn't understand because he was never late so I banged on his front door but there was no answer. I thought it was strange. I arrived at training and got a phone call from him, and he said, 'sorry mate, I was sworn to secrecy and could not tell anybody - I am in Manchester and I am signing for Man United'. I said, 'stop winding me up, you're going to get in done for being late for training'. It was a big shock.