Premier League: Chris Kamara praises Andros Townsend and Arsenal in his weekly round-up
Andros Townsend is the new Bale, Wilshere's goal is one of the best, a bad decision at Stamford Bridge and more...
Last Updated: 21/10/13 5:31pm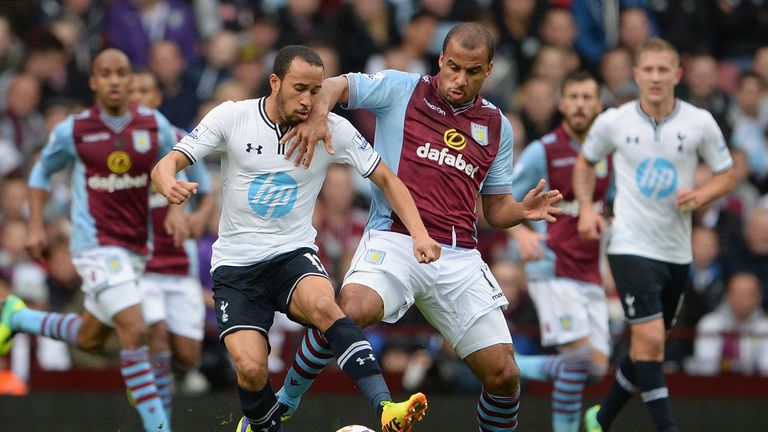 Andros Townsend is on fire
I have the pleasure of knowing Andros because in his QPR days he stayed in the same hotel we stay at when I'm working for Sky Sports, so I got to know him pretty well and used to have breakfast with him quite often. Since he's been a part of the England set-up it's been a privilege to be in contact with him.
On Sunday every time Spurs got the ball I didn't want them to go down the left I wanted them to go down the right because he was absolutely on fire. You weren't sure whether he was going to go down the line or whether he was going to come inside and have a shot, or whether he was going to try and set somebody up. It was a pleasure to watch, it really was.
As much as you used to look forward to Bale when he was in that position for Spurs, Townsend is exactly the same now - he's that important to the team at the moment.
I don't think it has been taken in to consideration the amount of pressure he would have been under having performed against Montenegro on that Friday night to have produced the goods again against Poland. He was a 100 times more well-known than he was before and he still had to go to Villa Park knowing all eyes were on him.
People were expecting a downbeat performance, perhaps something low-key because of what he'd produced for England - but that couldn't have been further from the truth.
He loved every minute of it, he looked sharp, he looked fit and when AVB was making substitutions, thankfully he was never ever going to be the person that was taken off. I think AVB was like the rest of us and was thinking give him the ball, let's enjoy watching him.
Arsenal's special goal
I said on Goals on Sunday that Jack Wilshere's goal is probably one of the best team goals I've seen. When you watch Barcelona with Lionel Messi you see some great goals from them, but this was up there with the best of them with that double one-two and finish between Olivier Giroud and Wilshere. It was a bit special and you couldn't fail to enjoy it.
Everything is going right for Arsenal. I thought long and hard when I watched that first game of the season against Aston Villa and I thought Arsene Wenger would come back and defy the critics.
I know there were a few people who were putting question marks against him at that period of time. Now thankfully, in such a short period of time, that's been erased and Arsenal are looking forward and thinking everything is going right, there's money available, they've got great players to come back from injury - the likes of Lukas Podolski and Theo Walcott - and they've started to think 'this could be the year'.
Southampton look strong
United had chances but Southampton are no pushovers these days. I think before kick-off this game wasn't a shoe-in for Man United; Southampton don't concede many goals and they're formidable away from home.
They also had the luxury of dropping Rickie Lambert to the bench and bringing him on as a sub; their squad is getting stronger and bigger and better all the time and Mauricio Pochettino is doing a really good job.
It's just one of those periods for David Moyes at the moment and things are not going his way. His decisions are going against him. On any other given day, or two or three months down the line when he's bedded and the players are used to him, it will all change.
A terrible decision at Stamford Bridge
I remember the first couple of years I was working on Goals on Sunday and there were one or two of the laws of the game I wasn't 100 per cent certain of and if referees were watching our programme as soon as I said anything out of turn they were quick enough to clamp down and say to me 'you don't know what you're talking about.' Since that time I've had to make sure I'm 100 per cent certain I know the laws of the game. Now I know that, but I also know that players are not 100 per cent sure of the rules of the game.
On Saturday, from what I could see, the referee wasn't in the worst position. He was quite far away from the incident because he was waiting for the goalkeeper to kick the ball. In the first place the reason he took himself further up the pitch was because he knew the keeper was going to launch it and in the second place the assistant on the far side is looking across. Now his excuse after the game was that he thought the goalkeeper had dropped the ball as if he was going to roll it out and kick it but it didn't stack up.
When a goalkeeper is going to roll the ball out he looks behind him, every single keeper in the Premier League would do that because it's a natural reaction. They look behind, left and right and then they throw it on the floor, then they touch and launch it up field.
When they've got the ball in the hands there is no need to look behind because that part of the moment is an acceptable part of a keeper's remit so I didn't buy the excuses at all. It was just an absolutely rank bad decision and who knows what would have happened in the game.
Big decisions like that that are so straightforward, it should be something where Mike Riley gets those officials together and says, 'look this isn't something that is acceptable, this isn't something we should be allowing.'
Don't get me wrong, we all make mistakes but this is a situation where they need to say 'we can't let this happen again and you need to go back and look at the laws of the game, make sure you know what's going on and then can move on from this and hopefully it doesn't happen again'.
Sunderland sunk by first goal
I was at this game and for the first 45 minutes Sunderland were never ever going to concede. I was talking to Swansea fans at half-time and they said it was the worst they'd seen their team play at home under Michael Laudrup. They created no chances and were snuffed out by the opposition; a couple of half chances here and there for Sunderland could have put them in front.
The difference in the game was the first goal. It came from a set-play, which I presume Gus hasn't had a lot of time to organise, now he knows a few more of their weaknesses at set-plays and he'll probably do things a bit differently.
But as soon as they conceded that goal from the set play you might as well have blown the whistle because the game was over. The confidence had gone, the desire they'd got from being resolute for 55 minutes just ebbed away completely and the longer the game went on the more goals Swansea were going to score.
The whole game had a feeling of inevitability about it and that's what happens when you're struggling and that's what Gus needs to erase almost immediately. It's not easy, I've been there myself when I took over a struggling Stoke City team and couldn't reverse the slide.
It won't be easy but he's got a bit more time, we're only in October and there's long way to go; he has time and decent players, it's just a matter of getting those players back to playing with confidence again.
City looking slick
That first goal was brilliant; the ball from Negredo to Aguero was from another planet. West Ham set up to defend and make life difficult for them and City basically just brushed them aside and they looked every bit top draw. Player for player there isn't any better team, but being able to produce the goods away from home and roll their sleeves up and have a go hasn't been easy for them. Getting that first away win now will make the difference.
Fully deserved 100 for Stevie
Steven Gerrard deserves that 100th Premier League goal because he's been such a level-headed player and so loyal to Liverpool. There was a brief opportunity for him to leave the club and go to Chelsea and his advisers even spoke to them, but Liverpool is his football club and he stayed there.
He's won the Champions League, FA Cups, League Cup and the only thing that has eluuded him is the Premier League title, but he still has aspirations of that happening before he finishes with his football club. For any midfielder to score 100 goals in the Premier League is brilliant, you couldn't wish it on a nicer person.