Gary Neville discusses the controversial penalty and red card as Newcastle beat Wigan 3-0
Gary Neville has praise for Newcastle's starlets but isn't sure whether it was a penalty.
Last Updated: 04/12/12 11:42am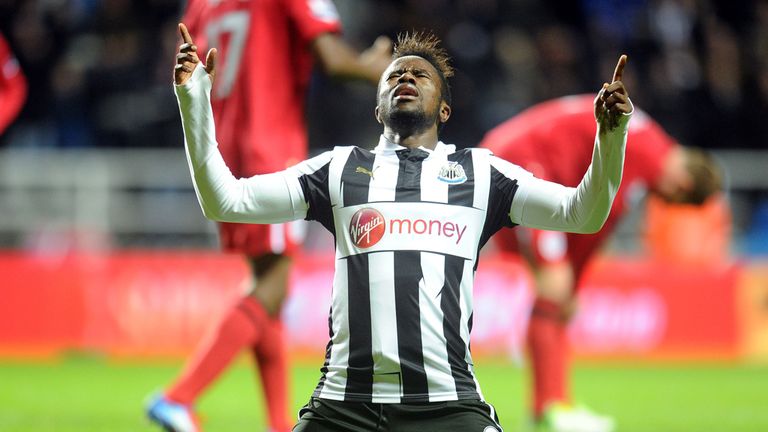 Wigan's Maynor Figueroa was sent off in the 12th minute after he brought down Papiss Cisse in the box.
Demba Ba smashed home the penalty and made it 2-0 eight minutes later when he latched on to an Ali Al-Habsi spill.
Wigan tried to fight their way back into the game but Gael Bigirimana wrapped up the win with his first professional goal in the 71st minute. And despite the penalty being the main talking point, Neville was impressed with what he saw from Newcastle.
"I said it before the game that it didn't matter how it came but Newcastle needed to win," said Neville on Sky Sports.
"The sending-off was a big turning point in the game but I thought that there was a real intent for the first 10-15 minutes from Newcastle. I thought Cisse and Ba were giving Wigan some problems even before the penalty.
"It is difficult to say that they would have won the game anyway had it not been for the sending-off but I genuinely feel that they looked like the stronger team in that first period of the game."
Another big positive for Newcastle boss Alan Pardew will be the performances of some of the young fringe players who stepped up when the needed to.
"With Hatem Ben Arfa not playing and Yohan Cabaye not playing I did wonder where the creativity would come from," added Neville.
"But I thought Sylvain Marveaux and Gael Bigirimana showed a spirit and showed movement - Pardew has had players come out tonight who've done well."
Despite watching the incident numerous times Neville is still not sure if it was a penalty or not but does feel the punishment did not fit the crime - if there was a crime!
"I move back and forwards on this - I hate getting confused around analysis because I like being definite, I like it being black or white. I have had to watch and watch this and I think you can over analyse things sometimes.
"My initial reaction when I saw it at full speed was that Cisse got in front of Figueroa - that he was well in front of him and that it looked like a barge. This is not battering the referee and turning around and saying 100% it was not a penalty because even now after watching it so many times I am still not convinced I am right. From one angle they look like they are shoulder to shoulder - I don't think Figueroa's arm is out or that he is pushing him, I think Cisse's is leaning into him and it looks like a genuine challenge. The one thing in Cisse's favour is that he very cleverly dips his shoulder in front of Figueroa's shoulder and that is the bit that gives me the doubt that it could have been a penalty.
"It is not cut and dry - from one angle I think penalty, but from the other I think no penalty. But it did not feel right; you got a sending-off, a penalty, a goal and Figueroa missing a game next week - that is a hell of a lot of punishment for that. However once the ref has given the penalty he has to give a red - it is soft though, it really is."