Sir Trevor Brooking talks Merse and Fenners through his #One2Eleven
Sir Trevor Brooking talks Merse and Fenners through his One2Eleven on Fantasy Football Club.
Last Updated: 01/04/13 8:37am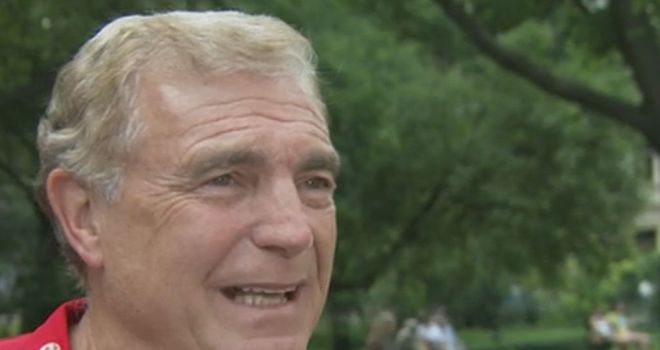 The England midfielder joined West Ham a year after the World Cup glory of 1966 and went on to play over 500 times for the east London club. See if you agree with his ultimate XI, selected from a talented pool of former team-mates.
GOALKEEPER - Peter Shilton: I went through an era where we were very lucky with goalkeepers, so this was difficult but Phil Parkes has to be the West Ham choice. He was awesome. Our physio, Rob Jenkins, always had a bit of brandy in his flask and Phil knew that, so he always used to have a swig of that. 'For luck' he said. Clem (Ray Clemence) works for me at the FA, so he'll be mortified when he finds out I've picked Shilts (Peter Shilton), but Shilts was a fanatical trainer. If you scored against him, he was mortified. He deserves the nod.
RIGHT-BACK - Billy Bonds: He was swashbuckling. We always used to call him 'The Musketeer' because of his beard and his long locks. Luckily for me, he was too good to be wasted at right back so people used to think of him as my protector - if anyone started kicking me then Bill would sort them out for five minutes. He was a lot better than that. He was a quality footballer, Mr Reliable and an inspirational captain.
CENTRE-BACK - Bobby Moore: It has to be Bobby. It was sad we lost him so young but his reputation and legendary status gets stronger as each year goes by. Even when I was a youngster and coming in for treatment on an injury, Bobby was always there doing laps. I said 'Why is he coming in on a Sunday?' and they told me he was just relentless. He'd play on the Saturday, go out and have a social but then sweat it out on a Sunday. it was a great lesson for a young lad.
CENTRE-BACK - Alvin Martin: 'Stretch' gets the nod. Pace could have been a query but then it was a pace thing with Bob and I, too. It was about reading the game, and Alvin would often get just that toe-end on the ball to intercept.
LEFT-BACK - Frank Lampard Sr: He came through our youth system at West Ham, which is a strong status. Although he was more right-footed, he played a lot of his career at left-back. He was consistent, as hard as nails and always had that volley that he could hit from outside of the penalty area.
MIDFIELD - Martin Peters: You have to include the World Cup trio. Martin, of course, was one of those who did score a lot of goals in his career yet was always mentioned as the third of the goalscorers after Bobby and Geoff Hurst. It was unfair on Martin because he became a key player at whichever club he went to after that.
MIDFIELD - Ray Wilkins: We had a really good understanding. He was a great passer of the ball and a good leader. I roomed with him early on and he was a great character and we got on really well. He'd have to be in my team.
LEFT WING - Alan Devonshire: This is pretty easy. He'd have got in anywhere. He and I developed a fantastic understanding. He had electrifying pace. You thought as a defender you were going to get him but then he'd be off flying past you and you couldn't catch him.
RIGHT WING - Mick Channon: On the other side, it has to be Mick Channon with his windmill celebration whenever he scored. He was a really strong character who loved nothing better than scoring. He moaned and groaned about things off the pitch but he's someone you'd really want in your team on it.
STRIKER - Geoff Hurst: One has to be Geoff Hurst. I joined the club in '65 and made my debut in '67 up at Burnley, who were a really good side in those days. We drew 3-3 and I'll always remember that the three goalscorers for us were Moore, Peters and Hurst, which was pretty good. Geoff had that ability to chest the ball and shield it. He was also very good at attacking crosses.
STRIKER - Kevin Keegan: The England nickname I had was down to Kevin. We had six or seven Liverpool lads and at that stage, there was a TV show on called 'Hadleigh' with a guy called Gerald Harper. He was a noble English gentleman and that became my nickname. Kev was fantastic, a bubbly character and a great captain.