Brits abroad - Les Ferdinand
Les Ferdinand is best remembered for his powerful centre-forward performances in the Premier League for QPR and Newcastle, but his big breakthrough came on loan in Turkey playing for Besiktas
Last Updated: 30/09/13 4:51pm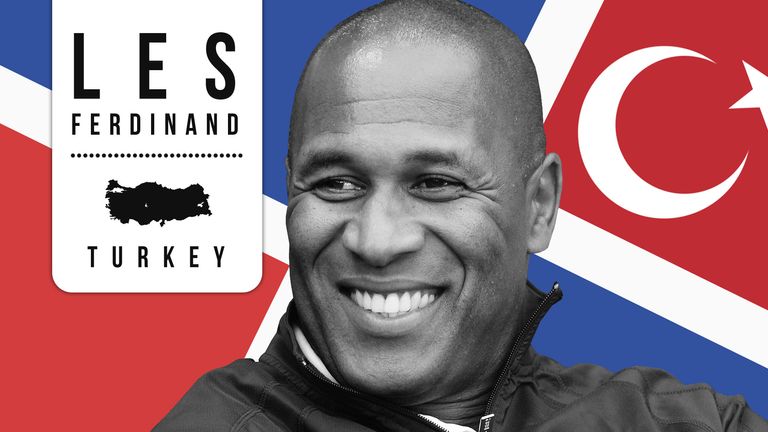 Les Ferdinand enjoyed a fantastic career in English football, scoring 168 top-flight goals for six different Premier League clubs as well as representing his country 17 times. But before the glory years with QPR, Newcastle and Tottenham, he was a young forward looking for his big break in the game. Unlikely as it seems, that came in Turkey during a loan spell at Besiktas.
Ferdinand scored 14 goals in 24 league games for the Istanbul club in the 1988-89 season, also helping them to win the Turkish Cup, and the move helped propel him into the first team at Loftus Road. Adam Bate caught up with the man known as Sir Les to find out more about his year abroad...
How did the move to Besiktas come about?
I was at QPR at the time. Gordon Milne was the manager of Besiktas and he was a good friend of Jim Smith (QPR manager). He said he needed a striker. Jim told him he had someone who could use the experience. He needed to find out if I'd got what it required and that's how it came about.
Jim Smith told me about it and first of all I was like 'Yeah, yeah, yeah' thinking it would never happen. The only thing I knew about Turkey at the time was from the film Midnight Express. But at the end of the season Gordon Milne came to a couple of training sessions. I had a chat with him and I liked what he had to say. I felt I needed to kickstart my career.
Although it was only a loan move, it was still a big decision for a young player...
Yeah, well, I didn't go through the normal route whereby you have an apprenticeship and then you work your way through the apprenticeship. I came into QPR as a pro (from Hayes) so I really think I needed to learn my trade. I see my going to Turkey as my apprenticeship in football. Yes, it was a massive decision. But it was a decision I took because I wanted to be a professional footballer.
What were your first impressions when you got out there? Was it a culture shock?
Yeah, it certainly was. Coming from where I grew up there was an obvious divide of poverty and wealth. But when I got to Turkey those divides were bigger than I was used to. My lifestyle changed. Certain parts of the country were Muslim so I had to adapt myself. I went out there on my own and I was only 21 at the time so it was a bit of a culture shock.
But I have to say that I was treated unbelievably well by all the people that were there and I had a fantastic time. It was a fantastic experience. It taught me how to be a professional footballer and it taught me how to be a man too. I was on my own and had to grow up pretty quickly.
How did you find the football out there?
At the time I had come off the bench a few times for Queens Park Rangers but I'd not really been a first-team member. I was going from playing reserve-team football in front of a few hundred people - if that - to playing in Turkey in front of 35,000 supporters. I'd always thought that football was the No.1 sport in the United Kingdom but it was when I went to Turkey that I realised just how passionate and fanatical that supporters could be.
Any stand-out memories...
I think the opening ceremony at the start of the season was something else. There was a slaughter by the side of the pitch and then they gave you a dove to throw into the air. It was all pretty surreal to me. The actual dove they gave me fell straight to the ground. So I threw it even higher and it did the same thing again. It was trying to open its wings but they'd held it for so long that it couldn't. Fortunately, a little old man came out and opened its wings for me so the next time it flew and I got big cheers. I thought I was going to get lynched on my first day!
Do you think your time in Turkey made you a better player?
I think I came back a better player, a better man and with a better understanding of what my profession is all about.
Was there ever any chance of you staying permanently?
Besiktas tried to keep me. When I came back, in the time I'd been away, there'd been a change at Queens Park Rangers. Jim Smith was gone and Trevor Francis was in charge. So myself and Gordon Milne came back to try and convince him to let me stay in Turkey. I'd had such a good time there and I was willing to do that. But QPR decided that they weren't willing to sell. So I had to come back and the rest is history.
So no regrets then...
No regrets about the move at all. I'd recommend it to anyone who is struggling to work their way into a first-team because what it did is get me to go away and concentrate on football 100 per cent.
Vodafone kicks off 4G network in London with a choice of Sky Sports TV or Spotify Premium, before launching in 12 more cities before the end of the year. www.vodafone.co.uk/4G