West Ham boss Sam Allardyce talks importance of data on The FF Show
West Ham boss Sam Allardyce reckons numerical analysis has significantly improved football.
Last Updated: 06/01/14 10:36am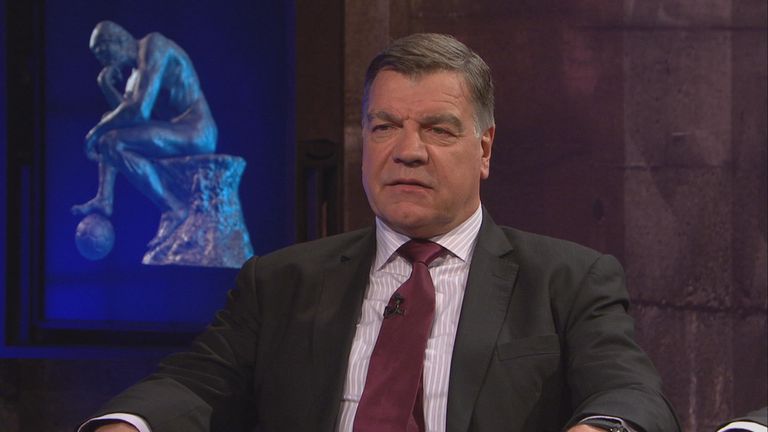 The West Ham boss has embraced the use of data since he took charge of Bolton in 1999, and told The Footballers' Football Show that numerical analysis helps managers in various aspects of their jobs.
"Without the data we have today I think football would be a lot worse off," said Allardyce, who guided Bolton to the League Cup final and into the Uefa Cup during his eight-year stint at the helm.
"Accumulating the data is one thing but you then have to decide how you want to use it and what decisions you want to make to help you progress and move forward.
"When I went into Bolton ProZone (a performance analysis system) was in its infancy but I think every club uses it or a similar system to it now as there has been a real growth in that industry.
"I had one or two analysts at Bolton whereas at West Ham we now have seven or eight who help us deliver what I want, not only in the first team but in the academy as well.
"Plus, data also helps you and your scouts recruit players."
Goalkeeper-turned-author Chris Anderson - who penned The Numbers Game: Why Everything You Know About Football is Wrong - joined Allardyce in The FF Show studio to analyse the merits of possession statistics.
Temporary
Swansea (58.61 per cent) top the Premier League possession list, despite sitting 13th in the actual standings, while Arsene Wenger's Arsenal - flying high at the top of the division after 13 matches - have the seventh-best keep-ball stats (54.97).
Anderson believes that shows retaining the ball is not as crucial to success as is often perceived, an opinion that was backed up by former Liverpool and Tottenham Director of Football, Damien Comolli.
"When we have the ball the other team can't score but unlike in rugby or American Football, possession doesn't mean we have possession, it means we have temporary control of the ball," said Anderson.
"Over a 38-game season the more skilled teams will have more possession but possession stats don't tell me how I'm going to win a game on a Saturday afternoon."
Comolli added: "What's interesting is that Arsenal are top of the Premier League but only have the seventh-highest possession levels, something I don't think will increase too much as the season goes on.
"So you need to look at stats like how many times Arsenal have got into the final third, the number of passes they have in forward areas and how many shots they have had on and off target.
"That will show you why Arsenal are top."
For more debate on footballing statistics, download The Footballers' Football Show podcast by hitting this link.