Sky Sports views
Alan Curbishley and Dermot Gallagher reflect on the big incidents from the Premier League weekend.
Last Updated: 17/12/12 12:47pm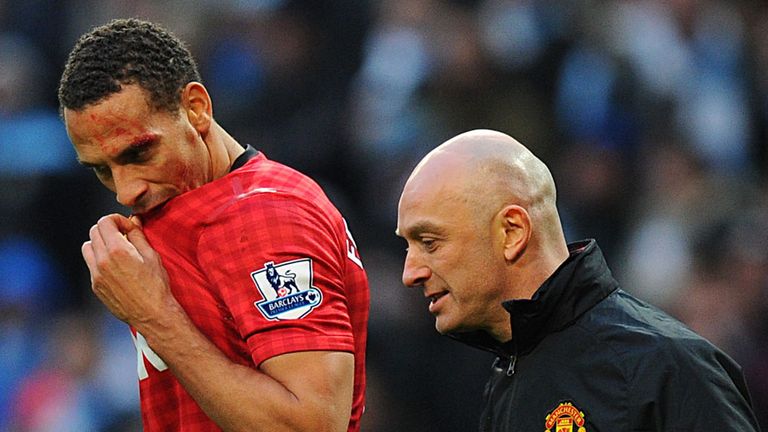 There was plenty of high-octane action over the Premier League weekend - and there were some highly controversial incidents, too.
Man United edged neighbours City 3-2 in a thriller at the Etihad Stadium, Norwich pipped Swansea in a seven-goal epic in south Wales, while Liverpool beat West Ham by the odd goal in five.
However, the headlines have been hogged by Arsenal trickster Santi Cazorla's alleged dive, Norwich defender Sebastien Bassong being racially abused and Man United centre-back Rio Ferdinand having a coin thrown at his eye.
Former Charlton and West Ham manager Alan Curbishley and ex-Premier League referee Dermot Gallagher ventured into the Sky Sports News studio on Monday morning to give their take on some fantastic football - and some contentious issues...
Alan Curbishley on Wayne Rooney's display against Man City
"It was a fantastic performance from Rooney, who set the tone from the first minute by going into a couple of challenges. The big selection plus for Sir Alex Ferguson was the fact that Antonio Valencia was fit; he could come into the wide right position, which freed Rooney to play just in behind Robin Van Persie and cause plenty of problems. I think Alex probably tried to wind Rooney up a little bit about his goal-scoring in the build-up to the match - but Rooney offers much more to United now than simply scoring goals. I don't think Rooney needed too much encouragement yesterday because of the nature of the game but sometimes you can go off the boil. Unlike some people, going a certain number of games without scoring doesn't bother Rooney; if you look at his general play, he's a major player for Man United."
Dermot Gallagher on the coin-throwing episode at Man City-Man United
"I thought those days were behind us and it is a side of football that we don't want to see and a side of football we don't want to glorify. The good thing, I suppose, is that we're talking about it once a season and it is not an epidemic, and I would definitely not be an advocate for the use of nets (between fans and the pitch). The Premier League has got the best stadia in the world and the fact we've got seats, we are family oriented and everyone can go is brilliant and that's how I want to keep it. There is so much CCTV that you can identify these people, while the person next to the person who has thrown something has the responsibility to turn around to the steward and say: 'It was him' so the guilty party can be locked up, as Rio Ferdinand was within a couple of inches of losing his eye."
Alan Curbishley on Mario Balotelli's starting berth in the Manchester derby
"I was quite surprised that Roberto Mancini started with Balotelli. I think he probably felt that in a one-on-one situation from a ball over the top, that Balotelli's pace and strength may have come out on top but City never got in that position. I don't know why Carlos Tevez wasn't in the starting line-up; recent matches suggested that he wasn't going to start but as soon as Tevez came on, his enthusiasm and passion changed the whole game. As soon as he started linking up with Sergio Aguero, they put United on the back foot. Rio Ferdinand and Jonny Evans would have preferred having Balotelli in front of them rather than Tevez and Aguero, whose movement together is excellent; Balotelli is big and strong, but he's not got the movement that upsets big centre-halves."
Alan and Dermot on whether diving should be punished retrospectively
CURBISHLEY: "Cazorla's lost control of the ball and he's gone over, so it's simulation, once again - another penalty decision that the ref's got wrong, but it's so difficult when players are doing this. I have been an advocate for some time about retrospective punishment. I'm not sure how easy that would be to administer but certainly we've got to do something about it because it's affecting games and it's affecting referees because they are getting pressurised into giving penalties and not giving penalties. In Scotland they are looking at these decisions after the game and giving out bans - and I think that's the only way we're going to stop it. I'm convinced that if players got a two-match or a three-match ban on a Monday morning that would stop it in its tracks. Have a panel of four people - an ex-manager, an ex-player, an ex-referee and someone from the FA - get them to have a look at all the incidents and do something about it."
GALLAGHER: "I hate diving and Santi Cazorla was obviously trying to deceive the referee - and if this leads to retrospective action on a Monday with three people sat looking at it and saying 'that's a dive' so be it as something has got to give eventually. It hasn't happened yet, though, because Uefa only let you do it if it is clear and obvious and it is not clear an obvious; I remember when Eduardo, when he was at Arsenal, got a two-match ban for supposed diving in a Champions League game against Celtic and there was a furore after it. If you have retrospective action you will need three people to agree and not two people saying yes and one saying no, so I'm not sure it will happen."
Dermot Gallagher on how Howard Webb handled the racism incident at Swansea
"Howard Webb was first class when Norwich's Sebastien Bassong reported to him that he had been racially abused by a fan at Swansea. Howard kept cool and calm, the guy was identified and was taken out and arrested. It shows how fantastic a referee Howard is that not only could he concentrate on the game but he took everything in his stride. Hopefully we will never talk about (racist abuse) again and it should not be part of a referee's job but it has become part of it - and Howard took 100 per cent the correct action. He is an incredible referee and an incredible man - I remember how well he dealt with the Fabrice Muamba cardiac arrest last season - and he referees a match with such ease."
Alan Curbishley on Liverpool and West Ham
"Liverpool went into the game without a centre-forward and I think Brendan Rodgers has been very lucky so far that he's only had to go into one game without Luis Suarez; if Suarez had an injury that kept him out for four or five games, that would make it very difficult for Liverpool - and I bet they can't wait to get him back. Sam Allardyce, meanwhile, has attracted players to Upton Park that, with no disrespect to Southampton and Reading, I don't think those clubs could. He's also organised them defensively and they don't let a lot of goals in; I know they conceded three against Liverpool but they have been hard to beat. Everyone talks about how difficult it is for the newly-promoted sides to score goals but you've got to keep some clean sheets at the other end of the pitch if you are going to stay in the Premier League and West Ham have managed to do that."