Sunderland will avoid the drop after Newcastle win, says Jamie Redknapp
A Paolo Di Canio-inspired Sunderland will now stay up, Jamie Redknapp has told Sky Sports.
Last Updated: 20/04/13 12:24pm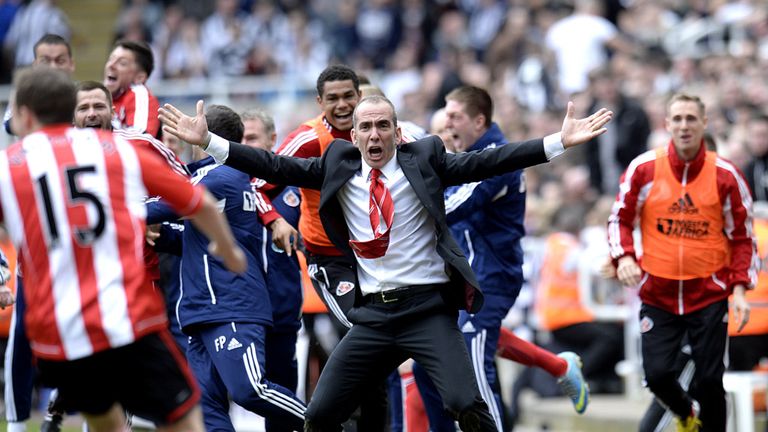 A stunning 3-0 win at fellow-strugglers and fierce rivals Newcastle steered Sunderland away from the Premier League relegation zone by three points with five games left.
The Black Cats fans still face an anxious few weeks with Stoke, Wigan, Aston Villa and Norwich all battling to avoid the plummet but victory in Di Canio's second game in charge may prove to be the perfect tonic for the season's finale.
Sky Sports expert Redknapp said: "The momentum and confidence that will bring to the club is huge. I can't see them going down after that.
"That will bring them so much belief. The quality of the three goals, you will not see in any other Premier League game this season. They just got better and better."
Stephane Sessegnon fired in a sweet first-half opener, Adam Johnson blasted in a second, leaving substitute David Vaughan to curl in a dazzling third as the players celebrated with their boss at the final whistle as if they had won a trophy.
"Vaughan's goal at the end is a good a left strike you are ever likely to see," Redknapp added. "The whole performance was sensational. Paolo is going to be a great addition to the Premier League. He's box office.
"He's so emotional and it's mesmerizing just watching him. You'd have loved to have been in the dressing room before the game - just to hear his speech. I just couldn't see this performance happening.
"I looked at the personnel Sunderland had and I didn't believe they were good enough to do what they did. You have to give Di Canio credit for that."