Sunderland review
Sunderland's decision to appoint Paolo Di Canio in place of Martin O'Neill generated plenty of headlines, not all of them relating to football. Rob Parrish looks at how the Italian achieved his initial goal of avoiding relegation on Wearside, but still has much work to do.
By Rob Parrish - Follow me on Twitter @skysportsrobp
Last Updated: 20/05/13 2:27pm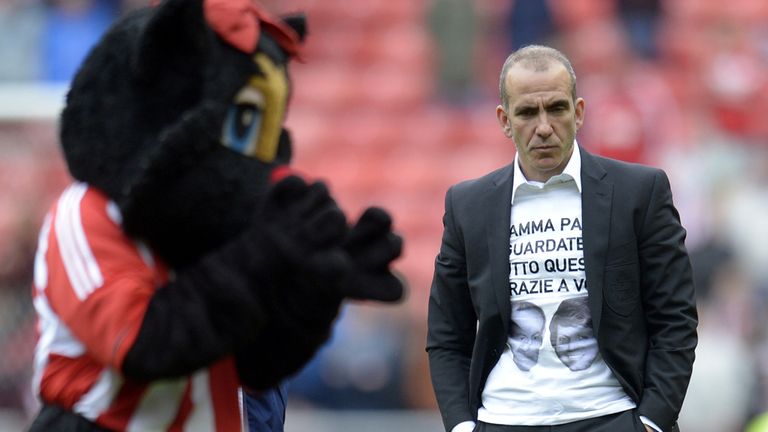 Sunderland's season consisted of two parts. The first, and most lengthy, saw the Black Cats stumble through 31 Premier League games under Martin O'Neill, exiting both cup competitions to Championship opponents, before Ellis Short wielded the axe with the club in danger of sleepwalking to relegation.
Paolo Di Canio was appointed to provide an immediate and much-needed wake-up call to the Black Cats, with relegation successfully avoided prior to the final round of fixtures. The jury remains out on the Italian's top-flight credentials, with the euphoria of a derby victory over Newcastle swiftly followed by a 6-1 drubbing at the hands of Aston Villa and a 17th place finish.
Player of the Year - Simon Mignolet
Without Simon Mignolet as their last line of defence, there is a very significant chance that Sunderland would be preparing for life back in the Championship. The Belgium international was excellent throughout the campaign with his heroics crucial to the Wearsiders and recognised with a number of individual awards in the North East. Mignolet's 149 saves were second only to Jussi Jaaskelainen in the overall Premier League statistics, with his performances sure to attract interest from elsewhere.
Ratings Player of the Year
Simon Mignolet was the understandable choice of the Sky Sports reporters, but the player selected by our readers was somewhat surprising, with midfielder James McClean earning the highest ranking over the complete campaign. The Republic of Ireland international came under fire from his own supporters after some ill-advised comments on Twitter, while on the field he contributed only two Premier League goals in an under-whelming campaign. His standing as the highest-ranked player may say more about the failings of his team-mates, rather than his own achievements.
Breakthrough Player of the Year - Danny Rose
Rose enjoyed an impressive campaign during his season-long loan spell from Tottenham, with his committed and consistent displays at full-back one of the few highlights in a generally dismal term on Wearside. Sunderland would be keen to bring in the England Under-21 international on a permanent basis, but there could still be a future for Rose at White Hart Lane under Andre Villas-Boas.
Signing of the Year - Steven Fletcher
O'Neill's decision to invest £12million in Fletcher's services last summer raised eyebrows in some quarters, but the former Wolves striker immediately proved his worth with five goals in his first four games. Injury brought his first season on Wearside to a premature conclusion, but his return of 11 goals from 28 top-flight outings puts him on a par with Sergio Aguero, Carlos Tevez Jermain Defoe and Olivier Giroud.
Could do better - Adam Johnson
Johnson was another to be lured to the Stadium of Light by O'Neill last summer, with his £10million arrival from Manchester City greeted with great anticipation. However, any hopes that the occasional England international could provide the creative spark needed were quickly dashed with a series of lacklustre displays. Johnson demonstrated what he is a capable of with a stunning goal in the victory over Newcastle, but he needs to demonstrate significantly more consistency and confidence next term.
Manager
Di Canio has certainly had an impact on Wearside, with his outspoken press conferences and touchline antics endearing himself to many supporters. It is impossible to judge the eccentric Italian on just seven games, but there are sure to be further fireworks over the summer and next season. Phil Bardsley was the first to feel the full wrath of the manager for his recent off-field antics and Di Canio is clearly a strict disciplinarian. Laying down the law to his players should be applauded, but Roy Keane has discovered in the past at Sunderland that use of the stick without the lure of a carrot will only get you so far.
Jamie Redknapp's view
Sunderland just got away with it this season. Paolo Di Canio came in and, after losing at Chelsea, got them six points straight away with wins over Newcastle and Everton and that's what kept them up in the end. I'm sure Ellis Short, the chairman there, feels vindicated but who knows, they might have been alright if they'd stuck by Martin O'Neill. Either way, they'll be very relieved but they can't afford to paper over the cracks this summer - they must strengthen their squad. I suspect it's going to be an affair rather than a love story with Di Canio; there will be plenty of ups and downs, it won't last long (he could fall out with anyone at any time) but there will be some success along the way.
Fan's view (Michael Graham)
This season for Sunderland has been like watching a rubbish, 'artsy' foreign movie with the subtitles in a completely different foreign language. It just hasn't made any sense, and was a needless waste of time and energy to such an extent that it leaves you almost resenting your own power of sight. The highlight was, of course, the demolition derby. The day Paolo Di Canio danced and slid his way down the St James Park touchline celebrating each of his side's three goals with a panache and passion unbefitting of Sunderland's season.