Football Expert & Columnist
Jamie Redknapp on Moyes' dream start and a day of woe for Arsenal
Sky Sports expert gives his verdict on the 3pm kick-offs and Man Utd's big win
Last Updated: 18/08/13 3:53pm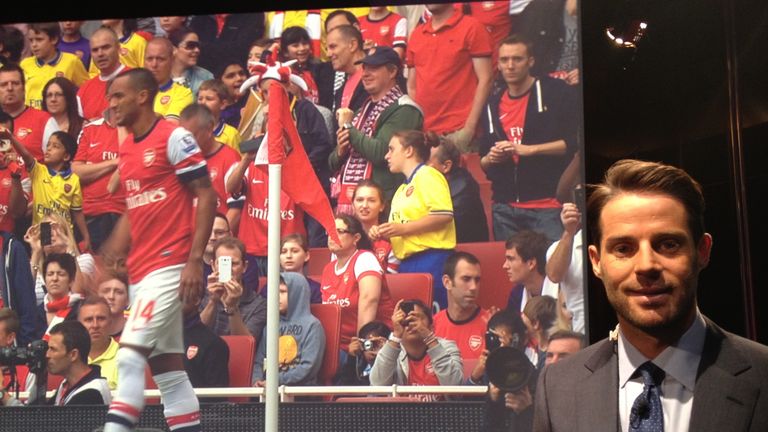 Four-goal joy for Moyes on Manchester United bow
It's been the perfect day for for David Moyes. The performance of Robin van Persie was excellent, but we all knew what he can do. He was the difference last year and that's why United won the league and there's no reason why they can't win it again. I think Moyes will be even more delighted with Danny Welbeck today, getting two goals. He challenged him in pre-season and he has delivered. All the question marks about whether David Moyes can handle the pressure have been answered. It was a great performance.
Arsenal's crushing loss to Aston Villa
I think this result was beyond Aston Villa's wildest dreams, but I did feel before the game that it was a good time to go to Arsenal. You felt there was a little bit of uncertainty about the place, there were no new signings and the fans would have been really disappointed by the lack of new faces when they came into the ground. It has been a really disappointing day for Arsenal.
West Ham's fine 2-0 win over Cardiff City
It's a great start for West Ham. I think Big Sam would probably have been nervous when Andy Carroll, who has been their talisman, didn't start. How would they fit the team together without him? But there was a great performance from Joe Cole and Kevin Nolan is a goalscoring machine and just keeps going. He produced a top-class finish from a top midfield player.
Everton's battling draw with Norwich
It was a hard-fought point for Everton. I was speaking about Ross Barkley before the game and he scored a fabulous goal. He shifted it, got it onto his right foot and then got it onto his left and hit a ferocious shot from about 20 yards. I think this man is going to have a wonderful season. He's going to be a star, that young man. However, Ricky van Wolfswinkel popped up with a brilliant header and it was a good game. I fancied that could be a draw because it was two evenly-matched teams.
Fulham's away-day success at Sunderland
You look at the mavericks you've got in the Fulham team - the likes of Adel Taarabt and Dimitar Berbatov - but the results over the last few years away from home have been poor for Fulham. They never really start well away, but at home they win bundles of games, so for Martin Jol to go away and get off to a really good start is all you can ask for. If you'd offered him a point before the game he'd have bitten your hand off, so to go there and win is fabulous, especially with a lot of new faces at Sunderland. You never quite knew what to expect from them.
Rickie Lambert's dream week for Southampton
What a week for Rickie Lambert! It's dream stuff, it's the stuff that you just don't think is going to happen to you. He scored for England and people might have thought he wouldn't be at his best today, but he wacked his penalty in really well. Southampton actually deserved it. I watched many bits of the game and they thoroughly deserved to beat West Brom.