Chris Kamara blogs on Ravel Morrison, Adnan Januzaj and more
Kammy hails Ravel Morrison and Adnan Januzaj - but says poor refereeing needs to be looked at.
Last Updated: 07/10/13 12:04pm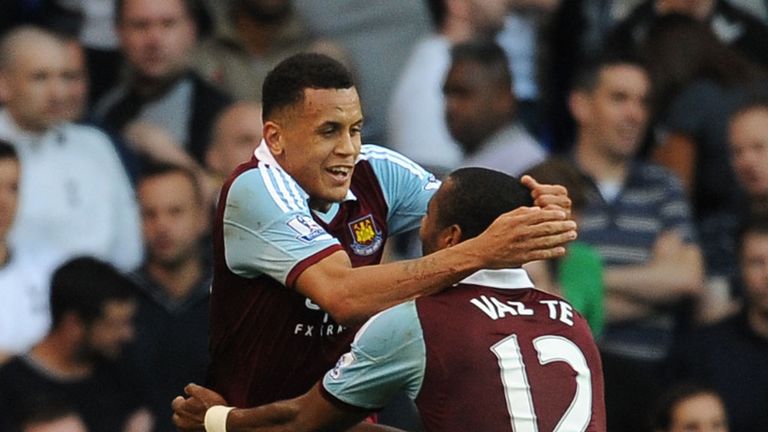 Ravel Morrison is coming out of his shell as a top, top player
Big Sam was talking about Ravel Morrison before the season started, saying he wanted to get him into the groove and show people what a fantastic player he is. On Sunday, because of the goal he scored, people have sat up and taken notice for the first time. The top player that Sir Alex Ferguson thought was going to play for Manchester United for years to come is finally coming out of his shell. Sam has given him a second chance and it could have gone either way, but the player has taken that chance. People tell me that Sam doesn't like footballers and that his teams don't play attractive football. That's ridiculous when you look at the flair players he's had over the years from Jay Jay Okocha to Eidur Gudjohnsen.
Sam Allardyce deserves more credit than he gets
Big Sam has been painted with a certain brush over the years, but he knows that there's a certain way to make sure you get enough points to stay up. Then when you've been able to put the pieces together over a few years you can build upon that. He's rarely been given much time at the clubs he's been at - even West Ham haven't backed him with a five-year deal to build the football club. Look at Newcastle, their fans didn't want him but he went back to basics to reorganise the club and he's done the same at West Ham. This club weren't a gimme in the Premier League, but he worked to get them up and he stabilised last season. This season is one to improve and hopefully next season he can take that even further.
What a brave decision by David Moyes to play Adnan Januzaj...
When you looked at the Manchester United bench against Sunderland and saw the likes of Ryan Giggs and Danny Welbeck you can see it was a huge decision to play an 18-year-old because the manager really needed a result. He has put a player on everyone's lips that people hadn't really heard of and that shows courage. Sir Alex Ferguson threw the likes of Beckham, Scholes, Butt and the Nevilles in when they were good enough and maybe Moyesy didn't spend more in the transfer market because he knew there was enough young talent coming through. He showed with players like Wayne Rooney at Everton that he knows when a young player is ready. He threw Januzaj in at the weekend and it came up trumps for him with two goals - but it could easily have gone the other way if David De Gea hadn't made that great save at 1-0 down. That's football management; you live on the line and it's such a thin line!
The referee spoiled the Fulham v Stoke game
In my 13 years as a presenter on Goals on Sunday I don't think I've ever seen so many wrong decisions in one game. You normally get three or four maximum, but not six! Roger East didn't make any decisions - and his assistant was just as bad during the first-half. It's a shame to keep talking about referees, but I felt the decisions were so poor that Roger East should go back to basics, to refereeing school or whatever, and be shown how to referee a football match. He should at least have to come out and explain his decisions, as all the managers do, but we just get a blanket of silence from Mike Riley. We all have bad days and if a player has a bad day then the manager has to decide whether to stand by him or leave him out. I'd like to see Mike Riley come out and either back him and say he trusts Roger East or announce that he's going to leave him out and tell him to get his head down for a few weeks and ask him to work his way back into the position as an elite referee. That sort of transparency would be good, I think.
And Everton might feel aggrieved over a big decision too...
Manchester City's only inconsistency is away from home, but at the Etihad Stadium they are very strong. Everton gave them a real test on Saturday, but yet again there was a big decision when Romelu Lukaku was not awarded a penalty for a push by Matija Nastasic. There was far more contact than there was between Pablo Zabaleta and Seamus Coleman for Man City's penalty in the second-half and that moment could have turned the game. We could all have been talking about Everton being undefeated today - and the thin margins in football always amaze me.
There's no fluke about Southampton's form under Mauricio Pochettino
Mauricio Pochettino has got Southampton playing really well and they look difficult to score against. I know Artur Boruc had a blinder against Swansea, but they don't concede many goals and they have so much flair going forward. I went down there to meet the manager the other day and I had no preconceptions about what he'd be like - but he was so relaxed and so happy in his surroundings at Southampton. His English was very good and you could tell that this guy has something about him. They are having a great run, he knows that, and their level of performance at the moment is tremendous.
Give Jack Wilshere a chance to get back to his best
People have been quick to knock Jack Wilshere this season, but everyone forgets he had a bad injury last year. We've all forgiven Aaron Ramsey for his bad season because he's found his form again and Wilshere should get the same chance. When I was at Leeds I was out for eight months with an injury and it can take a year to come back to your best when you've been out for that long. Jack is still finding his feet and fortunately for him, Arsene Wenger has the luxury of being able to leave him out of certain games, as he did in Europe in midweek. Arsenal have frightening options in midfield these days with Cazorla, Arteta, Flamini, Ramsey, Ozil and Wilshere. That's going to be quite a selection headache when they're all fit, but given the number of games they have to play that will suit Arsene Wenger down to the ground.
It was good to see Willian get on the scoresheet
I think Willian and his people were a little bit naughty because they'd led Spurs to believe that he was going to sign for them and then he turned his back on them. However, that's history now and he's a Chelsea player - and the first real sighting of him suggests he's going to be top quality. Jose Mourinho has taken all the credit, but when you make a substitution and it pays off then why not? I was at QPR on Saturday and Harry Redknapp brought on Junior Hoillett and his width and pace changed the game immediately, but Harry didn't pat himself on the back when I interviewed him afterwards. Mourinho wanted the credit, but that's the type of character he is and the press love him because he always gives you a line!