Niall Quinn
Football Expert & Columnist
Niall Quinn: Poyet gives Sunderland something to shout about with derby win
Niall Quinn says Sunderland's victory over Newcastle gives the club something to shout about.
Last Updated: 27/10/13 4:50pm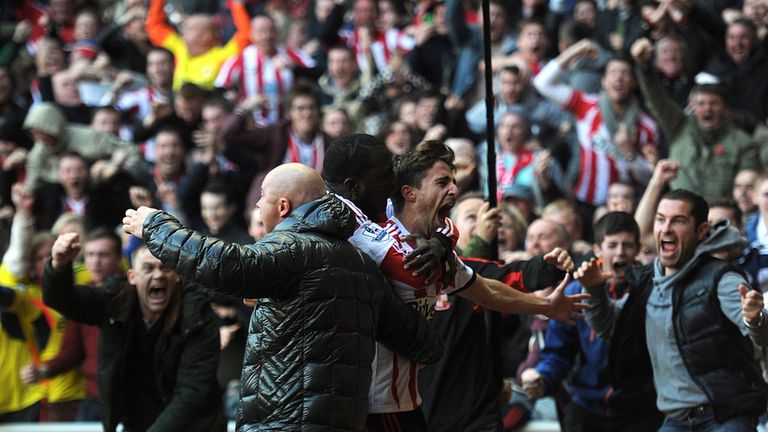 Gus Poyet picked up his first points in charge of the struggling North East club, who move off the bottom of the Premier League table with their first win of the season - Read the full match report here
Stephen Fletcher's opener was cancelled out by a well-worked goal from Newcastle defender Mathieu Debuchy, before on-loan Liverpool striker Fabio Borini scored a magnificent strike to take the spoils in the dying minutes.
Former Sunderland striker and manager Niall Quinn, told Sky Sports Super Sunday that this derby win will give the Black Cats something to shout about.
He said: "I think you could see the smiles on the players faces, you could see the reaction from the crowd, this is the first thing that the club has had to shout about all season and it's such a big thing that it can go on and help so many events in the same way.
"It brings belief in to the dressing room and the stadium that wasn't there before. Ask any player now how he feels playing for Sunderland and he'd say 'great', if you'd have asked him in the last 12 weeks he'd say 'not so great'. It's just an amazing result.
"Borini's goal was quick, alert play at a time when you'd expect legs and minds to be tired and not really focussed on getting a winner because Newcastle had got the equaliser. Jack Colback was at the heart of everything and was their best player for me.
"Hull are Sunderland's next opponents and they're going to look at this and say 'oh no, they're on a high' and that's what this league is full of. It's those margins and Steve Bruce and Hull will not be happy about playing them next week because they're now flying. That's what a win like this does for you and they'll take advantage of this all week.
"Gus Poyet will lead them in to battle thinking they can win every game this way."
Buying time
Joining Quinn on Super Sunday was former Newcastle manager Graeme Souness, who is unsure whether this will turn Sunderland's season around but says it does give their new manager time.
Souness said: "This win buys Poyet time. He's had the job a week and you can't do a lot in that time with your players.
"They were spirited today, they looked together. I think it was a fragmented dressing room before Gus got the job. There's so much good-will going forward for Sunderland now with this result, beating their biggest rivals and it buys him time, if it's season changing, we'll see."