Niall Quinn
Football Expert & Columnist
Sunderland v Manchester United: Niall Quinn tips Capital One Cup semi-final first leg draw
Sunderland must make home advantage pay to set-up second leg chance at Man Utd, says Niall Quinn.
Last Updated: 07/01/14 11:05am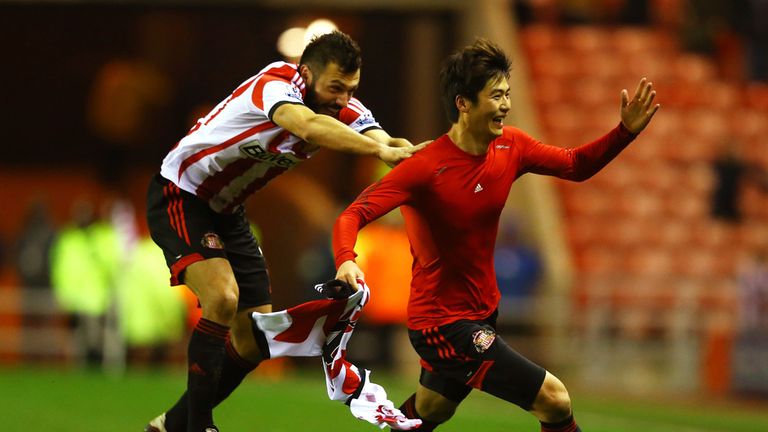 On Tuesday Sunderland host Manchester United in the first leg of their semi-final tie, before West Ham travel to Manchester City on Wednesday.
Can the Premier League basement boys upset City and United? Or will we be one step closer to an all-Manchester Wembley final?
Here, former Sunderland and Man City striker - and now Sky Sports pundit - Niall Quinn assesses the Stadium of Light contest - and predicts a tough night ahead for the Black Cats.
Click here for his thoughts on Man City v West Ham.
Sunderland v Manchester United
You always welcome a semi-final, whatever club you're at, be it one like Man United or one like Sunderland, who have won very little silverware over the years. It's a great occasion for both teams.
Another thing the two teams have in common is that they are both searching for confidence.
Sunderland need to get off the bottom of the league but the Capital One Cup has given them the chance to play a more free-flowing game and they need to carry that into Tuesday's game.
It's questionable whether they can do that against a United team who need a win to ease the pain of the Swansea FA Cup defeat and what's been happening to them in the league this season, though.
Sunderland have the potential - as they showed by knocking out Chelsea in the previous round - but they'll have to hope, if they do adopt an attacking approach, that they are strong enough at the back to cope with United.
United are the better team but how they react to the Swansea defeat will be key. If they take it out of their minds and hit the ground running it will be a difficult night for Sunderland.
A result for Sunderland will be to still be in the tie come the second leg. That will be a starting point for Sunderland fans' expectations. The more optimistic will say it's a great time to play Man United and hope they can produce the positive out of their Jekyll and Hyde performances of late and sneak a win or be very much in the tie with a draw.
But Man United have the ability to go and win this game if they click. And if they did, it would take a lot of pressure off what's happening elsewhere in their season.
Their Champions League performances have been good but their Premier League form is baffling for most onlookers. However it does take time and that's what David Moyes needs.
I don't think you'll see a continuation of the doubt in the dressing room from United, though - they will be eager to overcome that Swansea result and win this game comprehensively. If that's the case Sunderland will be up against it.
PREDICTION - DRAW: My old club are so close to silverware and I'd love to see them do it but it's going to be very difficult. A draw would be fine for them. I hope I'm right when I say they can do that. Because it's the first leg it won't be gung-ho from either side, so Sunderland would be satisfied with that and happily go to Old Trafford with a chance.