Dwight Yorke
Football Expert
Sunderland's confident style is pleasing on the eye, says Dwight Yorke
Sunderland have bought into Gus Poyet's ideas and the confidence is showing, says Dwight Yorke.
Last Updated: 02/02/14 12:21pm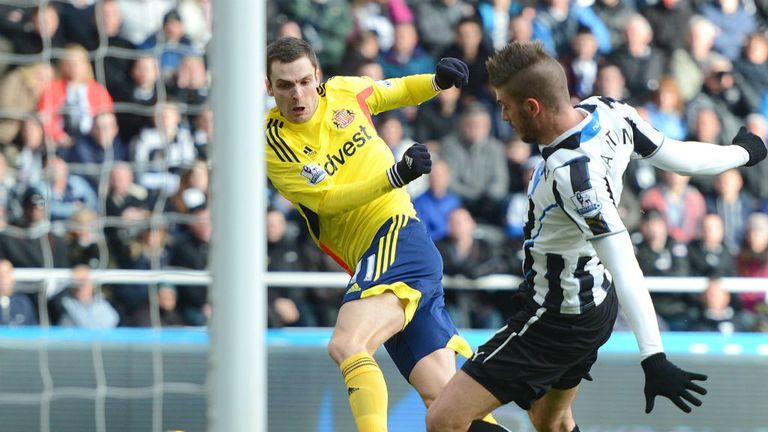 Sunderland won their third derby victory on the trot in what was their successive 3-0 victory at St James' Park, to put them up to 14th in the Premier League before Sunday's fixtures - their highest position in the table all season.
Former Black Cats striker Dwight Yorke joined SNF Match Choice to analyse the game and told host Sarah-Jane Mee how impressed he's been with the confidence Gus Poyet has Sunderland playing with.
Yorke said: "I'm dead chuffed for Gus because I know him personally and he's done a remarkable job. I also have a relationship after playing with that football club for three years.
"It's great to see that turnaround and see the confidence that Sunderland are playing with. The players seem to buy in to what Gus is doing and it's made a big change.
"The fact that they have turned United over and got to the Capital One Cup final means there's a huge bit of confidence flying around there and more than anything else this 3-0 result against Newcastle - which I didn't see coming - goes to show the kind of confidence the players are playing with under Gus Poyet."
Experience
Saturday's win makes it three on bounce in the Premier League for the North East club and Adam Johnson, scorer of the second goal, made it nine in all competitions for the season; Yorke says it's great to see the former Man City winger playing so well.
He said: "There's always been a lot expected of Adam Johnson because he came with a big price tag and under Di Canio didn't seem to have done it, but under Gus Poyet it's like he's found his confidence, he's scoring, he's playing freely at the moment."
Defence
Yorke also highlighted his former Manchester United team mates Wes Brown and John O'Shea and the impact they've made with their defensive stability for the rest of the side to build on.
"We talk about their goal scoring opportunities and how they're playing nice football at the moment and scoring goals but the defensive pairing of Wes Brown and John O'Shea - both of them have been fantastic - they're two very experienced players and good friends off the pitch as well, which I think helps and you can throw Phil Bardsley in there as well, a sort of combination of Man United.
"In the last six games they've played they've managed to keep four clean sheets and as much as the goal scorers get the credit I think the defenders deserve it. It's something that had not been happening under Paulo Di Canio but is under Gus Poyet. It's pleasing on the eye as well."