Chris Kamara: Sunderland have plenty about them away from home under Gus Poyet
Chris Kamara blogs on Sunderland's away form, Stoke's win over United and Charlie Adam's potency.
Last Updated: 03/02/14 3:46pm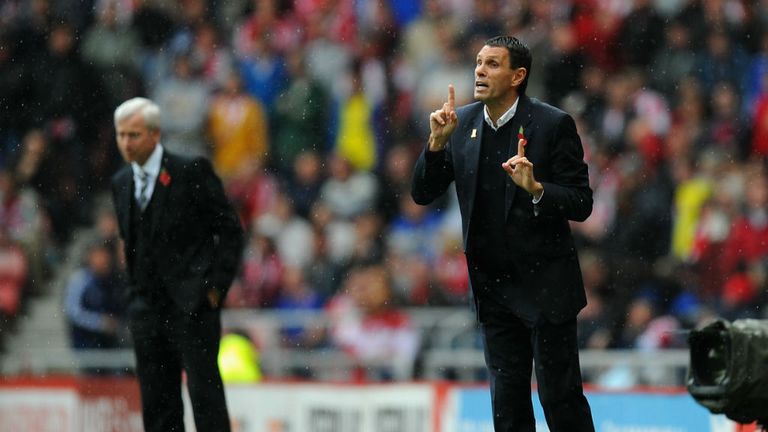 Away the Sunderland lads...
KAMMY SAYS: Sunderland were excellent on Saturday, it was a good day at the office for them all. I chatted to Gus Poyet at Fulham a couple of weeks back when his side put in a really impressive performance and I caught up with him again at St James' Park and his enthusiasm and confidence was there once again. His team went out and mirrored that. The away fans are given a small section of the ground at St James' Park to make themselves heard but once that first goal went in from Fabio Borini, you could hear them loud and proud. I thought Phil Dowd had a reasonably good game and he certainly got the penalty decision right. There was a bit of debate about whether Borini should have been booked but maybe he thought the celebrations were upsetting the home fans. That was the key to that, I think. Out of all of the teams at the bottom, Sunderland look to have the most about them because of the way they play away from home. They should get more results than a lot of teams down there.
...but Newcastle weren't at the races
KAMMY SAYS: Newcastle had a go in the second half but Sunderland were too strong. I had a cuppa with Alan Pardew before the game and when you then see a side battered like Newcastle were, you can't help thinking 'I hope they don't think it's got anything to do with me!' When Alan was on Goals on Sunday he explained that he was able to put a block on Yohan Cabaye going to Arsenal because the money wasn't enough but he admitted that come January he might not be able to stop him leaving because the offers will keep coming in and Cabaye will want to go. He explained that with it being a World Cup year there was probably little he could do to prevent Cabaye from leaving because the player wants to be at a club that can possibly win things. Cabaye is ambitious and you can't blame him for that. When the best club in France comes in for you in a World Cup year, there was no way Newcastle could stop him going. Some might say Newcastle are a selling club but sometimes there are transfers that you can't do anything about.
Will Tony Pulis' new signings perform?
KAMMY SAYS: It's tough to say right now who did the best bit of business on Transfer Deadline Day. Tony Pulis was involved in a fair amount of activity, bringing in five players, not long after he told us that he was unlikely to do much! Only time will tell how those players - and those brought into other clubs - will settle. On the face of it, bringing someone new into the place should give the club a lift. If Manchester United had won at the weekend, everyone would have been pointing at Juan Mata and saying what a difference he's making, but even though he laid on the goal for Robin van Persie that chorus has stopped for now. Time will tell and it may be a little while before we can say which club has made the best signing during the transfer window and who that is.
Charlie Adam is relishing his free role
KAMMY SAYS: Charlie Adam is a player transformed right now; Tony Pulis signed him but Mark Hughes has come in and given him a free rein and his thriving on it at the moment, whether he plays behind the striker or in the centre of midfield. Hughes is letting him parade his talents and Charlie is relishing it, as he showed with those two goals in the win over United. Asmir Begovic - who joined us on Goals on Sunday - made a crucial save from Wayne Rooney near the end that saved Stoke two points and possibly three, because United might well have gone on and won the game had that gone in. That save was worth its weight in gold.
Moyes must make United tougher to beat
KAMMY SAYS: Without a shadow of a doubt United are underachieving. If David Moyes was taking an Everton team to somewhere like Stoke I'm sure they would solid, organised and difficult to beat but now United have an air of vulnerability when they go to all these places and a lot of clubs believe they are going to beat them. That's an amazing turnaround for the Champions to go through in such a short space of time. It's baffling me, it really is. Under Moyes, Everton were always very difficult to beat. They might not show as much flair as they are showing under Roberto Martinez now but they made life tough for other teams. For some reason that has deserted Moyes since his move to Old Trafford. Only last week Moyes was saying that he wouldn't play Van Persie, Rooney and Mata together but he did on Saturday with Rooney dropping into midfield. You could argue that things might have been different if Michael Carrick hadn't had to drop back to centre-half after Jonny Evans went off injured.
Toure holds up his hand after howler
KAMMY SAYS: We can all look back on things in football and think 'if that didn't happen, then that wouldn't' and Kolo Toure's pass for West Brom's equaliser definitely falls into that category. But that's football. Sometimes you get away with mistakes like that because somebody misses the chance, on other times you get punished as Toure did. When you get punished you have to hold your hand up and fair play to Toure, he has done exactly that because he knows he's made a massive mistake and has cost his side two points - and they are a massive two points for Liverpool. It's a big point for West Brom and the new manager Pepe Mel because he's still trying to settle in. Even though he's gone through the transfer window, he's hardly been unable to put his own stamp and influence on the team - he's had to do with what he's got.
Sign-in to watch highlights of West Brom v Liverpool
Leeds saga is like a 'Dream Team' storyline
KAMMY SAYS: One word sums up what's going on at Leeds - farce. It's like a storyline out of that Sky show Dream Team.That's the only thing that seems 100 per cent certain! Leeds is one of my old clubs and it's still dear to my heart so it's painful to see it becoming a bit of a laughing stock. There are people out there who want to buy Leeds and have the club's real interest at heart rather than making money and I hope they end up in control. I can't imagine what's going through Brian McDermott's mind at the moment. This isn't Sunday morning park football - this is people messing around with people's careers and lives, not to mention the heritage and stature of Leeds. The key thing is that Brian's reputation is intact; Leeds are not far off the play-offs, so it's not as though they are dead in the water. People will now understand what he's had to work with and deal with to try and get them into the position that they are. To be fair to Ross McCormack and the boys they could have gone out on Saturday and gone through the motions but they didn't and it was a massive local derby against Huddersfield and Mark Robins will definitely have wanted to win that.
Cardiff are Gunnar go places
KAMMY SAYS: Elsewhere over the weekend, there was a good win for Cardiff - they did well to come back and beat Norwich from a goal down. Ole Gunnar Solskjaer now has his first win and that will give him a big lift. It just goes to show how far Hull City have come when they are disappointed to only get a point against Spurs at home, while Southampton just roll on and on; they were very impressive at Fulham, so there have been some good performances over the weekend, and I'm really looking forward to tonight's big clash between Man City and Chelsea.