Tim Sherwood did the right thing blasting his Tottenham players, says Chris Kamara
Kammy says Tim Sherwood was right to question his players but won't get carried away by Man Utd's win.
Last Updated: 10/03/14 2:09pm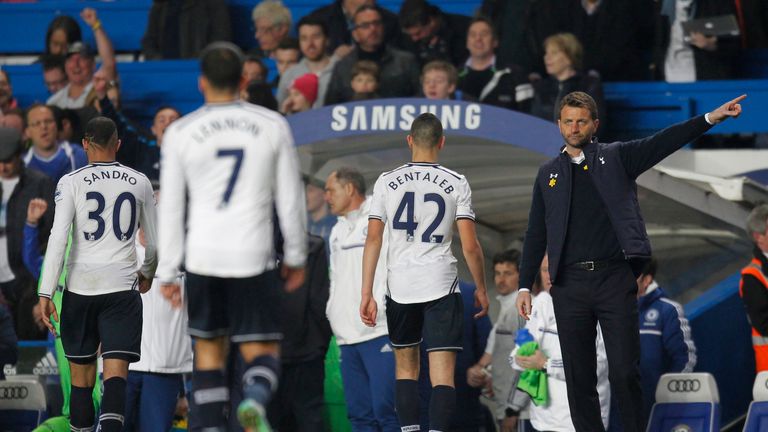 Tim Sherwood was right to question his players' character
There's a possibility that Tim Sherwood has only got until the end of the season at Tottenham so I can fully understand his outburst after the loss to Chelsea on Saturday. He's got to do his best so he can try to get the job long term and if players are out there not giving him 100 per cent then they're no good to him.
Those comments don't make any difference to whether he gets the job at this moment in time because he'll only be the Tottenham manager if the results are good enough and if they qualify for Europe. Tim has done the right thing, rather than pander to those players.
Though he didn't actually name names, the players know who he's referring to you - they're not stupid. As far as the players are concerned he's the manager, we're only speculating that someone else is going to come in. He pats them on the back when they've done well and this is first time he's had to come out and say something, so I don't think the comments will have a detrimental effect.
This is Sherwood's first real setback, you'd have to say, because everyone had been encouraged by what had been going on. Two heavy home defeats to Liverpool and Man City haven't helped but this time around Sherwood knows he's got to get those players galvanised, working for him, working for the shirt and working for the supporters to show the board that he's capable of taking the club forward.
They've got a huge game this weekend against Arsenal so those players shouldn't need any motivation for a north London derby, but with Arsenal qualifying for the FA Cup semi-finals it has to make them slight favourite for the win.
Gunners on course for the FA Cup
Speaking of Arsenal in the FA Cup, it does look as if the trophy is theirs to lose with the way results have gone. But you only need to look back to their last appearance at Wembley, where they lost the League Cup final to Birmingham, to realise they won't be taking their semi-final against Wigan for granted.
Mesut Ozil impressed on Saturday and what people don't realise sometimes is how difficult it is for foreign players to settle in. Former Cardiff manager Malky Mackay joined Ben and I on Goals on Sunday this week and he told us about Andres Cornelius, who was the club's record signing, but a serious injury held him back and he failed to settle in.
Ozil is different, though; he's settled in like no other foreign player I've ever seen in the first half of the season but people underestimate the demands of the Premier League.
When he was playing in Spain or Germany he would play in games where he could have a breather because your team is superior, but you don't get that breather at any time in the Premier League - we overload our players here.
Arsene Wenger, with hindsight, would have left him out earlier but because of the injuries to Aaron Ramsey and others he hasn't been able to manage Ozil the same as he's managed players in the past. He was forced into this one because of his performance against Bayern Munich and that looks like it's paying dividends for Arsenal.
Manuel Pellegrini goes from hero to zero
Wenger's side will play last year's winners Wigan in that semi-final and I know there was some controversy surrounding their goals against Man City on Sunday but it doesn't matter how you win in a cup game the only objective is to get through the next round.
Pellegrini got a trophy last week and was a hero, this week he's a zero. Then there's Uwe Rosler - what a fantastic acquisition he's been for Wigan chairman Dave Whelan, who has been very clever at picking his managers in the past. He saw something in Rosler, who has got the momentum going for them in the league and in the cup.
Sunday's win was huge for Steve Bruce
The other semi-final will see Hull City take on Sheffield United at Wembley and what a good result it was for Steve Bruce's side to beat Sunderland 3-0 to get there. It was a massive game for him, especially considering he was sacked by the Black Cats back in 2011.
It was probably one game too many for Gus Poyet, but in a way there's a silver lining because he can now concentrate on the league without having to focus on the cup games. They've got to come down and work for their bread and butter - Premier League survival.
Then there's Blades boss Nigel Clough; what a brilliant job he's done with them. I remember the first few weeks he took over at Sheffield United and the results weren't going well and people that doubted him - I bet they're not thinking that now!
United are one of my former clubs, I played with them in the Premier League, and when you look at where they are today you can't really believe it but that's football, it goes in cycles and it could be about to turn for them again.
Olympiakos is the crucial game for Man United
Let's not get too carried away with Manchester United's performance on Saturday, things don't change overnight and their big game is in the Champions League against Olympiakos next week - that's the one that turns the season around.
But the 3-0 win at West Brom does help take the pressure off David Moyes for a minute. When you see a manager has written an open letter to the supporters you worry because that's not something you want, it's desperation from David to ask for calm and a break. You feel for him and the pressure he's under.
That's not the way Tony Pulis loses
Crystal Palace lost at home to Southampton on Saturday but they didn't lose in the normal 'Tony Pulis way'. I've never seen one of his side's concede a goal like Jay Rodriguez's winner before and I bet he couldn't believe it.
Southampton are a good team, though; people tend to forget that and I think now Dani Osvaldo has left the club they seem back on course again because I think he upset the applecart a bit.
No resentment from Malky
Palace are fighting in the relegation battle with Cardiff and we chatted to their old boss Malky Mackay in-depth about their 3-0 win over fellow strugglers Fulham on Goals on Sunday and he was genuinely delighted for them.
Malky's fallen out with the chairman Vincent Tan but he hasn't fallen out with the club. When you work as hard as he did to get them to where they are you don't want to see it disappear and you don't want them to go down.
He knows that the players he brought in are good enough to keep them in the Premier League and they weren't in the bottom three when he left. There's still a long way to go and it's going to be hard for them but they've given themselves a chance with that win.
When it comes to Fulham I just can't believe some of the goals they are conceding. Felix Magath might be working on their fitness - I don't know him so I don't want to be too harsh - but they're conceding terrible goals from set plays.
That has got to be the focus of his attention over the next few weeks in training because of the rest of the performance until they concede is okay.