Chris Kamara blogs on Neil Adams' task at Norwich, that Andy Carroll goal and Arsenal's philosophy
Chris Kamara sizes up Neil Adams' task at Norwich, that Andy Carroll goal and Arsenal's philosophy.
Last Updated: 07/04/14 6:15pm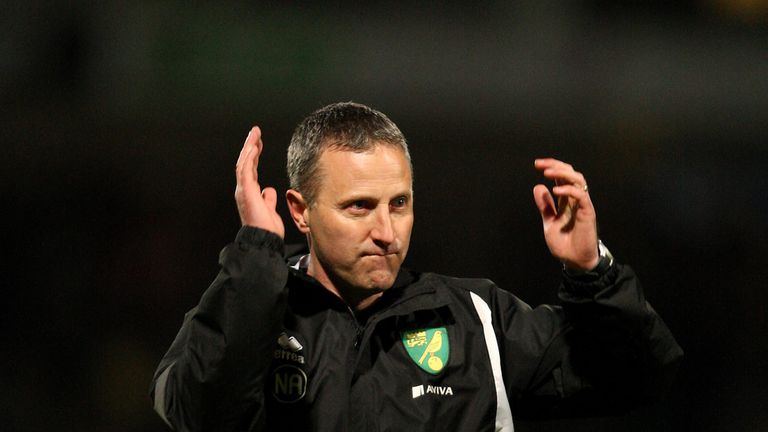 Hughton decision is odd... but this is the time for strange occurrences...
KAMMY SAYS: Norwich aren't dead and buried at the moment - they are five points clear of the bottom three - but nothing surprises me in the game anymore, and that goes for Chris Hughton's sacking. Norwich have got some tough games to come against Liverpool, Man Utd, Chelsea and Arsenal but first they've got a must-win match away at Fulham on Saturday. Chris, I'm sure, would have felt he could have won that one but the board clearly felt that he couldn't and that's why they've made the decision to get rid. The timing seems strange to me but giving the job to the youth team manager seems even stranger but good luck to Neil Adams. It's a massive ask of Neil but people tend to forget that we get some really strange results at this time of the year; as much as everybody was surprised that Crystal Palace beat Chelsea the other week, these types of results aren't unheard of when teams are scrapping for their lives or chasing silverware in other competitions. At this stage of the season it's all about who can hold their nerve - at both ends of the table.
Gunners must learn to grind out results under Arsene...
KAMMY SAYS: Theo Walcott joined us on Goals on Sunday and he told us a little bit about Arsene Wenger's philosophy which, to paraphrase, was something like 'you might be good at playing football, but we are better than you'. But there are times when you've got to alter your shape or cut back on your attacking options and grind out a result. The one thing Arsenal haven't had of late under Arsene is the ability to dig their heels in. When they conceded (and too often they concede sloppy goals) their heads go a little bit and that happened a bit against Everton. But the season is not over and they are still in fourth despite losing to Everton. I know Everton have a game in hand - but they've still got to win that. Arsenal have still got the chance of reaching the FA Cup final, so this is not time for Arsene and his players to feel sorry for themselves. Saturday won't be easy against a Wigan side that went to the Etihad and beat Manchester City in the sixth round but Arsenal will start as favourites.
Martinez proves himself a master tactician as Lukaku prospers...
KAMMY SAYS: I saw John Stones the other week when Everton played Swansea and I was very impressed with him and he put in another decent shift against Arsenal. He looks comfortable on the ball and defended very, very well. I thought it was great when Romelu Lukaku scored and ran over to the manager - it shows that there is a fantastic relationship there. Lukaku probably took a little bit of convincing when Roberto Martinez said he was going to stick him on the right-hand side; he probably felt that the one area he could definitely exploit Arsenal's centre-halves would be in the air. But Roberto is very tactically astute and realised that wasn't the way to go and asked Lukaku to create opportunities with his pace and that's exactly how it went down.
Now I can see why assistant referees are reluctant to offer a view...
KAMMY SAYS: I've lost count of the number of times that we've asked on Goals on Sunday why assistants are so reluctant to get involved in the decision-making process. After seeing how Andy Carroll's goal against Liverpool was allowed, I'm going to have to change my line of questioning! This time around the assistant got involved and made a decision that it wasn't going to be a goal. But the referee, in his own wisdom, decided that the goal should stand - so now I can see why the assistants aren't getting involved more! If the referee is going to say 'my decision has to be final', what's the point of them giving their view? These guys are supposed to work as a team - they shouldn't be working in the same way as a manager and his assistant, where the manager has to have the final say. I found it really disappointing that the assistant's advice wasn't taken. Then I felt the referee gave the second penalty to even things up. You had to be sharp-eyed to see that Adrian actually got a bit of the ball. If you look at Jon Flanagan's reaction, he knows that the goalkeeper has got a little bit on the ball and he's getting up to play on.
Palace honours could be in the offing for Pulis...
KAMMY SAYS: Crystal Palace seem to be churning out a performance of the week every week right now. It's that time of the season when we start to think who will win the Manager of the Year and you've got to say that Tony Pulis is right in there with Steve Bruce, Brendan Rodgers and Roberto Martinez - not to mention Manuel Pellegrini and Jose Mourinho, if either of them beats Brendan to the title. The League Managers' Association dinner is the day after the final game so this could be a very, very late decision! Richard Bevan might well be ringing around the managers on the morning of the awards!
Vitally, United forced Newcastle's players to drop their heads...
KAMMY SAYS: It was even-stevens until United scored and then it was all United. They looked like a team with balance, not to mention youth and vitality. It's fair to say that I haven't said that each and every week of the season! Javier Hernandez remains a bit-part player at United but I reckon he'd get into pretty much every team in Europe because he's still got that hunger to score goals. Once Newcastle conceded Juan Mata's first goal, their heads dropped and it was a case of 'here we go again'.
That shouldn't happen but, as I said on the show yesterday, it was something that Charlton used to do on a regular basis when Alan Curbishley was manager. They'd get their points in the bag and that would do something psychologically to the players - it was as if once they'd achieved their aim, something changed. That's the sort of situation that Newcastle are going through now. They've got themselves safe and don't see themselves going much higher or lower; the players will deny it but it looks as though they are just looking for the season to end. I can understand the fans' frustration, especially when you consider that they lost one of their best players in Yohan Cabaye in the transfer window; no real decent replacement was found and that's what has made life that bit harder for them.
Foxes will be more than fine up with the Premier League big boys...
KAMMY SAYS: I saw Leicester at home to Charlton recently and I thought they were one of the best Championship sides I've seen. They didn't have a weakness in their side and everyone was comfortable in their position. The goalkeeper Kasper Schmeichel is top draw and they've got to sign him up for the future. Steve Bruce has set the blueprint for staying up; he looked at the team and brought in two centre midfield players and then in January went into the transfer market and brought in two centre forwards because he believed that he wasn't getting enough goals from the two boys that were there. The fact was that he gave them an opportunity and there's no reason why Nigel Pearson can't give each of his players the chance to prove themselves in the Premier League and have targets in mind to bring in if they are struggling.