Sunderland players 'found wanting' as Sky Bet slash odds on Gus Poyet's sacking
Saving Sunderland from relegation is proving a "step too far" for boss Gus Poyet, says Niall Quinn.
Last Updated: 15/04/14 9:10am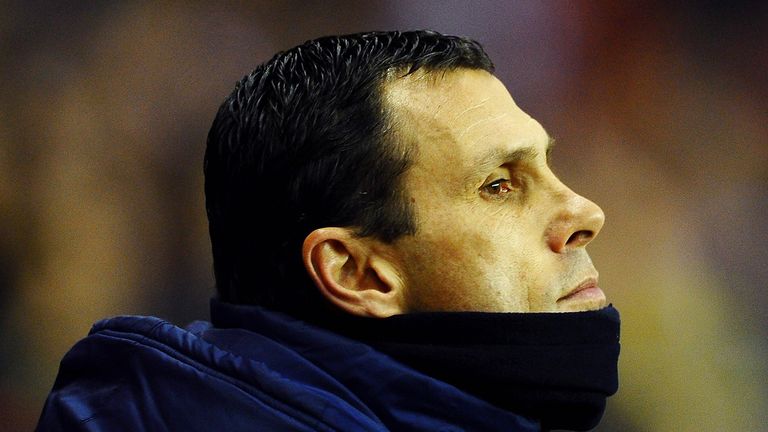 Sky Bet slashed the odds on Poyet being the next Premier League boss to lose his job from 16-1 to 6-4 on Monday as the rock-bottom Black Cats prepare for away trips to title contenders Manchester City and Chelsea.
Poyet signed a two-year deal with Sunderland in October with the club at the foot of the Premier League table - a position they again find themselves in, four points behind 19th-placed Cardiff all be it with two games in hand.
Former chairman Quinn told The Footballers' Football Show that Poyet in fact could be a victim of his own success having guided the club to the FA Cup quarter-finals and the final of the League Cup, after a run that included victory over Manchester United in the semi-final.
Problem
Assessing the impact Premier League relegation could have on the Black Cats, Quinn said: "If you miss out on survival it is such a low, it is such a problem - not just for the football club but in a place like Sunderland it will affect the whole area.
"It's disappointing to think about it now but they are where they are; it's a real problem. They've had many chances to do something about it and they just haven't played their way out of it.
"I feel sorry for Gus Poyet; I think he has brought something fresh to it. He is a good, honest man; he's got ambition and he's walked into a situation there where I feel it was a step too far.
"It looked an impossible task when he came in but he did so well he probably gave people hope up there and after the Cup runs finished and after the Lord Mayor's Show, the players were found wanting in the meantime."
Change
Poyet's future came under close scrutiny in the wake of Sunderland's 1-0 loss to Everton at the Stadium of Light on Saturday only for the former midfielder to hit back by claiming the club must resolve it's deep-rooted problems rather than keep changing managers.
"You have to go back three or four years, or maybe seven or eight," he said. "I have been reading from the times of Reidy (former manager Peter Reid), and apart from one year when Darren Bent scored 24 goals, we have been always playing with fire.
"The only thing that has changed more or less is the manager, so maybe it's time to change something different and look for the real problem inside the club and not just the one who comes here and talks to you every week."
Eight players in Sunderland's squad will be out of contract this summer.