Gary Neville says Southampton should not sack Nigel Adkins after defeat to West Brom
Gary Neville says Southampton must change something to avoid the drop - but not their manager.
Last Updated: 06/11/12 11:27am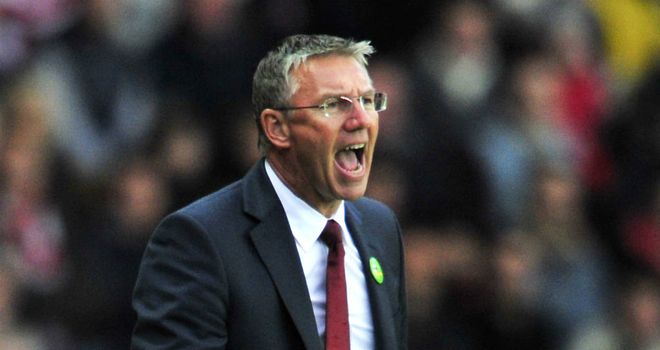 The Saints suffered a 2-0 defeat to high-flying West Brom on Monday night, leaving them rooted to the bottom of the table with just one win and one draw from their first 10 games.
Peter Odemwingie scored both goals for the Baggies, who moved up to fifth in the table with their fifth win of the season, with Steve Clarke's men the latest side to profit from Southampton's defensive frailties, which have now seen the Saints concede 28 goals since returning to the top flight.
Neville believes they are on course for an immediate return to the Championship unless they change tack quickly but insists the players, more than the manager, were responsible for their latest loss.
Neville told Sky Sports: "They have to somehow stop conceding goals. They didn't score but that is not their biggest problem because I think they will with their players. They have got to somehow get to January and sign a couple of defenders. Something has got to change.
"I would never, ever advocate changing the manager. The chant "you're getting sacked in the morning", I don't like that at all. Adkins has done a fantastic job at Southampton and that should not be forgotten. His players are making individual errors and I don't really know what you can do about that."
Handball?
In the build-up to West Brom's second goal, Nigerian striker Odemwingie clearly handled the ball but Neville insists it would be wrong to blame that incident, or the officials, for Southampton's defeat.
"It is handball, he has been a bit cheeky there Odemwingie, and they potentially are going to feel aggrieved - but it is not the story of the match," said Neville.
"The reality is that it is not the story of Southampton's night. They conceded two sloppy goals. One where the defender has jumped and turned his back and not got out quickly enough, and one where another player has not reacted quickly enough to the counter attack and he has not got back to defend it against Odemwingie.
"That is why they lost the game."
However, Neville was hugely impressed by West Brom and especially their defensive solidity, and suggested they should be targeting a top-10 finish having already alleviated any concerns of a relegation fight this season.
The former Man United defeder added: "They know their jobs inside out. (Goalkeeper) Ben Foster must trust his defenders in front of him in the same way Steve Clarke must trust his players.
"It is a great thing for a goalkeeper and a manager to know that you have reliability in front of you - the exact opposite of what Southampton have currently.
"Every time I watch West Brom I am impressed by the efficiency throughout the team. They know exactly what they are going to do.
"If they can stay in that top half of the table and get up to that ninth or eighth spot that would really be a magnificent consolidation of where they should be."