Cast your vote in Week Four of our poll to name ultimate PFA player
Who is the ultimate PFA Player of the Year? Cast your vote in our poll and win tickets to the 2013 Awards.
Last Updated: 08/04/13 1:50pm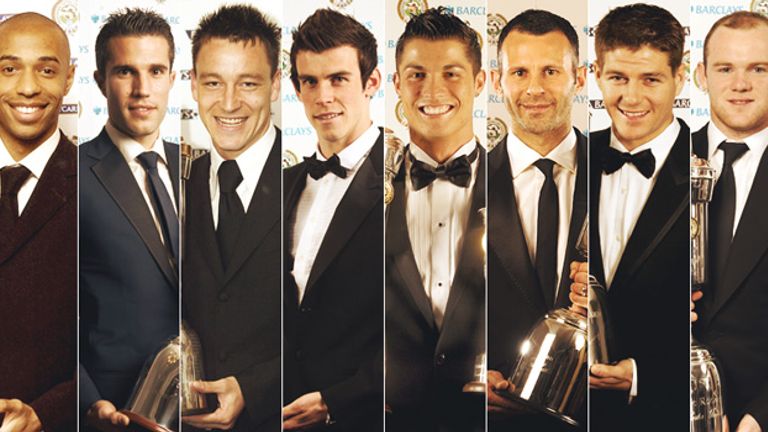 We are running a series of polls throughout March and April, encouraging our readers to look back over the 35 players to have won the prestigious prize over the last four decades and choose their favourites.
Norman Hunter, Kevin Keegan, Kenny Dalglish and Gary Lineker have qualified for the final vote after you voted in your thousands in the first fortnight and now we want you to pick your favourite winner from 2003 to 2012.
The contenders are Thierry Henry, John Terry, Steven Gerrard, Cristiano Ronaldo, Ryan Giggs, Wayne Rooney, Gareth Bale and Robin van Persie.
What's more, everybody that votes will be eligible to enter our prize draw to win two tickets to the 2013 PFA Awards ceremony at Grosvenor House Hotel, Park Lane, on Sunday April 28.
So what are you waiting for? Head over to the voting page and make your choice!
Pot Three - Results
In Week Three, we asked you to vote for your favourite former winner from the years 1993-2002.
The winner, by an enormous margin, was Arsenal legend Dennis Bergkamp, who picked up 56 per cent of the vote, with ex-Aston Villa favourite Paul McGrath joining the Dutchman in the final after accruing 18 per cent.
Bergkamp and McGrath join Norman Hunter, Kevin Keegan, Kenny Dalglish and Gary Lineker in the final vote, which opens on Monday April 15, to discover the overall winner.
Remember, all the finalists will start from zero in the final week, so you need to log on again to vote for your favourite.
For more on the PFA Awards visit www.thepfa.com