Arsenal need reinforcements - but have talent, says Jeff Stelling
Things aren't as gloomy for Arsenal as some Gunners fans would have you believe, says Jeff Stelling.
Last Updated: 24/08/13 1:43pm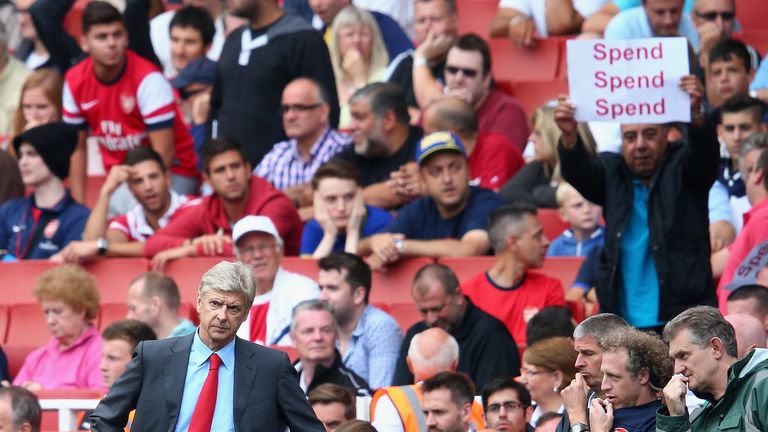 There have been a lot of people criticising Arsene Wenger in recent weeks and many disgruntled Arsenal fans have made their displeasure known, however, some of the statements have been way over the top.
Their trip to Turkey for the first leg of their Champions League qualifier was supposed to be a tricky test but Arsenal made it look straightforward. Aaron Ramsey was outstanding and so was Theo Walcott; the team did nothing wrong.
It's far too early to panic at Arsenal.
I've got some sympathy with Wenger regarding transfers, too. He has Arsenal fans urging him to spend money but you have to spend it on the right people. You can't have a scattergun approach of bringing in anybody who's available.
And as he correctly points out, there's an absence of top, top, top quality players available at the moment.
I don't absolve him completely, though. After the Fenerbahce game he said 'my transfer window starts now', well, with all due respect, his transfer window should have started the moment the last ball was kicked last season.
They should have been examining ways to bring in other players at that time.
And if they were serious about Luis Suarez why did they bid a fraction over £40m? Why didn't they take the £10m they were offering for Yohan Cabaye, add it to the £40m and say 'here's £50m, we've got the money'.
They're just playing at it a bit at the moment.
The first XI is great but going to Fulham at the weekend they will have to play Bacary Sagna at centre back because Laurent Koscielny is suspended, and instances like that make them look a little thin.
Things aren't as gloomy as some Arsenal fans will make out, though. They still have a recent record that is the envy of about 89 clubs in this country, so let's not get carried away. I'm sure they'll do some business before the end of the transfer window - and even if they don't I still think they'd get into the top four.
The concern and frustration for Arsenal fans, though, is knowing they are no longer genuine contenders either for the Premier League or Champions League.
Blow
Meanwhile, it appears former Arsenal striker Nicolas Anelka's future in the game is uncertain, with reports suggesting he could be set to retire.
Of course nobody except those closest to him know exactly what his state of mind is like at the moment and how it will pan out but one thing's for sure, it's a real blow for West Brom.
Having seen Romelu Lukaku go back to Chelsea this summer after a fantastic season on loan they replaced him with Anelka and things were looking promising.
The Frenchman had done well in pre-season matches and seemed set to enjoy a successful swansong at the Hawthorns. But for Steve Clarke to lose him at this stage, with only a few days to go before the transfer window closes, you wonder what the future might hold for West Brom.
They finished last season - with the exception of their 5-5 draw with Manchester United - pretty disappointingly and started this season more so; their 1-0 defeat to Southampton flattered them because Saints, to all intents and purposes, played them off the park.
If I was a West Brom fan I'd be a little concerned. Last season they finished one place above Southampton but since then we've seen Southampton go and spend £35m over the summer and who would you put your money on to finish higher? There's no question in my mind it would be the South Coast side.
Gem of the week
Leyton Orient: They won 1-0 at Stevenage but they aren't so much my Gem of the Week for that result but more for their superb start to the season. They finished last season fantastically well and didn't miss the play-offs by very much - and now they have maximum points so far this season.
Russell Slade has worked wonders at this little unfashionable club in East London and if they do turn out to be contenders for promotion what an achievement that would be, competing against some of the bigger clubs that are in that league, such as Sheffield United and Wolves.
It would be brilliant if they fulfil their dream of Championship football - and they've got goals in their side with Kevin Lisbie, Dave Mooney and Dean Cox - but there's a long way to go yet...