Liam Ridgewell: West Brom star talks tattoos and Midlands supremacy
Johnny Phillips talks tattoos, Midlands supremacy and contentious penalties with Liam Ridgewell.
Last Updated: 25/11/13 12:24pm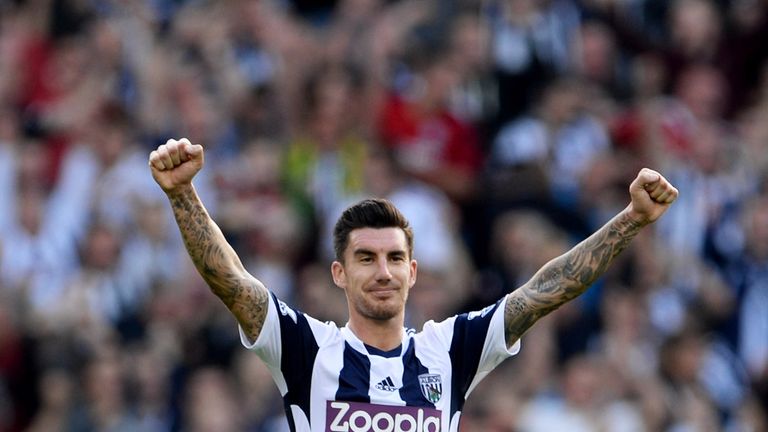 More and more footballers of the current era are adorning their bodies with tattoos and one of those who has noticeably changed his appearance over the years is Liam Ridgewell.
When I first interviewed him as a youngster at Aston Villa his arms were pretty bare. By the time I met him again, at Birmingham City, he had added a couple of tattoos.
When I saw him most recently, at West Bromwich Albion's training ground ahead of tonight's local derby with his old club Villa, there was no space left on either arm for any more.
"I don't know where else to go at the minute, I think I'm filling up most of my body," said the 29 year old. "Wherever I go in life I look at people's tattoos, I'm really interested in it.
"I always get something dear to me or something I really like. I wouldn't say I enjoy the pain of it but I like the finished product.
"When people come up to me and say 'I want to get a tattoo', I would say it's best not to go into a shop and just pick something out off the wall or out of a book. Go and get something that means something to you or that you really love, then you won't regret it in later life."
Progress
Ridgewell's tattoos include his own date of birth in the form of a set of cards, the names of his children and old sayings or advice that his dad used to give him.
Put together, there is a small potted history of his life in there. There are no tattoos of the football clubs he's played for, which is perhaps just as well given his propensity for moving between rivals.
Now at his third club in the West Midlands, I put it to Ridgewell that Albion are now the top dogs of the region.
"I think we've come a long way" he agreed.
"Before I arrived they'd started to build a good club and I think the manager [Steve Clarke] is starting to build a very good team now. It's been quiet and steady the way we've gone about it so hopefully we can continue making progress in that way.
"Roy Hodgson introduced the style of play and I think the current gaffer has taken that on a bit. I think the fans will tell you the style of play is good and all the players enjoy playing that way.
"If you look at this season, the people you'd pick out who've come into the team are Morgan Amalfitano, who scored that goal against Manchester United, and Saido Berahino.
"But someone who has done very well for me is Boaz Myhill, who had to step in when Ben Foster got injured."
Frustrating
The win at Old Trafford was the standout result of the season and they should have added to that with another one at Stamford Bridge a fortnight ago.
But for Andre Marriner's decision to award Chelsea a last-minute penalty when Ramires went down under a challenge from Steven Reid, Albion could well have ended Jose Mourinho's long unbeaten record in the league at home.
It was a desperately disappointing end to the game and tensions boiled over in the tunnel afterwards, although Ridgewell was diplomatic about what went on out of sight of the cameras.
"There were discussions" he added. "You get that sort of thing everywhere. I go and watch my brothers on a Sunday and it's the same at that level.
"There were discussions down the tunnel but it's one of those things in football. Everyone wants to win and get the three points. It was frustrating because we'd worked so hard to try and get a win."
West Brom's eighth-place finish last season was some achievement, given the spending levels of others in the league. Chairman Jeremy Peace has always run a tight ship at the Hawthorns, to the frustration of the fans on occasion.
It's unlikely there will be any significant strengthening in January so Ridgewell was keen to dampen talk of improving on last season's finish when I raised the prospect of European qualification.
"I don't think it's in the minds of the players," he explained.
"The best thing we can do is maintain a good level of performance every week. We don't get ahead of ourselves, we just try and push on and improve year on year. We finished eighth last year, if we improve on that it will be a bonus."
A Europa League place would be something to celebrate for the player who's now totted up 12 years in the West Midlands. Who knows, he might even get another tattoo...