Andy Carroll and Peter Crouch epitomise work ethic at West Ham and Stoke, says Gary Neville
Strikers Andy Carroll and Peter Crouch were key defenders on Monday night, says Gary Neville.
Last Updated: 20/11/12 9:42am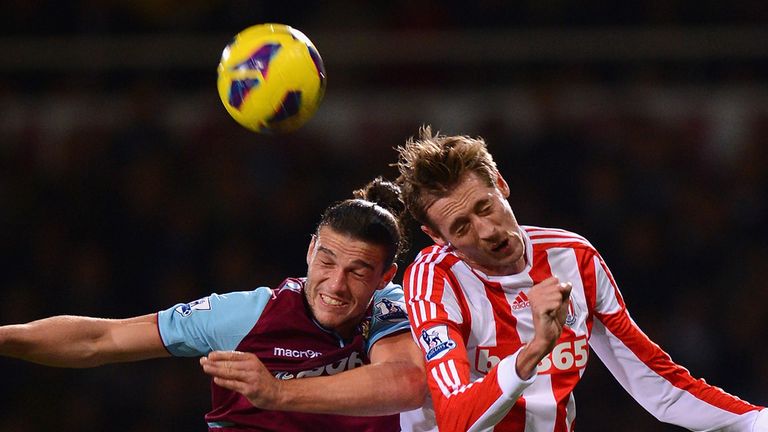 Joey O'Brien's first Premier League goal cancelled out Jonathan Walters opener, which came from a well-worked corner, and Neville felt both teams worked hard to earn a deserved draw.
"It was a game where we saw the best of both sides in respect of their work ethics and organisation," Neville said on Monday Night Football.
"It wasn't the greatest spectacle at times but I thought both teams deserved something out of the game. Both teams were desperate to win, gave their absolute all and demonstrated the real effort which goes into performances in this league."
Epitomising that spirit, said Neville, were target men Carroll and Crouch. Both had more touches in their own box than the oppositions and, rather than criticise that stat, the former Manchester United defender praised their commitment to the cause.
"No one will remember at the end of the season the effect these players have had in this game," said Neville. "But when we talk about work ethic and helping your team out and digging in, this is what we mean.
"Before the game we talked about what they would do going forward but Crouch had eight touches in his own box to three in the attacking box; Carroll had five in his own box and four in the Stoke box.
"You can either be critical of that or you could praise that. I'd look at strength of it - although, I've never seen that before from both strikers.
"Everyone in the Stoke team was man for man when Stoke were defending corners and free-kicks, except Crouch. And he was clearing everything.
"These are moments in a season when you're digging in, it's tough, you're doing your job and staying in the game. This is the tough bit of football where you're defending set pieces away to West Ham.
"That's really important. When you're at a club like West Ham or Stoke you're all in it together, and those two players typified that."
Precision
Another example of hard work and organisation came in the shape of the visitor's expertly executed opener, in which Walters emerged un-marked to meet Glenn Whelan's inch-perfect cross.
"To get this right everything had to be spot on," reflected Neville.
"This would have taken time after time after time on the training pitch and needed all the players to keep their concentration.
"The coaches and manager will have spent hours poring over videos and detail. They'll have identified a space, a weakness in West Ham's defending on corners. They then have to translate that with meticulous detail to the training pitch.
"The timing is absolutely fantastic and the finish from Walters was excellent - how many times do you see players hit this type of shot over the bar or mishit it? They must be so proud to get a point from that set piece and through their organised defending, including Crouch, at the back."