Saturday summary
The panel reflect on wins for the Manchester clubs, despair for Aston Villa and Stoke's wonder goal.
Last Updated: 29/12/12 7:06pm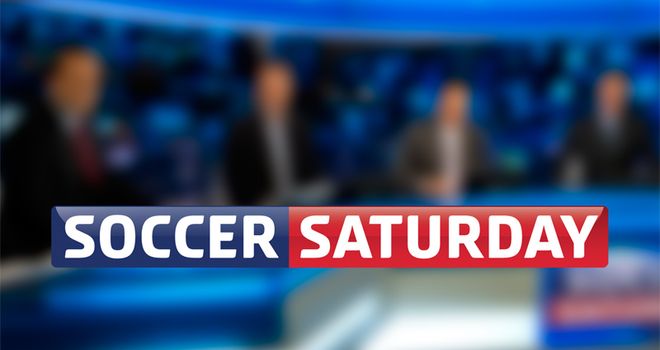 Charlie Nicholas on Man City's attacking strengths and defensive weaknesses in their 4-3 win at Norwich
Edin Dzeko and Sergio Aguero started today and I have to pin-point that the partnership between the two of them was as good as I've seen. They were passing, they linked up and as soon as one of them went out of a space, the other one filled in the space. It was very impressive and they got off to a flying start with Dzeko getting two in the first four minutes. Often a lot of crosses come in and that makes him different from the other strikers, but he didn't really have that today and scored two simple tap-ins.
It became very edgy with 10 men and Roberto Mancini will be upset by a few things; but the most important thing is they are back in a winning way. They had 10 men, but he can sit and say all he wanted today was three points. They were quite frail at times and Vincent Kompany kept getting a few little niggles, he seemed to be carrying a groin problem and looked to be hobbling at the end. There are decent signs of goalscoring there, but defensively he'll still be upset.
Click here for our match report
Matt Le Tissier on Manchester United's improved defensive display in the 2-1 win over West Brom
It was fairly comfortable. West Brom didn't have too many clear-cut chances in the whole game and Manchester United defended a lot better today. When West Brom did threaten in the game there were some good defensive blocks and they generally looked more solid. West Brom had a good spell in the second half where they threw on a few more forward players and looked like they might get back into the game, but on the whole it was a much more solid performance. It says everything about the game that even though they were winning 1-0, Sir Alex felt like he needed to put Robin van Persie on to wrap the game up - and that's exactly what he did. Nemanja Vidic did really well, he was very solid, quite commanding and did everything that was asked of him quite comfortably. I watched the Newcastle game a couple of days ago and thought the title race isn't over with a defence like that. They were a lot more solid today and maximum points over the two Christmas games means they're looking like champions at the moment.
West Brom weren't too adventurous in the first half and I thought they might have been a bit more positive given what they saw from the United defence a few days earlier [against Newcastle], but in the second half they threw on Fortune, Lukaku and Morrison and they had a lot of forward players to create a lot of pressure without really creating too many clear-cut chances.
Click here for our match report
Paul Merson on how Stoke got out of jail with a Cameron Jerome wonder strike against Southampton
It was phenomenal and even he couldn't believe it. He ran off and just put his hand over his mouth. It was an unbelievable strike, probably the best goal he's ever got and a great finish. They couldn't have played any worse and they still got a result. I don't know how they do it. In the first half you thought they were just turning up to wipe the floor with Southampton and move on to New Year's Day. That wasn't the case; they were outmuscled by Southampton. Rickie Lambert didn't touch the ball a lot, but every time he did he looked real class. If he had pace he could play for one of the big teams.
When Stoke lost a player they were the only team that looked like scoring. Southampton got a bit panicky and only when Lambert got on the ball did they have the composure to keep it and pass it. The other lads were just lumping it up front and it was coming back again and again. Fair play to Southampton, they'd have taken a point all day long, but when you're 3-1 up against 10 men you've got to do better than that, especially with the way the other results have gone.
Click here for our match report
Phil Thompson on an awful Aston Villa display against Wigan that had the home fans scrambling for the exits
They conceded eight goals against Chelsea at Stamford Bridge, but this was in front of their own fans against a team who, at the start of play, were below them. They've leapfrogged them and I don't think Villa caused Ali Al-Habsi a problem. There were a few shots that he saved and they hit the crossbar, but there just was not enough in this game and defensively they were all over the place. It was only when they went to four at the back that they looked more solid. I'm trying to find the positives for this Aston Villa side, but there wasn't many on the day.
Christian Benteke is the only danger and he was average. He didn't have any clear sights at goal, but he works hard and is the best out-ball and they kept trying to get the ball in the box because they haven't got much else. They're all buzzing around him and will all close down - I'm not saying this team didn't work hard - but they were so short on quality. In the first half an hour Wigan passed them to death - and they've got Swansea next up at the Liberty who will do exactly the same; keep the ball and make them chase around. This was just awful and the boos were unbelievable at the end of the game. After the second goal, which was 56 minutes, a load of people were wanting to get out and I wouldn't imagine that the doors would be open to let them out of the stadium! They might have had to suffer it... and it could have been a whole lot worse.
Click here for our match report
Chris Kamara on West Ham giving the ball away too often in their 1-0 defeat to Reading
What an absolute disaster for James Collins! The ball was coming to him, no problem and he had it and it was easy for him to play it back to Robert Green. It was easy for him to kick it out of the park! He attempted the back-pass to Robert Green and scuffed it completely. Pavel Pogrebnyak pounced on it in seconds and was one-on-one against Rob Green; he was cool and calm and collected and slipped it under Green's body.
West Ham keep making the same mistakes. They try to play too much football in their own half and it kept getting cut out. Tomkins was guilty of it, Reid was guilty of it, Taylor was guilty of it and Collins was guilty of it. All Reading were doing is pouncing on it as quickly as they possibly could.
Click here for our match report
Alan McInally on the woes of goalkeeper David Stockdale in Fulham's 2-1 loss to Swansea
I'm with Paul Merson, I think Danny Graham's excellent and he scored a great goal for Swansea. It was lovely play down the right-hand side from Dyer. Rangel put it into the middle with a little deflection and Dyer helped it on its way with a volley, but David Stockdale in goal should have done better. He popped it up and Danny Graham was first to react with a right-foot volley. A super goal.
Fulham went 2-0 behind with a great goal for Swansea, but it was an absolute disaster for Stockdale. There was no real problem and he tried to clear it under a little bit of pressure from Swansea, but not really a lot. He mis-hit it and it hit Brede Hangeland and popped out to Swansea, came to Jonathan de Guzman and he could pick his spot, left or right, and he picked the right-hand corner no problem.
Click here for our match report
The Story of Soccer Saturday
Take a look back at the story of Saturday's action throught the eyes of the panel with our video overview...