Gary Neville assesses QPR, Stoke, Aston Villa and Sunderland on Monday Night Football
Gary Neville had harsh words for QPR and Stoke but saw positive signs for Aston Villa and Sunderland.
Last Updated: 08/04/13 9:11pm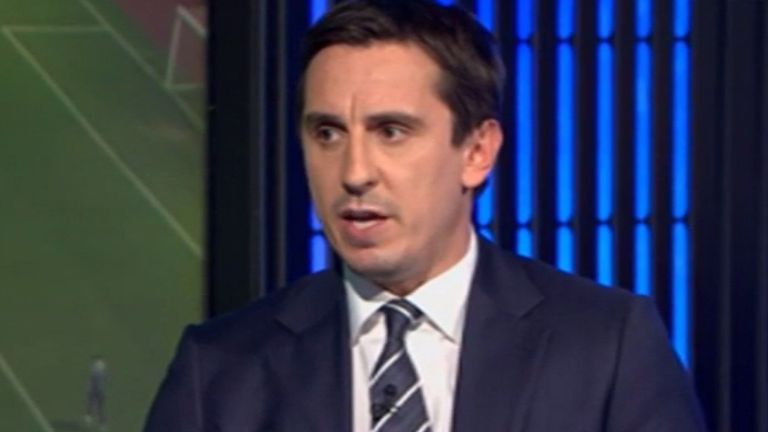 QPR are on the brink of relegation after Wigan's Shaun Maloney curled an equaliser over the ducking head of Adel Taarabt after Stephane Mbia had conceded a stoppage-time free-kick in a dangerous position. Neville feels the incident was symptomatic of the 'flaky' attitude the Hoops players have shown all season.
"Stupid little things are crippling QPR at the moment," he explained on Monday Night Football. "We can point towards so many of them. We've all given free-kicks away on the edge of the box but they are stupid. There is no other word for it than stupidity.
"Taarabt is the only one that actually does jump in the five-man wall. It's killed them really. I could lay into him but there is no point. There is absolutely no point. What do you expect of Taarabt in the wall? That's exactly what I'd expect.
"Ducking in the wall really is something that when you're fighting against relegation it just sums up QPR's season it really does. It sums up everything that's been wrong with QPR this season. We've said that every Premier League footballer gives 100 per cent effort all time. What we've witnessed this season is that QPR are not like that. They're just a little bit flaky in the way they go about things.
"As much as you can play football going forward with the likes of Andros Townsend and Loic Remy, if you have players getting sent off regularly and schoolboy errors regularly then you bring about your own downfall."
Another team struggling to get results of late are Stoke as they were beaten 3-1 at home to Aston Villa on Saturday. The Potters are on a desperate run of form that leaves them just three points above the Premier League drop zone and Neville believes the unexpected nature of their relegation battle could count against them.
"It's precarious for them," said Neville. "I said last week I thought they'd stay up and I still think they will stay up. But they are the one team who are down there, maybe in the dressing room, the manager, the fans, that we don't expect this. Whereas the other teams would have been expecting a battle. The Stoke players need to get themselves ready and quickly. I mean really sort themselves out because they're going to be in a big fight.
"If you'd said to me that Stoke would concede almost two goals a game (for the last 13 games) I would have said absolutely no chance. It was their organisation, their mentality to defend, their detail and their aggression to defending. But it's just poor defensive decisions really under pressure."
It was a wonder strike from Matthew Lowton that set Villa on their way to victory and Neville is optimistic about the future for Paul Lambert's team - if they can survive this season. He said: "Forget the technique, forget the goal. It's the importance of it, the magnitude of it. How important could this be for the confidence, the belief and the points tally of this Aston Villa team?
"They are in the FA Youth Cup final, they won the NextGen Series, they've got young players in the first team. We have said this before, we hope they can stay up because if they can get through this next period these young players should be so much better for it next season."
Neville also saw encouraging signs from Sunderland in their 2-1 defeat at Chelsea, the first game of Paolo Di Canio's reign at the Stadium of Light. The Black Cats led at half-time but faded after the break and the Sky Sports pundit told Monday Night Football that this hinted there could be some truth in the fitness issue that Di Canio has highlighted since taking the reins last week.
"I think there were little improvements," he said. "All the focus last week was on why they don't score goals but the biggest thing was that need for energy (from defenders) to get up that pitch and support so the midfield players and the forwards weren't having to run all the way back to get the ball. That way their energy would be saved for the attacking bit which is the important bit. For me at times they took the easy option, they sat back. There were some positive signs against Chelsea.
"Connor Wickham definitely ran away from people and had some intent in his game. There was a real intent about their game. That's nothing to do with tactics or anything else, it's just purely to do with sprinting and getting forward quickly. But you need high energy and legs to do that.
"I heard Di Canio in his interview after the game saying it's not the fittest team and that they tired and lacked energy. You could argue it's a cheap shot at the previous regime and I suppose in some ways it is. But there is definitely evidence with Sunderland that they do tire a little bit in games."