Football Expert & Columnist
Graeme Souness gives verdict on the new gaffers
Five Premier League clubs - Man Utd, Chelsea, Man City, Everton and Stoke - will start the season with new managers. Graeme Souness knows a thing or two about management and he told us what he expects from the new men in charge...
Last Updated: 22/08/13 4:18pm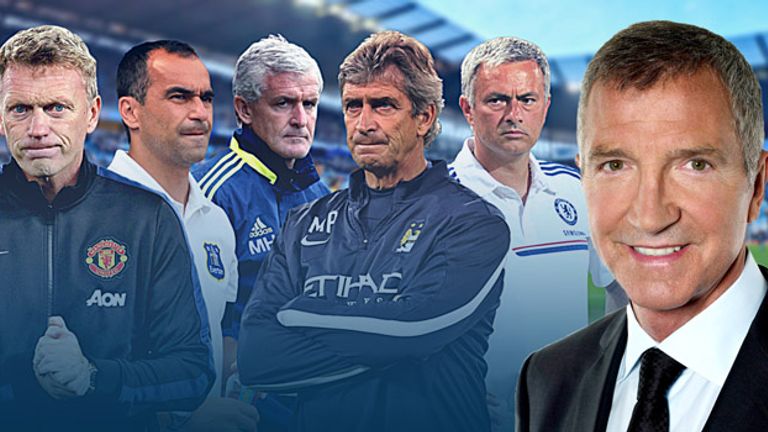 What's on his to-do list?
He will know exactly what he has got squad-wise. Fergie is still there so he can ask and he can tell him everything about each individual. He will have a good idea because he has played against them so many times in his time as manager of Everton, so there are no real surprises. I think the biggest issue he has to deal with is not who he is going to bring in, but how he deals with Wayne Rooney. There are so few top players around that you have to keep him. From the outside - and I don't know whether it is happening behind the scenes or not - there is no real effort being made publicly to get him back on side. I just think that the two of them are digging trenches for themselves and being prepared to play the long game. But the season starts on Saturday so I just think they should lock themselves in a room and have a love-in.
What are the major challenges he faces?
It's a fantastic opportunity for him but terrifying at the same time. Manchester United are a club whose whole set up is geared to winning things. From bottom to top you can bet every department works really well and all know what they should be doing. That is Fergie's legacy. The terrifying part is he is taking over from a manger who is synonymous with winning things every season. They are a team that has won the Premier League so people think that it will be a case of more of the same next year where I think the challenge is greater this year than it has been for Man United for a number of years - and that would be so whether Fergie had been there or not. The introduction of other new managers at City and Chelsea has made the challenge bigger.
What's the minimum requirement for him this season?
I don't think anyone would put him under that kind of pressure. Obviously it is to play the kind of football that Manchester United have always played, which is to be on the front foot, with two wide players and getting the crowd on the edge of their seats with exciting football.
Are you backing him to succeed?
I think he certainly deserves to have the chance. He has had a proper grounding in his time at Everton, although he has never won anything. He will be aware of that. He is now at a football club that expects to win things. That is the challenge for him.
Jose Mourinho
What's on his to-do list?
I don't think there was a lot wrong with Chelsea last year. I thought Chelsea had the stronger players and Rafa Benitez went into that club and did a good job under the circumstances. In terms of their squad of players, I think they have a very strong squad, but I think he will want to strengthen and will still have targets, whether he will get the ones he wants or not. I think he needs someone who will get him 25 goals a year.
What are the major challenges he faces?
His relationship with the owner. Something has given there because in his previous life he wasn't making all the football decisions. The owner wanted to get involved in who was coming and who was going and I think there was an obvious clash - that would appear to have been resolved. For him to be going back there it would appear that that obviously would have been part of any discussions before he re-signed.
What's the minimum requirement for him this season?
They have to win something. The Premier League or the Champions League. I think the Champions League would still be everyone's first choice.
Are you backing him to succeed?
He goes in there with so much goodwill. Of all the Chelsea supporters, I have not met one who says they are not happy with him coming back. Also, he is going into a club with not too much wrong in terms of the playing staff and he will want to add to it. He is the manager that first time around, when he pronounced he was the Special One I, like everyone else, thought, 'you are going to find life very difficult and fall on your face here in English football', and he didn't. He prospered and proved to be the real deal. I am a massive fan. I think we will welcome him back, especially in the job we do now in the media.
Manuel Pellegrini
What's on his to-do list?
I don't know him. I have heard players talk about him and I like the sound of him because he keeps it simple. I read that his first question was "where is the best golf course around here?" I think that shows he is going to be far less intense than Roberto Mancini. I believe this time last year City had the strongest group of players in the Premier League and they didn't win it. He keeps it simple. He will hand all the responsibility over to the senior players in the dressing room and I think that - if you have good senior pros - it can be the making of you.
What are the major challenges he faces?
I don't see any. Brian Kidd is there and I think it's imperative that he has someone who knows the Premier League there. Kidd is that man. I think they will be the team to beat this year.
What's the minimum requirement for him this season?
They have to win something. The two big ones are the Premier League and the Champions League and they are contenders in both. I think the obvious criticism which was levelled at City when Mancini was there was their record in Europe. So I think they have to win something and get out of the group stages of the Champions League.
Are you backing him to succeed?
Come the end of the transfer window, we could be talking about two very different squads but as we sit here right now I think City have the stronger squad. You don't know when Man United are going to buy, you don't know who Chelsea might end up buying or Arsenal. But as we sit here right now I think they will be the team to beat.
Roberto Martinez
What's on his to-do list?
Everton had a good season last year and have had several good seasons, so I don't think you go in there and change something. He has a group of players which have proven over the last few years that they can perform at the highest level in the Premier League. It is more of the same and he will try to implement some of his ideas on them. I would not be thinking that he will be making too many changes and they won't be drastic changes.
What are the major challenges he faces?
How much do you change it because this is a team that has done well in recent years? He is not going to want to change it by going out and spending £14m or £15m. He will have his own ideas and will be hoping that this Everton team don't concede as many goals as his Wigan team. His biggest challenge may be keeping his players because there are some excellent players at Everton right now. I am a fan of Marouane Fellaini and the little left-back, Leighton Baines.
What's the minimum requirement for him this season?
I think they'll be saying to him: "Don't finish any lower than they did with David Moyes and win us a cup". They are not going to win the Premier League but if they can win a cup and don't drop any lower in the league that would be a success.
Are you backing him to succeed?
I think he will find it difficult to emulate what Moyes has done. I think he will find it hard. I think Moyes has a specific way of playing and Martinez sees it quite differently and it is all about how that cross-over works out for Everton.
Mark Hughes
What's on his to-do list?
I am not going to tell him what he should or shouldn't be doing. I think - knowing Mark Hughes - he will want to play differently to Tony Pulis and it is how that cross-over works or doesn't work.
What are the major challenges he faces?
I think Tony Pulis was a manager who had trust. The players trusted him the board obviously trusted him but for some strange reason they decided to change it and I think I am like everyone else, it's a bit of a mystery why they changed it. Mark has a chance. I think he has to regard himself as fortunate to work in the Premier League again, given his previous spell at QPR, where it did not go swimmingly well for him. He has gone to a club which was surviving quite comfortably under Tony Pulis. I think he has a big job because I think he will want to play quite differently to what the Stoke players are used to playing. And it is how much that change will affect results.
What's the minimum requirement for him this season?
The same again - survive with a bit of comfort. Not having a fight for survival on the last day or last two games.
Are you backing him to succeed?
How many clubs has he had? He is an experienced manager and I would expect him to more than cope with the demands that Stoke will put on him. I think he will be fine.
Sky Sports kicks off its biggest ever Premier League season this weekend by showing the three title favourites live on the opening weekend. To find out more click here.