Weekend review
Young heroes Ravel Morrison and Adnan Januzaj take the headlines in our weekend review but there are still issues to resolve for Manchester United, Manchester City and Arsenal among many others...
By Matt Stanger & Adam Bate
Last Updated: 07/10/13 4:10pm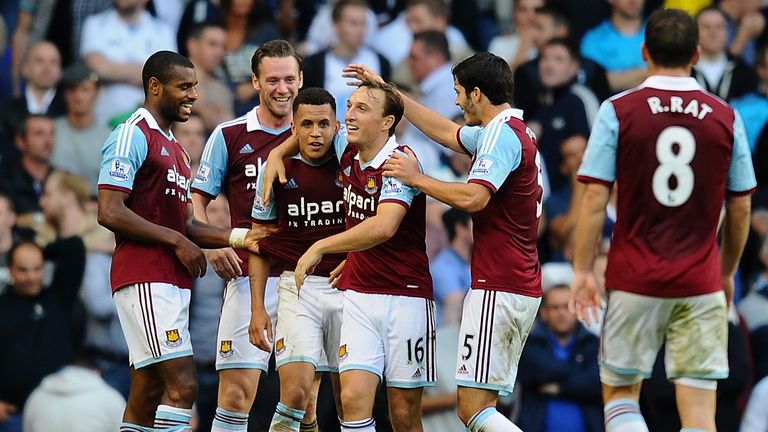 Big Sam finds a way to win
Following five matches without a win - in four of which they failed to score - West Ham executed a ruthless counter-attacking display to win 3-0 at Spurs as Sam Allardyce's 'false nine' paid off handsomely. Perhaps he is 'better suited' to managing Real Madrid or Internazionale. It's little wonder Big Sam finally gave up on Modibo Maiga leading the line considering the striker's woeful record of two goals in 23 Premier League appearances and the manager's decision to play with runners from deep sliced Spurs open late on as the home side sought an equaliser.
"We thought we would drop the front man out and play more attacking players from midfield, with players from deep running forward," said Allardyce. "The two wide men in Vaz Te and Stewart Downing would run inside, meaning the centre-halves would never quite know who they were coming up against. In the end, the third goal was an opportunity that showed that and worked really well."
The instant result of a switch to a deep counter-attacking system is likely to see Allardyce retain his faith in the tactic in the next two matches against teams who enjoy bossing the ball in Manchester City and Swansea, but he will still need to re-think his attacking plan with Villa at home and Norwich away also on the horizon. Ceding possession and hitting an opponent on the break may work against superior sides who gradually grow frustrated, but it is not a long-term plan against the top-flight's lesser-weights. MS
Read our thoughts on why Tottenham should be worried by Sunday's game here
Januzaj to the rescue
Manchester United gained a much-needed 2-1 victory at Sunderland that lifts the champions six points behind the league leaders, but it was also another disappointing display as they laboured to a narrow victory over a truly terrible team. We may have seen the best of an awful Sunderland side in the first half, as Craig Gardner's dithering and David De Gea's magnificent save prevented the Black Cats from extending their lead, but United should have eased to victory with the quality they possess. That they were eventually saved from another sticky situation by an 18-year-old rookie is an embarrassment to the more experienced players in the squad who again failed to perform.
While some have pointed the finger at David Moyes, Ryan Giggs and now Wayne Rooney have defended the manager and claimed that the players deserve a slice of the blame pie. As always, the truth probably lies somewhere in the middle, with Moyes' tactics certainly failing to get the best out of the team, but previously reliable performers - such as Nemanja Vidic and Rio Ferdinand - stumbling their way through the early weeks of the season.
One thing Moyes does deserve credit for is handing Adnan Januzaj his first Premier League start. It doesn't necessarily take guts to pick a rookie ahead of Ashley Young and Antonio Valencia at the moment, but Januzaj's selection and performance handed a timely message to United's underperforming wingers. MS
You can read our analysis of Sunderland v Manchester United using Opta data by clicking here
City still searching for balance
A hard-earned 3-1 win from behind against Everton, which brought some wonderful attacking play punctuated by several hairy moments in defence. City have the best goal difference in the top flight after scoring 17 goals thus far, but only nine teams have conceded more than the Blues, who were also worryingly porous against Bayern Munich in the Champions League.
While the defence is a concern, especially now that Vincent Kompany has suffered a recurrence of his troublesome groin injury, Manuel Pellegrini should possibly focus on solving that particular problem by addressing the balance in midfield. If City are to continue to progress in tough away trips to West Ham and Chelsea, Yaya Toure and Fernandinho must retain the balance they showed in the first half of the Manchester derby. Sergio Aguero and Alvaro Negredo have instantly struck up a rapport in attack, but it seems the midfield - and now the defence, if Kompany is ruled out for another few weeks - will take a little more time to gel. MS
Lots of character but where's the width?
After eight consecutive away wins, a draw at West Brom might be considered something of a disappointment for Arsenal in that it allowed Liverpool to draw level on points at the top of the table after seven games. But after falling behind at the Hawthorns, the first time they have conceded the first goal of the game all season, the Gunners showed evidence of their new-found resilience to claim a point. That's what they'll need to do if Arsene Wenger's team are serious about a title challenge.
They'll also need rather more width than was on offer at the weekend. Aaron Ramsey and Jack Wilshere both looked uncomfortable in the wide positions and while Arsenal are unfortunate to be without the likes of Theo Walcott, Santi Cazorla, Lukas Podolski and Alex Oxlade-Chamberlain, the current imbalance could prove costly. AB
You can read more on Wilshere's role and Wenger's search for shape at the Hawthorns here
Remy needs to keep 'em coming
Newcastle may only have made one first-team signing in the summer, but what a signing that is proving to be as Loic Remy grabbed his fourth and fifth goals of the campaign to give the Magpies a precious 2-1 victory over Cardiff.
Both Alan Pardew and Joe Kinnear needed a result for the former to keep his job and the latter to stop looking so utterly out of his depth and Remy's double - the second a wonderful strike - brought the under-fire duo some respite.
The next two fixtures, at home to Liverpool and away at Sunderland, afford Newcastle an opportunity to avenge nightmarish defeats in the space of two weeks in April. And then it's on to Man City in the League Cup, Chelsea and Spurs. Good luck, Alan. MS
The more things change...
Despite boastful talk of a change in style, all Mark Hughes has achieved so far is to transform Stoke from 13th-place contenders into 13th-place contenders with six per cent more of the ball. Woo, and indeed, hoo. "As the away side, I thought we took the game to Fulham," said the grandmother-haired Hughes after the defeat to Fulham. "Early in the second half we were very much in control and looked the team more likely to score." But you didn't, Mark. And therein lies the problem. MS
Ruddy fluffs his lines
You might have noticed that Joe Hart has made a few mistakes recently. It has been mentioned in the media. But John Ruddy's error for Norwich at the weekend should provide a sobering reminder that other candidates aren't exactly demanding to be installed as the new England No.1. One strong game in the Champions League does not make Fraser Forster the answer either, as regular watchers of the Scottish Premier League would attest. Hart's form is a worry exacerbated rather than solved by his perceived rivals. AB