Alfa 9
We talk to Phil Mason from Alfa 9 about the group's latest album and his passion for Stoke City.
By Mark Holmes and Dave Tindall
Last Updated: 24/10/13 12:27pm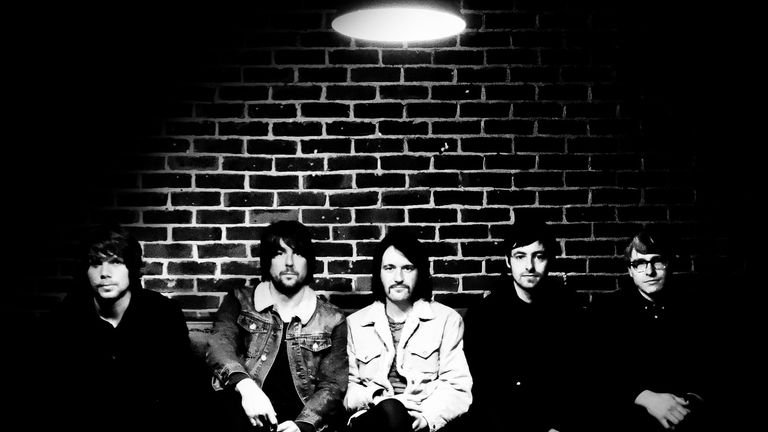 "Football and music - what more do you need?" says Phil Mason, lead singer/guitarist of Alfa 9.
Once on the books at Crewe Alexandra, Mason is now enjoying success via his other great passion with the band's latest album, 'Gone To Ground', enjoying excellent reviews.
If you're a fan of pleasing 60s West Coast harmonies (think The Byrds, Teenage Fanclub) - sometimes with a psych edge (think The Coral) - or a bit of mod or Beatles (early, mid or late!), Alfa 9 will definitely hit the mark and you'll soon be dropping them into conversation when the chat moves to music from the 90 minutes just gone.
'Gone To Ground' isn't, as far as we know, based on a note Phil left to his other half when he was off to the match but the passionate way he talks about his beloved Stoke City (see below!) suggests football is never far from his mind.
We caught up with Phil shortly after Alfa 9 had appeared at the Liverpool Festival of Psychedelia.
Sky Sports: You bought your second album out in March after quite a long break since your first
PM: We were doing stuff for a few years and then other stuff happens - you get married and you're working and all that kind of stuff, so we had a couple of years off, had a bit of a rest and then got back on it. It's going pretty well, we're getting a lot of publicity. We've been on the 6 Music playlist for the last three or four weeks, and Steve Lamacq was talking about us recently, and I think we're going to be Pete Mitchell from Absolute Radio's Song of the Week as well so it's going pretty well at the minute.
Sky Sports: This second album has got a bit of a summer feel to it.
PM: The first album is a bit more psychy, far out kind of thing. Then when we got back together we said - the first album, there was a lot of soundscaping going on, we were listening to a lot of Pink Floyd at the time, then we were listening to other stuff then, like a bit of the Byrds. I know what you mean, it has got a bit of a summer feel to it.
Sky Sports: It'd be nice to see a Stoke band go mainstream.
PM: When people talk about Stoke they don't talk about it like they do the Manchesters, Liverpools, Leeds, even Sheffields of the world. As a whole city we don't get mentioned as a major city so I don't know if we suffer from being stuck in between Birmingham and Manchester. We're like the poor relative really.
Sky Sports: You get called a 'Stoke band' but you're actually from Newcastle-under-Lyme, aren't you? Does it annoy you being called a 'Stoke band'?
PM: I don't mind it so much because I know we were a Newcastle band but Stuart Maconie and Mark Radcliffe were talking about us last week and they described us as a Newcastle band. About two minutes later we got an e-mail from a bloke doing a festival up in the North East and he said 'can we play, it's great to see a band from the North East doing well'. We text him and said we're not from the North East, we're from the other Newcastle, Newcastle-under-Lyme, but he still asked us to play up there anyway.
It's not too bad (being described as a Stoke band) because if you just say Newcastle people immediately think of Geordie Newcastle. But if we can get somebody saying Newcastle-under-Lyme then that'd be superb!
Sky Sports: Are all five of you in the band Stoke fans or are there any Vale or Crewe fans amongst you?
PM: No, no Vale or Crewe but I used to play for Crewe back in the day when I was a schoolboy, and Ali out of the band, who's on rhythm guitar, used to play for Stoke. I've always been a Stoke fan and all the lads are Stoke fans. It's good because we don't get any Vale arguments going on. A few of my mates are Vale fans so I have a few rows with them but thankfully we're all Stokies.
Sky Sports: Do you get to the Britannia often?
PM: To be fair, it's difficult to go at the minute because every gig we have is usually on a Saturday. Even though the gig might not be until 8 o'clock, you have to sound check before so I don't get as much opportunity to get down as much as I'd like. John, who's the drummer, had a season ticket but he's had to give it up this year because he just can't give the Saturdays up that you need to make use of a season ticket. I play on Saturdays myself when I can which is another reason why I don't get to Stoke as often.
Sky Sports: How close were you to making it as a professional at Crewe?
PM: I played for Crewe until I was 16. When I was there Seth Johnson was there; Danny Murphy was a bit older than me; Dean Ashton was there, he was a bit younger than me.
Seth Johnson was the main one and he went and signed for Leeds for big money and got an England cap. I remember watching him, he came on and he should have scored. I think it was when (David) Beckham was made captain for the first time, they were playing Italy, and Seth Johnson came on. I was thinking 'come on Seth' and the ball came to him and he hit the bar from about two yards out, and he never played again for England, and his Leeds career vanished into thin air. He went to Derby and then I don't know what happened to him after that.
When it came to (Crewe manager Dario Gradi) choosing the YTSs at the time I was just 16 and I was the oldest in the year but he had me in his office and said 'you just haven't quite made it'...because they obviously have a quota of what they can take on.
One of the lads was playing for England Under-17s at the time, a lad called Pete Smith - he never did anything after but when you're up against someone that's playing for England...I played as a forward, and they could only take two or three forwards on out of about 10 of us so I just didn't quite make it.
But he (Dario) thought it would have been a good idea then to go and play for Stafford Rangers or someone like that. He said get yourself to a semi-professional side and get signed up. My only problem was my head was all over the place because I'd been there four or five years and it's a bit of a kick in the teeth when you're let go. So I just went back to playing Lads and Dads with my mates and just carried on playing. Then I got into the local Saturday side and I've played for them ever since.
I love football. Football and music - what more do you need?
Sky Sports: When did you first start going to watch Stoke?
PM: The first game I went to was with my cousin, Carl Saunders played and he scored a hat-trick against Leeds, I think. (Ed: Saunders actually scored one, Nicky Morgan scored a hat-trick). This was at the Victoria Ground. We beat them 7-2 and my cousin said 'we're bringing you again'. Then I went again the next week and we won 6-0, I think! They thought I was a bit of a lucky charm then.
The new boss - hit or miss?
Sky Sports: What are your thoughts on Mark Hughes so far?
PM: I think the football is great. Everyone had got a bit fed up of the way things were going under (former manager Tony) Pulis. Even Stokies that were sworn to Pulis were starting to change their tune a bit. The writing was on the wall.
But Hughes has come in; the football is great, I just think they needed something up front. It seems like they can pass it round now but there's no attacking bite. It's all very nice passing it around but when we played Norwich at home the other week we had one shot on goal.
I like the look of (Marko) Arnautovic that's come in; if he can get us a few goals I think he'll be a good signing. He looked sharp, he looks like he's got something about him. He reminds me, the way he runs, of (Cristiano) Ronaldo. I know he's not on Ronaldo's level but just how he holds himself. He was at Inter Milan with (Jose) Mourinho so he's had a good pedigree. For £2million if he could start knocking a few goals in he'll be a great signing.
(Jermaine) Pennant, it was good to get him back. When he was playing a few years ago I was thinking 'you've got Theo Walcott playing for England and he's better, Pennant'. He's got more about him than just sheer pace. Some of the things he does - I think he's got a bit of baggage personality wise which is why he didn't get on with Pulis but it just seemed like such a waste (him not playing) because when they had (Matthew) Etherington on one side and Pennant on the other with (Peter) Crouch in the middle - I know that wasn't the style of football that everybody was wanting at the time but it was effective. And then he (Pulis) dropped him and started playing (Jon) Walters on the right and it all got a bit messy.
I feel bad for Pulis because without him we wouldn't be where we are; you've got to give credit to the bloke for what he's done, but I think it was a time for a change - everybody had had enough of it. There's only so much you can watch, it just got a bit depressing.
It was a bit gung-ho, charge of the light brigade before, whereas now it's 'let's knock it back there' and they're getting nowhere. I'm sure the other teams are quite content for us to just knock it around the edge of our own six-yard box for 10 minutes, especially at home. How we were playing before it was all hands on deck (for the opposition), lumping the ball up, Crouch knocking it down etc, but it's all gone a bit slow now.
When you see people like Darren Bent going to Fulham, he'd have been a perfect signing...or Jermain Defoe, and maybe they could have got another winger in. I thought they might have gone for Adam Johnson when he left Man City, I thought he'd have been a good signing.
At least they've got a left-back now! That was the one thing that used to wind me up how Pulis would keep playing centre-halves at right-back and left-back. I could see why he was doing it because he was basically just crowding the defence with big centre-halves but there was no attacking wing-backs how we were playing.
It's obviously a better style of football now but I think we just need to fine-tune it so it's got a bit more of an edge to it and there's an end product to it because we've got to be careful because we're a couple of defeats in now and we don't want to start nudging towards the bottom.
Sky Sports: What are you doing at the moment and what are the future plans?
PM: We're currently touring the album so we've got a load of gigs coming up. That'll take us until just after Christmas, and we've got a load of songs in the pipeline ready to be recorded for the next album because while we've been gigging we've been writing new stuff as well.
So fingers crossed at the beginning of next year we'll be recording the next album and then maybe spring time or early summer the third album will be out. We could probably pump out another two or three albums quickly as the songs are ready but you want to make sure you get your best songs out so we'll get the next album out and hopefully it's more of the same, we'll get a bit more publicity for the next one and you never know, the radio might be a lot more interested in it.
The name's been heard now and we've been playing with Will Sergeant from Echo and the Bunnymen; we're playing with his new band, Poltergeist, so that'll be a good gig. It's the Friday before Christmas which is always a good night with everybody finishing work and getting off to the pub.
*** Check out the band's new album 'Gone To Ground' http://alfa9.co.uk ***