Football Expert & Columnist
Manchester City: Jamie Redknapp's title favourites, despite Arsene Wenger comments
Jamie says Arsene Wenger is playing mind games by saying Man City are no better than Everton.
Last Updated: 15/12/13 4:49am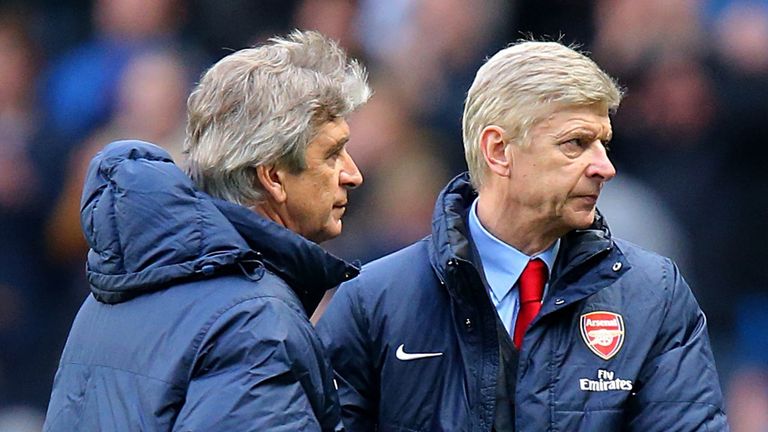 The Arsenal boss, speaking after his team were beaten 6-3 at the Etihad Stadium, said Everton and Southampton were as good as Manchester City and was frustrated that his side lost to them.
However, Sky Sports pundit Redknapp completely disagreed with Wenger's statements and said Manuel Pellegrini's side are now the favourites to win the Premier League.
He told Saturday Night Football: "It's a strange statement when you look at the fact they have scored 16 goals against Manchester United, Arsenal and Tottenham and only conceded four. That doesn't really give it any basis.
"Last week I suppose Southampton fans would say they held them 1-1, but I don't really see that. I think Arsene Wenger is trying to play a few mind games there.
"His team were, at times, outclassed today. You always felt Man City were at least a goal better than them. Every time Arsenal got back into the game you thought Man City had the resources to go and score more and they look like a side that are purring at the moment.
"They are still my tip. I think they've got the best players and look like a team that can bring in so many options."
Manchester City have won all eight of their home games in the league this season and have scored an incredible 35 goals in the process.
But while Redknapp says that is the form of champions, he fears their troubles on the road - they have lost to the likes of Aston Villa and Cardiff away from home - could come back to haunt them in the second half of the campaign.
He added: "Home form has not been a problem, but what has been a problem is away from home; you shouldn't be losing at Villa and losing at Cardiff with a team of that quality with no disrespect to those teams.
"That is still a problem for them. They drew at Southampton last week and the only away game where they really looked like they were playing at any sort of level was against West Ham.
"I still think Pellegrini has got problems away from home and the fact they've played a lot of the big clubs at home means they are going to have to play them away from home in the second half of the season.
"They need to address that if they are going to go on and win the title."
Important
Arsenal have endured a difficult week after losing to both Napoli and City following a draw at Everton last Sunday, but remain two points clear at the top of the table.
Their next fixture is a Monday Night Football clash with Chelsea on December 23, which could see them overtaken by the Blues, and Redknapp says the next few weeks will show us if Arsenal have got the mettle to sustain a title challenge.
"Arsenal have nine days off now and that's really important," he said.
"No doubt they will try to get the players as rested and recuperated as possible. Arsene Wenger said they could have been nine points ahead of Man City, but Everton had a lot more possession than them last week. This is a testing time for the squad.
"Theo Walcott came in and scored a couple of good goals for them today, which is a real bonus for them because it gives them a completely different dimension.
"I think teams can be quite comfortable with their possession, but Theo wants to run the other way and has got real pace in wide areas.
"Arsene will need to juggle his team. It's a real tough spell for them and they've got to hang in there because people who were questioning what Arsenal could do will be thinking 'we were right'.
"They have got to dig in, get a couple of results and maybe bring in a couple of players in January."