Chris Kamara blogs on Liverpool's rise, Crystal Palace's defence and more...
Chris Kamara applauds Liverpool's transformation, Palace's defence and talisman Wayne Rooney.
Last Updated: 31/03/14 1:16pm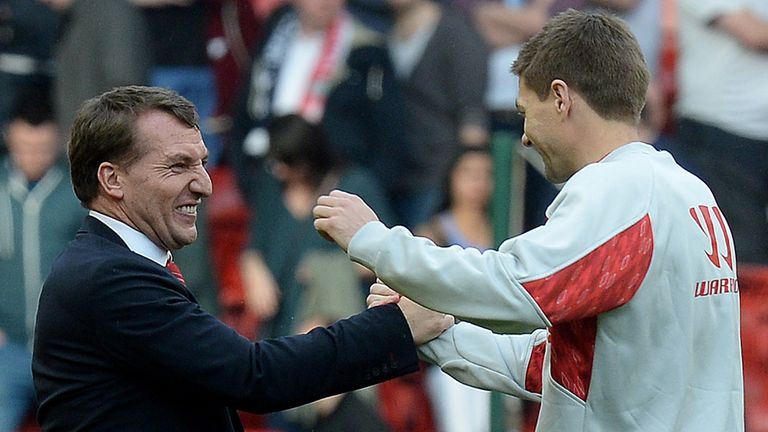 Brendan Rodgers has done a great job at Liverpool
KAMMY SAYS: What a great achievement from Brendan Rodgers. Absolutely fantastic. To be where they are in the short space of time he's been there, the transformation is amazing. He's not spent loads but the improvement he's got in the players and the discipline he's got into Steven Gerrard - being able to hold when people said that's never his best position in a million years - is fantastic.
The early goal settled the nerves against Tottenham but after that 4-0 win Rodgers is trying to play down the title because the expectation levels have massively gone through the roof and that can affect the team. He's got to be cautious but, as he says, they've got six cup finals left.
Can they hold on? Who knows. This title race changes every week. It's become a three-horse race in the space of the week, while, after Chelsea lost to Crystal Palace, everyone wrote them off and then Man City drew with Arsenal to bring Chelsea back into the picture. It's going to change week in, week out.
We shouldn't be surprised by Arsenal's performance against Man City
KAMMY SAYS: Yes, Arsenal have had a difficult week but, as I said on Goals on Sunday, they are capable of going to Bayern Munich and winning, so when they've got City at home, they can come back from an early goal.
The problem with Arsenal is they are inconsistent against the bigger teams. Arsene Wenger could probably look back at the end of the season and think 'we've always taken teams on, maybe I should think about changing tactics slightly, such as show a bit of resolve at Chelsea and not play open football all the time but tighten things up'.
Mathieu Flamini's goal was typical Arsenal with their movement but unfortunately the last three results have ruled them out of the title. They've made minor mistakes in various games which have cost them. Now they've got a battle with Everton which is going to go right to the wire.
Everton v Arsenal is set up to be a Super Sunday thriller
KAMMY SAYS: This is a fantastic game to look forward to. You'd have to say the winner takes all and a draw will keep things bubbling over in the race for that fourth spot.
With Ross Barkley, Romelu Lukaku and their other key players, with that flair they've got, Everton are always going to create chances and score goals. It's one of those games I couldn't call at this moment at time.
Arsenal have the ability to go to Bayern Munich and win - the top team in Europe and possibly the world - so you couldn't rule them out going to Goodison and winning there as well.
Tony Pulis has built from the back at Crystal Palace
KAMMY SAYS:Since the minute Tony Pulis took over I've been saying 'never be surprised to see them keep a clean sheet'. They may not score many goals but they're very adept at keeping the others out.
They didn't score on Saturday either but got a bit of luck with the John Terry deflection. But we've seen the improvement and we've seen what needs to be done to stay up. When I look back at my short managerial career at Stoke - where I went in to a team in trouble - initially my thoughts were you want the team to play football in the way I wanted my team to play football at Bradford. But Pulis went in with one objective only - to stop teams scoring against them. It's a lesson.
When he took over everyone was saying it was a thankless task but he's never been relegated before and is fantastic at organising his defences. He's done absolutely brilliantly and the bonus was the own goal. It was an off-day for Chelsea and Palace took advantage.
David Moyes got the response he wanted - from his players and the fans
A plane with a 'Moyes Out' banner flew over Old Trafford on Saturday and it's a shame when things like that happen. There must have been some whip-around to afford something like that! Obviously the fans are upset with what's going on, no doubt about that. For Man United to be in the position they're in, having won the title last year, isn't right. But it's not through the want of trying for David Moyes, it just hasn't been happening for him.
The true fans though, gave him a round of applause when he went on the pitch. If they didn't want him there they would have turned their backs or not responded but they showed they do want him there. They got the result on the pitch too and once again it was Wayne Rooney doing the business. We thought it wasn't a marriage made in heaven considering the problems he and Moyes had at Everton, but he's their talisman at the moment.
Moyes isn't out of the woods yet, though. He's got two massive games against Bayern Munich which could tip things in his favour or turn things against him. Beating Aston Villa 4-1 was a great result but he'll be under no illusions about what's going on.
West Brom-Cardiff was a thriller, but Albion could pay for that late equaliser
KAMMY SAYS: What an amazing game - and a great result for Cardiff. I couldn't believe it. West Brom scored after four minutes of injury time and then conceded in the 95th minute - and that is a cardinal sin. When West Brom scored all the staff and players were celebrating.
Certain other managers would say 'that's it, when the ball comes, you launch it out of play, don't play any more football because the game's won'. But they tried to score another goal in added time and got caught on the break - and that could have cost them massively. But well done to Mats Moller Daehli for scoring that crucial equaliser.