Mark Hughes has succeeded in changing the style of play at Stoke City and it is getting results
With Stoke City in the top half of the Premier League table and on course for their best finish in almost 40 years, Mark Hughes is enjoying an encouraging first season in charge. Adam Bate looks at how the Welshman has succeeded in changing the team's tactics from the Tony Pulis era...
By Adam Bate
Last Updated: 04/04/14 12:13pm
"It's very different to the previous manager. We're looking to pass the ball about a bit more."
Peter Crouch's succinct assessment of life at Stoke City under Mark Hughes just about sums it up. After five seasons in the Premier League, Tony Pulis parted company from the Potters in the summer and a new era began. Hughes was tasked with not only maintaining top-flight success, but – as Brian Clough famously told Don Revie upon replacing him at Leeds United – doing it better.
The acquisitions of Marc Muniesa and Marko Arnautovic were early indications of an explicit intention of doing things differently. Given Stoke's reputation for playing a long-ball game, asking the team to introduce a more patient passing build-up was the obvious starting point for a style change. But clearly it would require players to adapt.
Building from the back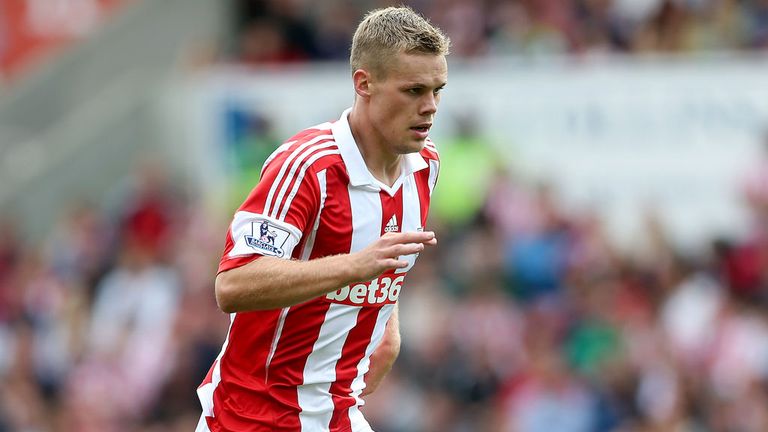 Ryan Shawcross was among those who'd thrived under Pulis, forging a Premier League career that earned him an England cap in 2012. Up against Zlatan Ibrahimovic, that debut didn't go too well and while those at the Britannia Stadium admired his abilities, the wider world could point to a pass completion rate of just 65.1 per cent last season as evidence of his limitations.
However, Shawcross makes for an intriguing case study this season. As befits a former Manchester United trainee, he has adapted. "Ryan has shown an improvement in getting on the ball in the time we have been working with him," said Hughes. "People haven't been able to see that in his play before. That was because he wasn't asked to play that way. He has the ability to play, pass and move and get the ball out from the back."  His passing accuracy stands at 74.7 per cent this year.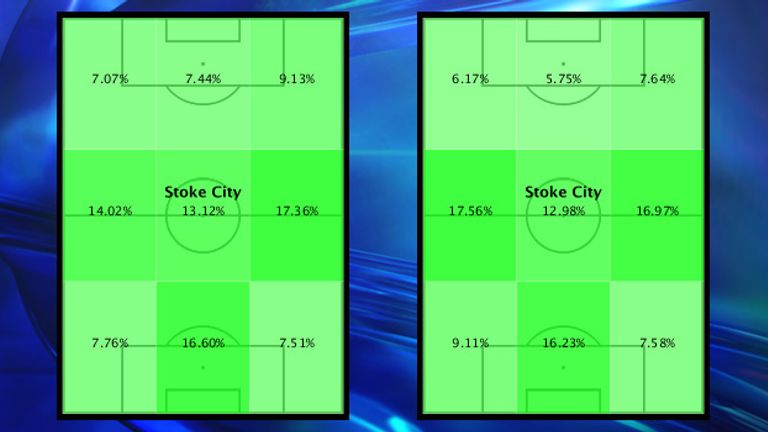 Those numbers reflect the fact that Stoke are looking to play more short passes in defensive areas – retaining possession rather than hitting the striker early. As shown by the activity zone comparison between last season and this, the change has been subtle, but Stoke are clearly looking to be more patient – the percentage of activity in all three final third zones is down. Under Pulis, if Stoke had possession, final third entry was an immediate priority.
Under Hughes, very key passing and possession metric is moving in what can surely be regarded as the right direction if Stoke are to progress. Possession is up to 46.2 per cent and the overall pass success rate has gone from bottom of the Premier League to fifteenth. In terms of short passes, Stoke have gone from the relegation zone to mid-table – and as for overall passes, with six games remaining they've already played more than in any previous Premier League season.
Stoke Improvement
2012/13
2013/14
Possession
43.3% (17th)
46.2% (13th)
Pass success
70.2% (20th)
76.4% (15th)
Short passes
274 (19th)
341 (12th)
The danger, of course, is that in normalising their style, Stoke lose the unique qualities that made the team such effective accumulators of points. It's the reason why some supporters will have been cautious as well as excited about the changes. Pulis's approach felt like a warning – we have to do it this way or risk relegation. Dream of more at your peril.
Hughes has been given the remit of moving away from the methods that brought success. "We're playing in a slightly different way, obviously, not involving the elements of play that have been successful for Stoke in the past," he said. "We will still use those threats but I think you can see in general play we're trying to play a little differently."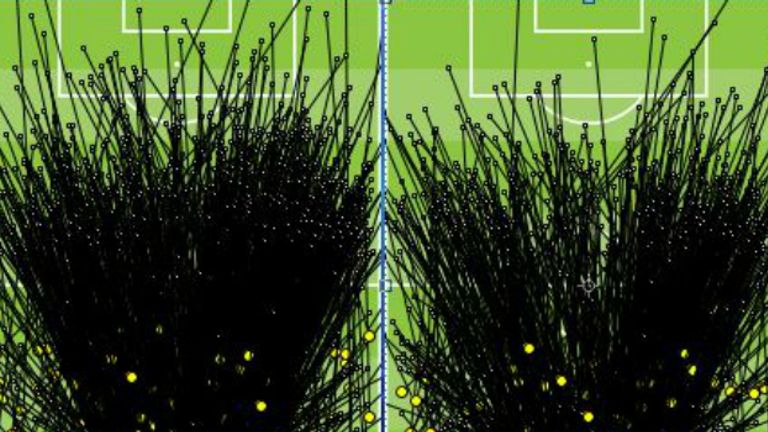 The distribution of goalkeeper Asmir Begovic has been one area in which a subtle change has occurred. The Bosnian still looks long – hitting 15.4 long balls per game, down from 16.8 last season – but these deliveries have more variation now. Short and wide options are considered, while the number of kicks into the opposition area has decreased markedly. It is Crouch's chest rather than head that is the target now.
The types of chances that Stoke are creating has changed too. This was a side that had utilised set-pieces more effectively than anyone. With 66 chances created from dead-ball situations last season, they ranked among the top three in the Premier League. But that proud record is in the past with Stoke down in the bottom half for that metric this year.
Stoke Chances
2012/13
2013/14
Chances per game (open play)
5.68 (20th)
6.69 (16th)
Chances per game (set play)
1.74 (3rd)
1.34 (14th)
Total chances per game
7.42 (19th)
8.03 (20th)
As for chances created from open play, they are up from the lowest in the Premier League to sixteenth. So has the change in approach been justified? In one sense, they have sacrificed a key asset for seemingly limited improvement in other areas. But the important statistic to note is that Stoke's overall chance creation is up from 7.42 per game to 8.03. In short, playing more football from open play makes sense.
New goal threat
This wasn't obvious at first as Stoke failed to score in five of their first eight matches of the season, including three goalless displays in succession against the less than daunting talents of Norwich, Fulham and West Brom. But the underlying stats were good. In fact, Stoke created more than nine chances per game in those opening eight games – above average for their season. What they lacked was the finishing touch.
Since February, they have netted in eight of their last nine games – only failing to score at Manchester City – and scored a total of 15 goals in those matches. Four of them have come from Peter Odemwingie, a January acquisition who arrived in a swap deal with Cardiff for Kenwyne Jones. The experienced Nigeria international has proven a practical benefit but also represents a symbolic shift.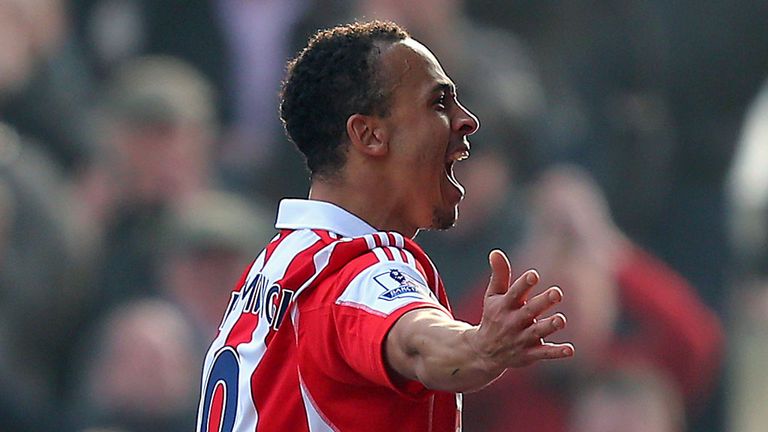 A speedy wide forward traded for a target man, Odemwingie has given Stoke something they'd been lacking. "What we've got now is a little bit of a difference in terms of an attacking threat," said Hughes after seeing the new signing combine to good effect with midfield creator Charlie Adam at Southampton. "Peter has helped in that regard. We talked about exploiting that part of the game in terms of space in between the central defenders and full backs.
"Peter understood what was required and Charlie given his range of passing will always hit good movement." Adam's own improvement is also a reflection of a more expressive approach in the final third – the Scot having doubled his goal tally this season. "The manager has given me a freedom to play my game, which I appreciate," he told The Guardian. "He has let me do what I am good at. He has helped me in terms of what I should and shouldn't be doing on the pitch."
What Stoke 'should and shouldn't be doing on the pitch' cuts to the heart of the issue. Pulis will forever be remembered fondly in the Potteries and his recent exploits at Crystal Palace only serve to emphasise what an effective manager he can be. But this was a club ready for change and in Hughes it seems they have found a manager capable of implementing it. Indeed, the club is currently on course for a top-ten finish for the first time since 1975. Like Crouch says, things are looking very different at Stoke City.