Mikel Arteta talks Merse and Fenners through his #One2Eleven
Mikel Arteta talks Merse and Fenners through his One2Eleven on Fantasy Football Club.
Last Updated: 21/03/13 11:11am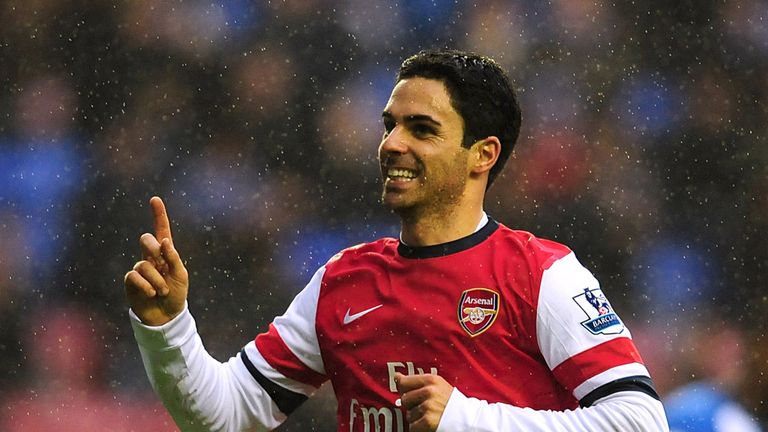 The Spaniard has played for the likes of Barcelona, Paris St Germain, Rangers, Real Sociedad and Everton before joining the Gunners. See if you agree with his ultimate XI, picked from the players he's played alongside!
GOALKEEPER - Lionel Letizi: He was a French goalkeeper who played for Paris St Germain and was brilliant. Ahead of him, I'm going to play 4-3-3.
RIGHT-BACK - Bacary Sagna: He's a great right-back. Very strong and good going forward. He's one of the best guys you can imagine, a really nice guy. I know he loves Arsenal and loves living in London so hopefully we can keep him for a few more years.
LEFT-BACK - Leighton Baines: I think he's been sensational in the last five or six years and it's difficult to find a left-back who makes the difference like he does. In the first season, he hardly played at all because Joleon Lescott was playing really well for Everton. After that season, he got the confidence back and since then he's been top drawer.
CENTRE-BACK - Mauricio Pochettino: He is the coach of Southampton now and he played with me when I was in Paris as well. He was a great player, a great leader. He was 30 or 31 when I was there and I was 18, and he really looked after me so he's going to be one of them. You could see he was going to be a manager because his knowledge of the game was really good and he's got a big personality and character. I think he's going to do well with them. He will be my captain.
CENTRE-BACK - Gabriel Heinze: I'm going for another Argentinian and a very good friend of mine, who played for Manchester United. I think they were a good couple with big tackles. Elbows always. He was quite dirty but very competitive and a winner.
MIDFIELD - Xavi: I'm going to put three in midfield and Xavi has to be one of them. When I played with him in Barcelona he was unbelievable. He still is, for me. He's one of my favourite players because he's very consistent and I've never seen him have a bad game.
MIDFIELD - Ronaldinho: I played with him in Paris and for me, he's the most talented player I've ever played with. He was 19 when he came there and he was absolutely amazing. A very tricky player - a fantasy football player. After that, he was probably the best player in the world for three or four years in a row.
MIDFIELD - Jay Jay Okocha: Again, a very talented, creative player and a really nice guy as well. I will go for a creative midfield!
RIGHT WING - Claudio Caniggia: I will go for another Argentinian in Caniggia, who I played with at Rangers. He used to play with Diego Maradona. He was a very, very good player and still very quick even though he was 35 or 36 at Rangers. You could see that he still had a special thing that not many players have.
STRIKER - Nicolas Anelka: I think he was really quick and powerful. Just a great player.
LEFT-WING - Steven Pienaar: This was my biggest doubt. He's not a left winger but he works really hard and he plays so well with Baines. I'm going to name him because that pairing has been terrific for Everton the last few years and hopefully can continue for a few more.
MANAGER: I'll take one I had in the academy. He was my first manager in Barcelona and was the one who coached into me the most important things. He was the most important manager of my career.