The candidates
David Moyes is the bookies' favourites to replace Sir Alex Ferguson but he's not the only candidate for what might just be the toughest job in football. Here we run through some of the names being linked with the Old Trafford hot-seat...
By Matt Stanger
Last Updated: 09/05/13 4:30pm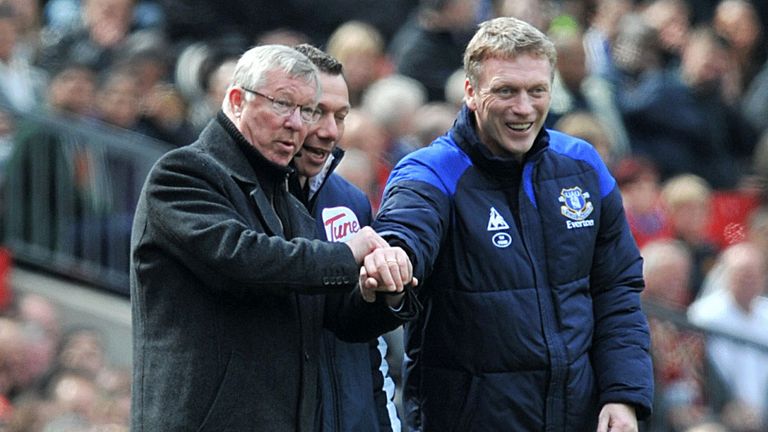 Jose Mourinho
Despite currently being listed as the second favourite, Mourinho is undoubtedly the outstanding candidate to replace Ferguson. He is the most proven manager available, a winning machine who would ensure United remain competitive in the Premier League and, dare I say it, become even more competitive in Europe. After back-to-back title victories at Chelsea, the 50-year-old took Internazionale to the treble in 2010 - the first for an Italian club - and usurped Barcelona's dominance in La Liga by leading Real Madrid to their first title in four years last season. What else is there left for him to achieve in the domestic game than take the reins of the biggest job in football?
Mourinho's reaction to Real Madrid's Champions League victory over United in March revealed that, beneath his unbreakable ego, the Portuguese is desperate to follow Ferguson at Old Trafford. It is clear that Mourinho has an incredible amount of respect for his former Premier League rival and, although United fans will have legitimate concerns about his arrogance, his friendship with Ferguson should lead to him holding back from making the club's next move all about him, rather than his predecessor's legacy.
Once next season begins, Mourinho's strength of character will prove crucial in United building on this year's title victory and maintaining the astonishing success Ferguson has brought to the club in the last 26 years. While other managers would be eaten alive by the pressure of replacing the Scot, Mourinho would surely thrive on the challenge.
It could be said that Mourinho hasn't won enough in his three seasons at Real Madrid but it's important to consider that he has had to face one of the greatest club sides of all time in La Liga, while Real's title success last year helped bring about Pep Guardiola's resignation from Barcelona. Mourinho will be brash, bold and relentless in his self-confidence to bring further success to United. In terms of these qualities, he is Ferguson's only rival.
Latest Sky Bet odds - 7/1*
David Moyes
Although Moyes has been installed as the bookies' favourite to replace Ferguson, it would be quite a leap of faith for United to appoint a coach with no Champions League experience and whose only trophy as a manager is the Division Two title he won with Preston in 2000. The demands of the Everton role are entirely different to the requirements at Old Trafford and it's difficult to envisage Moyes, who has now spent 11 full seasons at Goodison, enjoying a seamless transition, especially in Europe.
Moyes is a strong character, though, and he is ready for a new challenge after refusing to rule out his interest in the Tottenham vacancy last summer and the Chelsea role when Roberto Di Matteo was sacked in November. The other benefit to the Glazers is that the Scot's contract is up in the summer and so they wouldn't have to spend a penny.
Ferguson was effusive in his praise of Moyes when the 50-year-old celebrated his tenth anniversary at Everton in March 2012, and this will certainly count in his favour as United consider their next move.
"David has had to contend with not having a strong financial structure. He has to get the best out of the players he has had available and has done an amazing job," said Ferguson.
"He has a grittiness and determination that has allowed him to be in there all the time. He is a first-class manager."
Latest Sky Bet odds - 1/12*
Jurgen Klopp
It's enormously difficult to see United opting for a coach outside the leading two candidates, but if they were to look further afield they could do much worse than appoint one of the most likeable and charismatic coaches in Europe.
Jurgen Klopp has worked wonders under tight financial restrictions since joining Borussia Dortmund in 2008, leading the club to their first Bundesliga title in nine years in 2010/11 before following that success with a league and cup double last season and a Champions League final appearance in the current campaign.
Klopp's open, attacking style of play, with quick transitions from defence to attack, would be sure to entertain United fans, while he has also brought several youngsters into the first team from Dortmund's youth ranks. He has repeatedly expressed his desire to stay at the Westfalenstadion, and it would be a surprise to see him break that promise after Dortmund's superb achievements in Europe this season.
Latest Sky Bet odds - 25/1*
Ole Gunnar Solskjaer
Solskjaer already has experience of being a manager at United after taking charge of the club's reserves in 2008 and leading them to the Premier Reserve League title in 2010. Despite his success in that role - and back-to-back Norwegian Premier League titles with Molde, of course - it's hugely unlikely United would take a punt on the 40-year-old at this stage of his career. Solskjaer has been linked with both Aston Villa and Blackburn Rovers in the past and a move to England could boost his reputation as a future candidate for the United role.
Latest Sky Bet odds - 28/1*
Manuel Pellegrini
We're really out on the fringes now, but Pellegrini would be an excellent short-term candidate who could bring a steady hand on the tiller. Presumably United already have a plan in place for who they want to replace Ferguson, but if something should prevent them from appointing their first choice, Pellegrini would be the perfect back-up option. The 59-year-old has plenty of Champions League experience and has performed a fantastic job at Malaga after narrowly missing out on the title with Real Madrid in 2009/10. He would ensure that United remain competitive in the short term, while they devise a long-term plan to maintain the success Ferguson has brought to the club.
Latest Sky Bet odds - 100/1*
* odds subject to change