Everton stats
As we continue the build-up to the forthcoming Premier League campaign, with help from Opta, Sky Sports picks out some key stats for Everton fans to consider ahead of the new season.
Last Updated: 30/07/13 1:21pm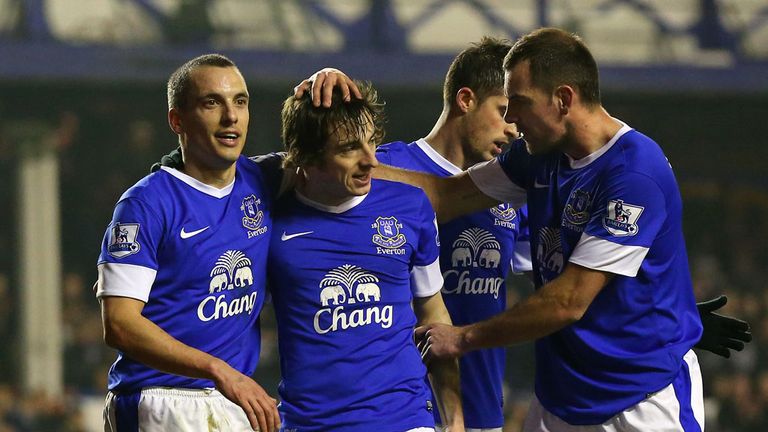 Upon becoming Everton manager, Roberto Martinez was unequivocal in his early assessment of Leighton Baines. "I think Leighton is more than a player," he told the Liverpool Echo. "He is an icon." It may have been a response to an unsatisfactory enquiry from Manchester United but it also reflects the importance of Baines to Everton's style of play.
It is an open secret that the Toffees prefer to attack down their left flank in order to take advantage of Baines' attacking threat. Curiously, that approach is something that new manager Martinez will be familiar - the statistics indicate that only the Spaniard's former club Wigan Athletic put more emphasis on their left wing than Everton last season.
Areas of attack - PL 2012/13
Team
Attacks in left-side third
Wigan
42%
Everton
42%
West Ham
38%
Sunderland
38%
Attacking down the left flank makes sense for Everton. David Moyes' determination to get his star left-back into the game was rewarded by the fact that Baines created more chances than any other player in the Premier League last season. Moreover, the entire left side is a weapon for Everton with his partnership with Steven Pienaar a vital feature of that success.
Indeed, if Everton should sell Baines to United then all may not be lost for Martinez. That well-documented statistic about the chances created also includes set-pieces. If Everton can find another man to provide quality delivery it is worth noting that Pienaar is the key man from open play - with only three men creating more chances than the South African once dead-ball scenarios are excluded.
Chances created - PL 2012/13
Player
All chances created
Player
Chances created (open play)
Leighton Baines
116
Luis Suarez
85
David Silva
104
David Silva
81
Santi Cazorla
96
Rickie Lambert
80
Juan Mata
95
Steven Pienaar
79
Steven Gerrard
93
Santi Cazorla
76
Elsewhere, Everton supporters will be curious to discover how their new manager intends to change the shape of the side. A shift to a back-three would represent significant disruption to an experience defence but the signing of Antolin Alcaraz might indicate a willingness to do so - especially with Seamus Coleman suited to operating as a wing-back on the right.
That change of system - or even a change of emphasis - could see more responsibility placed upon the centre-backs to bring the ball out rather than focus on the defensive basics. The partnership of Sylvain Distin and Phil Jagielka is a real strength for Everton and with both men in their thirties there must be a danger in trying to teach new tricks to experienced canines.
Only giant centre-back Brede Hangeland made more headed clearances than Distin in 2012/13 and it will be interesting to see whether important qualities such as this are valued by Martinez and the new philosophy he will bring to Goodison Park.
Headed clearances - PL 2012/13
Player
Headed clearances
Brede Hangeland
218
Sylvain Distin
210
Gareth McAuley
201
Ashley Williams
195
Winston Reid
191