Fantasy Football Club: Man City's Jack Rodwell names his #One2Eleven
Manchester City midfielder Jack Rodwell names his ultimate starting eleven on The FantasyFC.
Last Updated: 16/11/13 1:22pm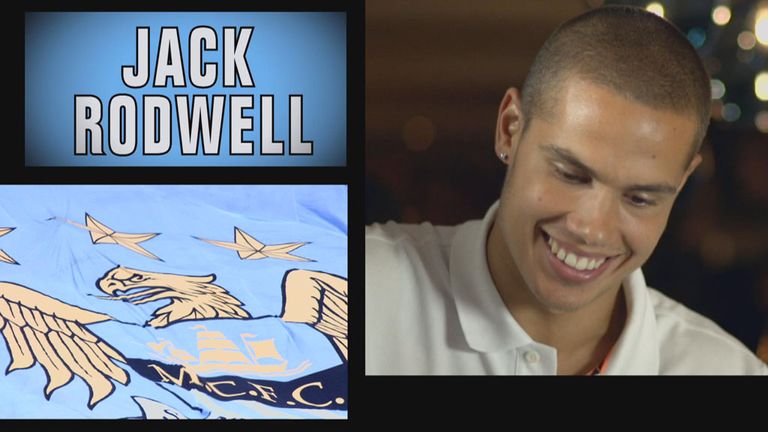 Rodwell has an abundance of brilliant talent to choose from not only from his City team, but also the squad he played with at Everton for five years and his co-stars in the England set-up with whom he has three caps.
GOALKEEPER - Joe Hart
In goal I've got to go for England's no.1 Joe Hart. It's tough because Tim Howard is a really good goalkeeper but Joe Hart is just top-drawer. His distribution and his leadership from the back - he leads the defenders as well which a lot of people don't know. In training he's always talking and in the games he's telling the back four what to do. He's a great lad to be around as well and my keeper is without a doubt Joe Hart.
LEFT-BACK - Leyton Baines
At the back I will start with Leighton Baines. Every year he seems to get better and better, he's just set the bar so high for every game and he just seems to get better and very rarely does a winger get past him. At the other end he's attacking going forward and always whipping good balls in. To be honest, as a striker he's the perfect full back to have because he gets a lot of assists from crosses and set pieces.
RIGHT-BACK - Pablo Zabaleta
I'd have Pablo Zabaleta, he's top-drawer. Ever since I moved to City I've seen him day-in day-out and the amount of work he puts in to training. He's one of the hardest workers that I've ever played with, he's a true professional and every game he gives 100 per cent and he's a fans favourite for that as well.
CENTRE-BACKS - Joleon Lescott & Vincent Kompany
At centre-half I'm going to go with current Man City defender Joleon Lescott. He's a leader, he's quick and his positional sense of the game and reading of it is just top-drawer and he's got better as he's got older. He may have been a bit quicker when he was back at Everton but he's adapted his game now and he's rarely in the wrong position which is top for a centre-half.
Besides him I've got to go with Vincent Kompany. We've got all the flair players going forward and the creativity but we need someone at the back who's going to lead us, keep clean sheets and hold the line when we need to. Everything comes through him really and with Lescott they are a perfect partnership.
CENTRAL MIDFIELD - Frank Lampard & Yaya Toure
I'll start in the centre of midfield and pick Frank Lampard. I've played with him with England a couple of times now and what surprises me the most is his finishing around the box. You know when it looks easy he looks like he should score, but it's his technique, it's always one touch and it's always going in the bottom corner. He always manages to get clean contact on the ball and he scores a lot of goals from midfield. He takes penalties, free-kicks and he scores goals, he's just a great all-round player.
To partner him I can't say anyone else but Yaya Toure. He's a phenomenal box-to-box midfielder, he's strong, he's powerful - he's a powerhouse really and once he opens his legs there's no stopping him and he's a big player for Man City now. We've got a lot of big players but alongside Vincent Kompany he's the one that we look up to and one that can lead us and inspire us when the going gets tough.
LEFT-MIDFIELD - David Silva
On the left side of midfield I'd have to pick David Silva but you can put him anywhere across the midfield, but he usually plays on the left and drifts inside and comes inside the no.10 area in the hole where nobody picks him up. He kind of floats in without no one noticing. His technique is brilliant, he creates goals and when the pass isn't quite on he always makes it and makes the impossible come true in and around the box with little flicks and chip passes, he just manages to pull off. Some people won't even be able to see the passes never mind executing them which he manages to do week-in week-out.
Right side I want to say James Milner because he's an inspiring player for me and has got such a good engine. He always gives 110 per cent and wears his heart on his sleeve, a bit like Zabaleta. He's just all about going forward which he's great at, he can also help out the full-back, he's a great player.
FORWARDS - Wayne Rooney & Sergio Aguero
I've played with some good strikers but I'm going to have to go with Wayne Rooney as a number 10. To me he's just top-drawer on his day when he turns it on there's no better than him. He can drop in, he can go in behind, he's got pace, he's strong, he can finish inside and outside the box with both feet. He's a true great player. Having come from the same team he's someone that I can look up to and obviously want that career path, I'd love something like that, to win half the things he has would be phenomenal.
I'm also going to go for Sergio Aguero. I think he's just like Rooney, he's got the same build he's small and quick and can find the back of the net from anywhere with both feet, he's just a true goal scorer. Last season if you look at some of the goals he's scored you'd think 'Why's he even shooting?' never mind scoring it. Against United for example, when it was behind him on his weaker foot and he still managed to get a perfect contact on the ball and it goes in the back of the net. He's just a got a knack for it - he's a defenders nightmare really, I'd hate to mark him. He rats about and works hard as well which people don't see and every game he manages to score and as a striker that's what you need, a goalscorer.
Would it be as good as the City team right now I don't know, but it's a good team.