My Career: Alan Stubbs
From his fight against cancer to facing many of the Premier League's greatest goalscorers and even avoiding Paul Gascoigne's practical jokes, former Bolton Wanderers, Everton and Celtic central defender Alan Stubbs looks back to remember the highlights of his dramatic playing days
By Peter Fraser - Follow me on Twitter @SkySportsPeteF
Last Updated: 09/12/13 5:14pm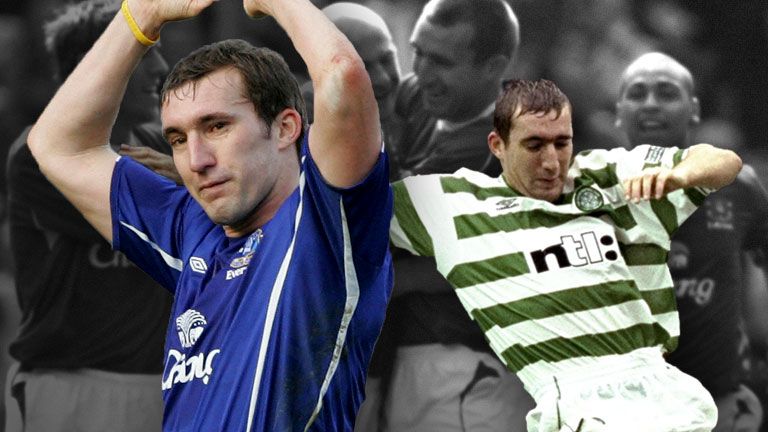 For many, playing days in football against some of the best strikers in history, including Alan Shearer and Thierry Henry, would be dramatic enough. But Alan Stubbs' career involved a far more serious battle.
The former Bolton Wanderers, Celtic and Everton centre-back twice overcame testicular cancer before going on to play again at the top level. It is a story of fortune that the disease was spotted as part of a compulsory drugs test. However, it also means he is eternally thankful for the sport which remains his profession.
From his fight against cancer, to facing many of the Premier League's greatest goalscorers and even avoiding Paul Gascoigne's practical jokes, now Everton Under 21 manager Stubbs - whose book, How Football Saved My Life, is out now - talks Sky Sports through his unique career.
I'm Always Grateful For Football Because...
"The first time I discovered I had cancer was after a routine drugs test at the end of the Scottish Cup final for Celtic against Rangers in 1999. We had been beaten 1-0 and, as I was walking off the pitch, I got taken aside by the drug testers to provide a urine sample. I was not happy that I was not with my team-mates after a loss but I thought nothing of it after I had provided a sample. Two weeks later, I got a phone call from the Celtic club doctor. He told me the drug test was positive for a hormone which is normally only found in pregnant women or, when it is found in men, it is linked to cancer. I went up to Glasgow with my wife for more checks and it was confirmed I had testicular cancer.
"The doctors told me about my good chances of survival and I was very positive. But then I had a relapse about a year later and I knew it was a lot more serious. I had a major operation and was in theatre for eight hours. They had to move vital organs to get to the tumour, which was on the base of my spine. I had also undergone two courses of chemotherapy before that. It changes your perspective on football. I still love football and coaching but football is not everything anymore. I was lucky. If I had not been a footballer, I would not be here talking now. I had the best care, I had the best doctors and I got diagnosed earlier than others, because, as footballers, we are always getting checked. I was very fortunate."
My Finest Hour Was...
"Signing for Everton. It is a tough one, because signing for Celtic was great. But with Everton being my boyhood team, that would just edge it. My contract was up at Celtic and I was torn between the two, because Celtic had been fantastic through my illness and I felt like I had something to repay them. Martin O'Neill was the manager back then and he was unbelievable in the negotiations. He understood what I had been through. It was not an easy decision to join Everton but it made the decision to leave Celtic that little bit easier."
My Best Match Would Be...
"Old Firm derbies and Merseyside derbies would always stand out, because they are special occasions for the fans and the players. At Celtic, I had a lot of success in the derbies and we won the league title from Rangers. In the Merseyside derbies, I did not have as much success. We had a couple of wins towards the end of my time with Everton but, early on, Liverpool were a better team than us. It is difficult to explain the intensity of the derbies. You have to experience it yourself to actually realise the atmosphere and, especially with the Old Firm derby, how hostile it can be. The Merseyside derby is known as the Friendly derby but that is also now a thing of the past. There is a little bit of hostility coming back into those games."
My Toughest Opponent Was...
"Early on, when I was 18 years old, I came up against the likes of John Fashanu and Billy Whitehurst in the old Second Division with Bolton. They would rough you up but you would also learn from the game. They were tough, physical and intimidating players. There was a lot more intimidation then. Older players would try and intimidate younger players and see whether they would mentally crumble. I was also lucky enough to play against some world-class players in the Premier League. It is a privilege for me to say I played against Alan Shearer, Thierry Henry, Dennis Bergkamp, Robbie Fowler, Ian Wright, Ruud van Nistelrooy, Andy Cole, Dwight Yorke, Michael Owen and the list goes on. Because they were all different, fantastic players, they all gave you problems. It is then how you cope with those players. I found it easier to mark the bigger, stronger, physical players. The little, smaller, quicker players only needed half-a-yard and they were away from you. They were the hardest players to mark."
My Football Hero Was...
"Peter Reid and Graeme Sharp. When you are young, you do not realise why they are your idols. It could be because they scored goals, or because of their hairstyles, or because of the way they played. But Peter Reid epitomised everything about Everton at the time. He was dynamic, a team player, had a great attitude and he was a winner. Graeme Sharp was a goalscorer, big and strong. They were the players I latched on to at the time. I met them when I was younger and have since had a lot of meetings with them now I am older. But when I was younger, I was star-struck and went all shy. It was like someone had taken the tongue out of my mouth and I had forgotten all my words. My words went to mumble-jumble."
My Most Talented Team-Mate Was...
"Wayne Rooney first started training with us at Everton when he was 15 years old. He played like he was 21. His brain was way beyond his years. He was so intelligent as a footballer. He did things that no-one at that age should have been doing. It was very obvious to see we had a special talent on our hands. His appreciation, touch, awareness and finishing were incredible. He was a very shy lad. He was training with his idols so he was very quiet. He was very confident on the pitch but that did not transform off the pitch. He was a totally different person when he crossed the white line and someone gave him a ball."
My Best Football Friends Are...
"Lee Carsley and John Doolan. I grew up through the years with John and he went on to play for Wigan Athletic. Unfortunately he had to finish his career early due to an ankle injury. Lee was a team-mate at Everton. We seemed to click and got on really well. He had a good sense of humour. I also got on well with Paul Gascoigne at Everton. Gazza had a habit of playing tricks on the team. He used to come in to training wearing really scruffy tracksuit bottoms and t-shirts. He would then make sure he was the first one in from training and change his clothes with someone else and go out of training looking like a million dollars. He would then go out wearing the smart clothes to socialise with his friends. That was one of his party tricks. Luckily enough, my clothes were a little bit too big for him so I managed to avoid it. But there were at least six or seven players who felt the wrath of Gazza doing that trick."
How Football Saved My Life by Alan Stubbs is published by Simon & Schuster in hardback, £18.99. To buy How Football Saved My Life, click here