Simply fan-tastic
Life-long Everton fan Ric Wee was given VIP treatment after his wasted trip to Goodison Park, reports Alan Irwin.
By Alan Irwin
Last Updated: 14/02/14 9:21am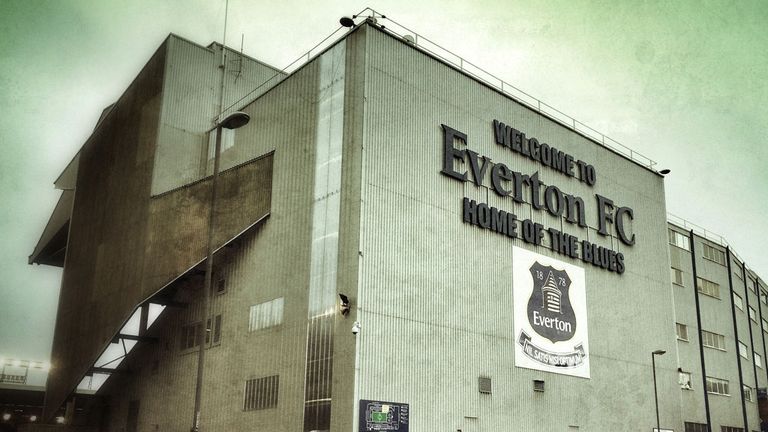 Ric Wee has supported Everton for over 30 years but has never seen his team play live....and due to Wednesday's adverse weather conditions his wait goes on.
Having travelled 7,000 miles from Malaysia the 40-year-old simply couldn't believe his bad luck.
He told Sky Sports: "When the news came through I was absolutely gutted, I thought what do I have to do to watch a match here but I must admit the wind was really dangerous."
Ric may not have seen his team perform on the pitch against Crystal Palace but he became a social media sensation in no time at all following a series of tweets that he sent while at Goodison.
"I had no idea my tweets were being retweeted until someone from Everton found me inside the ground in one of the lounges and asked me to follow them, even then I didn't know what was happening until I was introduced to one of the players."
Staff behind the scenes at Everton had picked up on Ric's tweets, his plight capturing the hearts of everyone at the club. He was ushered down the tunnel and into the players changing rooms where he was met by the likes of Leighton Baines and Everton boss Roberto Martinez.
"It was really nice, Everton are not just the people's club, it's the people behind the club that make a lot of difference," added Ric.
It didn't end on the night either, Everton's hospitality extended to the following day with former striker Graeme Sharp giving Ric a full guided tour of Goodison - "the best ever tour" commented Ric.
One day it will happen, Ric will see his beloved Everton play live, but it won't be for a while, he's heading back to Malaysia on Saturday, via a trip to Paris on Valentine's Day to meet up with his wife!
However the next time he does head to Goodison Park he'll be factoring in additional checks.
"I'll check the dates, the flights, make sure Everton are definitely at home, but I'll also be checking the weather this time. My chance will come again!"
So Ric heads home at the weekend with great memories, not the ones he was anticipating but memories of a wonderful behind the scenes tour of Everton Football Club, having met players and the management team but still to see his heroes on the pitch. It was a long journey but "well worth it", said Ric.
So next time you have to endure a long journey home from watching your team in action simply think of Ric and your 250 miles or so will pale into insignificance!