Merson's predictions: Everton and Man City can pile pain on Palace and Sunderland
Toffees' top-four bid and Man City's title hopes won't be derailed...
Last Updated: 15/04/14 6:08pm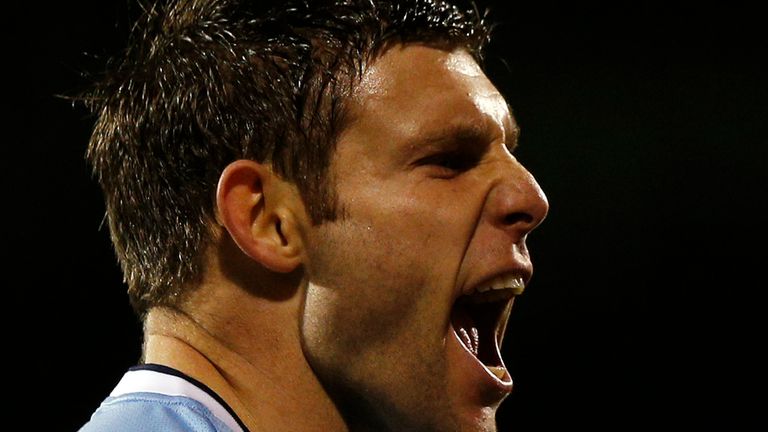 Everton are a real mixed bag. They were unbelievable against Arsenal but they were lucky the week before against Fulham and they were definitely lucky to beat Sunderland on Saturday.
At the moment it's one of those situations where you look at it and think 'there is a bad result in there sooner or later'. I don't think Everton are playing well enough to go and win all of their games from now until the end of the season.
People are going to remember the Arsenal game and think Everton should cruise this one but the truth is Arsenal were shocking and it wouldn't shock me if Palace went and got a result.
They play the same way at home and away, which is unbelievable. They play so deep and get 10 behind the ball; I know it comes down to the players to keep the club up but I think a lot of it is all about the fans, who have been absolutely unbelievable for the whole season.
They've stuck by their team when they could have easily got restless and urged their team to get forward. But if they did get six people in the box they'd get picked off for fun and start losing heavily at home.
Palace will go to Everton and play exactly the same way as they've played since Tony Pulis has been there; they'll be hard to beat without question. I reckon this game could well be decided by the odd goal. Palace are probably one good result away from safety and the quicker they get it, the better for them.
After Palace, Everton have got to play Man Utd, Southampton and Man City - all of which are hard games - and then Hull. Everton's best chance of breaking Palace down is to get the ball out wide, get the full-backs going and move the ball quickly.
If they don't start well, the pressure is on and all of a sudden it becomes a grind. Palace won't have a problem sitting in because they've been outstanding defensively.
PAUL PREDICTS: 1-0
Man City v Sunderland
It's important that Man City play this game now - and win it - because they need to get the gap between themselves and Liverpool down quickly. If they do win then the difference comes down from seven to four and they'll still have a game in hand.
I know the title is out of their hands but the table will look a whole lot better for them and the battle for this league title is nowhere near finished yet, nowhere near it. You don't want your games in hand piled up at the end of the season; you want to get the points on the board and put pressure on the other teams.
Fair play to City for coming back into it against Liverpool because they were blown away in the first half. They were terrible. But they had Liverpool on the rack in the second half and if you'd have asked me at 2-2 who was going to win the match I would have had to go for City.
Vincent Kompany has got a lot of stick for Liverpool's winner but it's unusual for him to make mistakes. There would have been mayhem if Martin Demichelis had done what he did! Mayhem. Demichelis would have got slaughtered from pillar to post. I thought Demichelis played well on Sunday; he had Luis Suarez in his pocket in the second half.
But for me the manager got it all wrong from the start. James Milner came on and completely changed the game in the second half. I don't know why he doesn't play a bigger part in more of these games because he knows what it's all about and he gives you energy.
The loss of Yaya Toure was massive and I would have brought on Milner rather than Javi Garcia. Before he moved to City he wasn't playing for Aston Villa on the wing - he was in the centre. I think he can still do a real good job there, a real good job.
Sunderland have to go and try to win this game - a draw is no good to them. They are behind the eight-ball and have to win one of their next two games against Man City and Chelsea or they are relegated. That's a big ask when you consider how many teams have gone to City and done that.
They can't afford to do what I expect Palace to do at Everton - sit there and frustrate them. Sunderland have to open the game and try to win it. A draw isn't enough. But playing open, attacking football just plays into City's hands.
I don't see Man City not winning this game and it could be by plenty. I don't want to be disrespectful to Sunderland, who were unlucky and shouldn't have lost against Everton, but they haven't got enough to hurt teams. That's the problem.
They aren't going to score three or four goals in a football match. The pressure is off City to some extent now that the title is out of their hands. They can go out and play and that could be bad news for Sunderland.
PAUL PREDICTS: 4-0