A Sunday stroll?
Ed Chamberlin is ready for his 'home debut' at St Mary's, but will Man United smash the Saints?
Last Updated: 31/08/12 3:37pm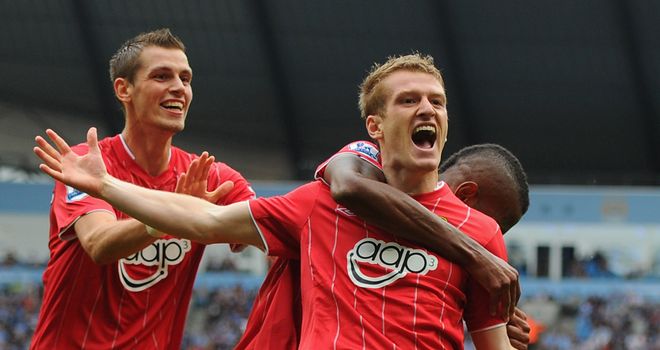 I'm really looking forward to making my 'debut' at St Mary's on Sunday. I have never presented a game at my local stadium before and it's not a bad one to kick off with: Southampton v Manchester United.
It's a massive occasion for the home side who have returned to the top flight with a brave performance at Manchester City followed by a worrying one against Wigan at home. Most worrying for the home fans, though, is that no promoted club in Premier League history has lost their opening three games and survived.
It will be a landmark day for Sir Alex Ferguson who takes charge of his 1000th League game as Manchester United manager. Southampton's Nigel Adkins will be the 158th different manager he has faced in English League games. Incredible.
The last Premier League meeting between these clubs was Manchester United's final day 2-1 win at St Mary's in May 2005 - the result confirmed Southampton's relegation and subsequent seven-year absence from the top division.
What a contrast in fortunes since then. Man Utd have spent around £287m on new players, won nine trophies, and played in three Champions League Finals.
Southampton, meanwhile, have been relegated to the third tier, gone in to administration, and employed seven managers. Southampton's entire current squad was assembled for around £27.4m - around £3m more than United paid for Robin Van Persie.
On paper it's a mismatch - Sky Bet have chalked Saints up at 5/1, with United a1/2 chance - but anything can happen on the pitch in the Barclays Premier League and it's sure to be a great occasion.
One thing that's guaranteed is plenty of banter in the studio during the game. I'm sure there will be references to grey shirts and one of our studio guests' famous chip over Peter Schmeichel.
Manchester United's win against Fulham last weekend saw them shorten up to 2/1 to win the title. City have looked rusty and are yet to hit their stride, which has led the Sky Bet odds compilers to ease their title odds a fraction 6/5 to 13/10. The big movers are Chelsea who are in to 10/3 after three wins out of three.
I said they would be contenders at the start of the season and have been massively impressed with Eden Hazard's start. They were always going to be solid at the back and they now have bags of flair in midfield and a resurgent Fernando Torres up front.
Sky Bet's Premier League Title odds: 13/10 Man City, 2/1 Man Utd, 10/3 Chelsea, 20/1 Arsenal, 40/1 Liverpool, 50/1 Tottenham, 125/1 Everton, 200/1 Newcastle, 1,000/1 bar
Drifted
Liverpool and Arsenal have both drifted in the market but their fans shouldn't panic just yet as there have been encouraging signs in both their performances.
The two sides meet in our first game on Super Sunday - our coverage starts at 1pm on Sky Sports 1 HD - in an intriguing contest and a key one for both managers. A victory would kick start the season for Brendan Rogers or Arsene Wenger. Defeat would be a major setback.
Arsenal (13/5) have a decent record in this contest. They have lost just one of the last nine meetings with Liverpool (evens) in all competitions. They are unbeaten in their last five Premier League visits to Anfield, winning two of the last three, and Liverpool beat Arsenal at home in March 2007 when Peter Crouch scored a hat-trick.
However, six of the last 10 Premier League meetings have been drawn and I can see stalemate proving popular at 23/10 with Sky Bet.
Other things to note this weekend: Manchester City meet QPR again in a repeat of last season's finale. City won both games last season 3-2, which is a 22/1 chance this time around. Sunderland's last win at Swansea was an old Division Two game at the Vetch Field in November 1963 when Gerry & The Pacemakers were number one with 'You'll Never Walk Alone'.
Everton have started the season brilliantly and play West Brom, who they beat three times last season without conceding in the two Premier League games. Everton could be a decent bet at 11/8.
Highlight
A personal highlight from last weekend was winning manager of the week in the Sky Sports League on the Fantasy Football club. I look forward to taking delivery of a Fantasy FC scarf on Sunday and winding up Messrs Redknapp and Neville.
We are set for 24 of the most important hours of the season with all the thrills and drama of Transfer Deadline Day. I used to love presenting on Sky Sports News and will never forget the excitement of breaking news on Dimitar Berbatov signing for Man Utd, Robinho for City and one I remember coming out of the blue, Rafael Van Der Vaart to Tottenham. I'm sure like me you'll be glued to Jim White and the team until 11pm on Friday.
The Sky Bet odds compilers will be busy too as they somehow price up all the big potential moves. It must be manic in their office. Markets that catch my eye are Andy Carroll at 5/4 to join Newcastle and 5/4 for AC Milan. Michael Owen is 1/4 to join Stoke, Theo Walcott 2/1 to sign for Liverpool and Edin Dzeko is 6/1 to swap the Etihad for the Emirates.
Vuelta a Espana
Our bet on Joaquim Rodriguez at 10/1 each-way in the Tour of Spain is looking good. It's been a thrilling race so far, with just 56 seconds separating the top four, but such a shame it's coincided with the Lance Armstrong scandal.
Sadly none of the revelations about the seven-time Tour de France winner have surprised me one bit. Apparently there's also a lot more to come, starting with the imminent release of Tyler Hamilton's book which is sure to contain plenty of bombshells from their time as teammates.
As a big fan of the sport, I'm pleased that the truth has come out but what saddens me is remembering how a few years ago I lay in hospital reading Armstrong's "It's Not About the Bike" using it as an inspiration in my fight against cancer.
Watching the Vuelta makes you quickly realise how different and cleaner bike racing is these days. Rather than the jet (EPO) propelled climbing we saw for years, now it's an almighty battle in the mountain stages, which may lack the fireworks of the drug fuelled era but is far less predictable.
The four contenders for the red jersey - Contador, Froome, Rodriguez and Valverde - have all cracked at various stages and it's made for exciting racing. Rodriguez fared so much better than I expected in Wednesday's time trial when he lost just a minute to Alberto Contador and less to Chris Froome, whose legs look like they're feeling the effects of the Tour and Olympics.
The race still has 10 days to go, numerous high mountains to cover' and anything could happen but Rodriguez is back on his favoured terrain and looks in excellent shape.
Cricket
It has been another week dominated by affairs off the field with the retirement of Andrew Strauss and another week when South Africa have had 'the sign' over England. They have been the more professional, disciplined and skillful side in all forms of the game this summer and, in Hashim Amla, they have a batsman that England have had no answer to.
I was at the Ageas Bowl on Tuesday to enjoy another Amla masterclass and he is rightly receiving plaudits galore but the unsung hero is Gary Kirsten. After his exploits with India and now South Africa, Kirsten is firmly establishing himself as the world's number one coach and one of the greatest of all time.
The South African machine is steamrolling England at the moment and it's hard to oppose them on Friday at the Oval at 8/11 (England 11/10) and Sunday at Lord's.
Ryder Cup
I was not surprise to see Jose Maria Olazabal plump for Ian Poulter and Nicolas Colsaerts as his wild cards this week for next month's Ryder Cup. The excitement will now start to build ahead of the big event at Medinah, which will be live on Sky Sports.
My fear is that the US Team looks very strong, they will be hungry to win the trophy back, and the crowd in Chicago will give the home side a massive advantage. I expect to see plenty of money for the USA at 4/5 (Europe 11/10, Tie 10/1).
Check out more Sky Bet odds here.