Ed Chamberlin previews new season of Super Sunday
Super Sunday returns this weekend! Presenter Ed Chamberlin explains what makes it so special.
Last Updated: 14/08/13 2:24pm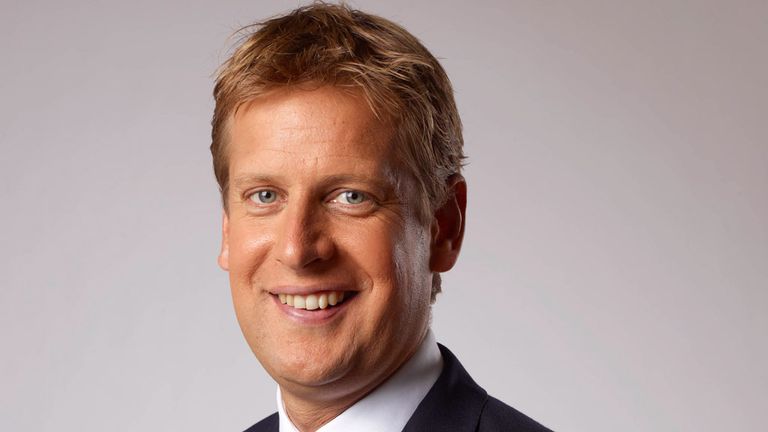 Our first Super Sunday of the campaign - at the new start time of 12.30pm - sees newly-promoted Crystal Palace host Tottenham before Jose Mourinho's Chelsea face Hull City.
Ahead of the big kick-off, we caught up with presenter Ed Chamberlin to see what goes into bringing you our big double-headers each week.
You've hosted Super Sunday for a couple of years now. Do you remember when you were told you were getting the job?
ED CHAMBERLIN: I remember my first game. It wasn't a Sunday actually. I did Fulham against Newcastle at Craven Cottage and I had never presented live football on Sky before and I was thrown in with no idea what I was in for. It was pretty scary if truth be told. I think I told my wife that I had a go, but I wasn't sure it would happen again! I will always remember being told the following season that I was going to be doing Super Sunday and Monday Night Football, and I was speechless about the whole thing. Both those shows are iconic. Super Sunday is a really iconic show and to know I was going to be host for that was amazing. I felt incredibly lucky.
How much work and preparation do you put in personally to presenting Super Sunday during the week?
ED: A lot. I have friends who think I just turn up at the studio at 11.30am, say hi to the guys, stick a suit on and go on and talk about football. It doesn't quite work like that and in truth, it is always on my mind. In my job, the most important thing is to read everything - websites, papers - and also to listen to phone-ins. For example, this week I am interested in anything to do with Crystal Palace, Spurs, Chelsea or Hull. When I heard that Hull City were changing their name, I made a note on my iPad because there are some little fun things you can do with that and lines during the show.
So when does your working week start?
ED: After Monday Night Football, I have a sort of show hangover on the Tuesday. I am a bit of a zombie on the school run. Then by Tuesday evening I'm getting back to normal again. On Wednesday you are properly on it, thinking about what you are going to do and then on Friday I come in to Sky early in the morning and meet with my producer and we go through the plan for the show. I start working on scripts and all sorts of things and then from Friday through to Sunday you just stay on top of everything.
And how much work goes into it from the Sky Sports production team?
ED: It is huge, you have no idea. It is massive. I am very lucky to work with a great team of people, both on Super Sunday and Monday Night Football. Scott Melvin is my producer and Duncan East is my director on both shows and they are both absolutely at the top of their game; I am very lucky to be working with a really good team of people. You have no idea what is going on behind the scenes. There is a great team of guys cutting the VT and coming up with ideas and all the music pieces are so clever. It is a real team thing. I am at the sharp end of it in front of the camera but behind the scenes there is a great team, which is really important.
What about the pundits - do you have any favourites that you enjoy working with?
ED: Everyone is different really and you enjoy them all for different reasons. We have a great list of pundits and they all offer you something different, which for me is great. Graeme Souness is great on the big picture because he has won everything. You've got others who have won it all like Gary Neville, and you can ask 'what's it like to be like that?' Jamie Redknapp is great to work with because he is brilliant at watching a football match and picking things out. One of the best things about my job is watching the game with these guys who have played it. They watch it totally differently to the way you and I watch a football match. When the ball is up the other end of the field, they will say what is the right-back doing? And you pick up on things like that and I just listen and listen, and note the odd thing down. I have learned a lot from just listening to these guys.
Super Sunday will go on air 30 minutes earlier this season. What are you going to do with that extra time?
ED: I can't tell you too much but there is loads of stuff we can do. It is much easier having an hour's build up than half-an-hour when you have to pack everything in. With an hour you can let things breathe, do more features, get out and about, get into all sorts of places in the ground and you want to be topical and reflect what is happening on the day. I am really excited about that.
Have you got a favourite ground to go to work at?
ED: The great thing about Super Sunday is that we will be presenting from the venue, from the ground and you do have favourite studios. I love the old-fashioned grounds where there is a great atmosphere. It is a shame QPR went down because that was my favourite studio. It was a glass box suspended from the roof; it was wonderful! I like them all for different reasons, though. Some are temporary where the wind blows quite a bit - it is always windy at Stoke - but they are building some new studios now under the new contract, so we will see some new studios this season.
What's the best game you've covered?
ED: There have been so many amazing games. I will never forget Sir Alex Ferguson's last game at Old Trafford, presenting from the pitch with Peter Schmeichel, Gary Neville and Dwight Yorke, and the guests coming over - Robin van Persie, Ryan Giggs, Phil Jones, Steve Bruce, Bryan Robson and all these guys; that was unbelievable. I will never forget the noise, I could not hear my director or producer or anything even though I had my headphones on. It was incredible and one of my favourites. Then of course there's the Sergio Aguero goal on the final day of 2011/12 with the iconic Martin Tyler commentary. I was sat with all my notes ready to go and expecting the presentation to be at Sunderland, and then I just rolled up the piece of paper and threw it away because it was going to Man City. That was just unbelievable. Neither of those I think will ever be repeated.
And a favourite goal?
ED: That goal. Martin Tyler is just a genius. How does he do it? That still makes the hair on the back of my neck stand up. The Wayne Rooney over-head kick a couple of years ago in the Manchester derby was a good one too. We've had plenty of dramatic goals. There's too many to mention. Super Sunday have had some unbelievable games and there's hopefully more to come!