Tension high on Deadline Day and as Sky Sports News' racehorse makes bow
Ed Chamberlin blogs on Deadline Day, the North London derby and Sky Sports News' racehorse.
Last Updated: 06/09/13 10:37am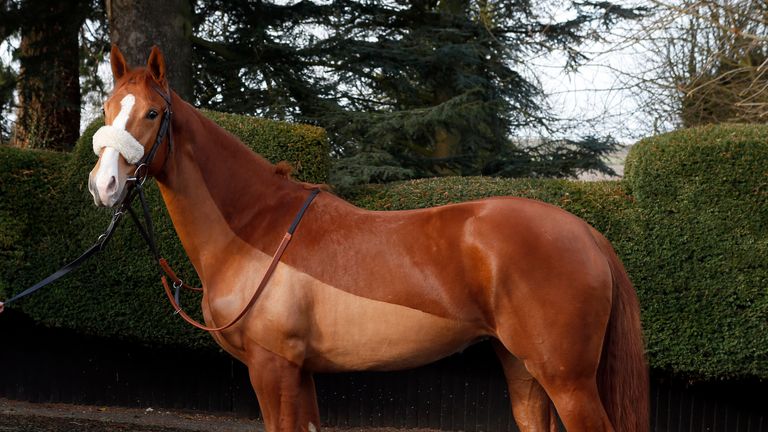 It never ceases to amaze me that so much business gets done on Deadline Day. It makes for great television but also makes little sense when clubs have had all summer to get deals done for their targets.
The signing of Marouane Fellaini summed up the madness. His release clause could have been activated before the end of July yet Manchester United ended up signing him with only minutes left in the Transfer Window and for £4m pounds more.
Brinkmanship
It was a rollercoaster ride for punters. Early on Monday afternoon Fellaini was a 1/4 chance with Sky Bet to join United, and it looked certain to happen yet when Jim White threw to Big Ben's chimes at 11pm you could back the Belgian at even money to move. However, at 11.10pm Sky Bet reported a sudden flood of money on the move and the rest is history.
Despite losing Fellaini, Everton had an excellent Deadline Day. The arrivals of Gareth Barry, Romelu Lukaku and James McCarthy are decent additions and it's no surprise to see Everton shorten to 4/1 from 5/1 to finish in the top six and 7/4 from 2/1 in the Winner without Top 6 market. Everton fans had to stay up late to get the good news.
The only way of explaining why clubs leave it until the last minute is 'brinkmanship'. Despite Everton's success, the lesson from this window seems clear: the best business is done early.
Another lesson learnt is that the days of the Premier League top clubs doing business with each other are over. The summer's Luis Suarez and Wayne Rooney sagas are proof of that and even Arsenal's last-ditch attempt to take Demba Ba on loan from Chelsea shows the top clubs' fear of strengthening a rival and weakening themselves at the same time. This can be put down to the 'Robin van Persie effect'. It will be a long time until we see a deal like that again.
Arsenal still ended up pulling off the signing of the summer, shattering their transfer record to bring in Mesut Özil from Real Madrid. This signing is great news for the Premier League as Özil is the kind of genuine world-class talent that our league needs - he laid on 47 assists in La Liga at Real Madrid. No-one had more in that time and he was level with Lionel Messi - and it will also be better off with a strong Arsenal side capable of challenging the Manchester clubs and Chelsea for the title. After a frustrating summer finally a statement of intent, ambition and desire from Arsene Wenger and Arsenal.
Creativity
It was a dramatic 48hrs on and off the field for the club. On Super Sunday they pulled off a crucial win in the North London derby. However, it was a very un-Arsenal like performance as Tottenham had 57 per cent of possession, which not many sides have at the Emirates, and Arsenal were left hanging on for dear life at the end in a chaotic finale.
Two positives were first the return of Mathieu Flamini, who impressed Jamie Carragher with the kind of leadership and aggression that Arsenal have lacked in recent seasons, and Santi Cazorla who looked dangerous throughout. Cazorla linking up with Özil is a mouth-watering prospect. The pair (Özil 92 and Cazorla 96) created a combined 188 goal-scoring chances in league football last season.
Spurs had plenty of the ball but lacked the creativity to unlock the Arsenal back four. It's early days though for Andre Villas-Boas and his new-look side and, as Graeme Souness said on the show, there is plenty to look forward to at White Hart Lane.
Bow
On Thursday I'm very much looking forward to going racing at Salisbury to stand in as the owner of Sky Sports News' racehorse On Demand, who makes her debut in the 2.40. Alex Hammond will also be there and I imagine she'll be pretty nervous having originally picked out the horse at Andrew Balding's yard. No pressure Alex!
However, she will be pleased to hear that I have a 100 per cent record as an owner at Salisbury. I won with a horse called Afterjacko - just the 13 years ago.
Let's hope On Demand makes an encouraging bow and gives Sky Sports News and its viewers plenty of fun in the coming months.
Tune in to Sky Sports News for all the latest news about On Demand's performance.