Scout - Cheikhou Kouyate
Sky Sports Scout is where we scour the globe looking for the best talent. Next up is Cheikhou Kouyate.
By Sky Sports Scout
Last Updated: 21/05/14 12:07pm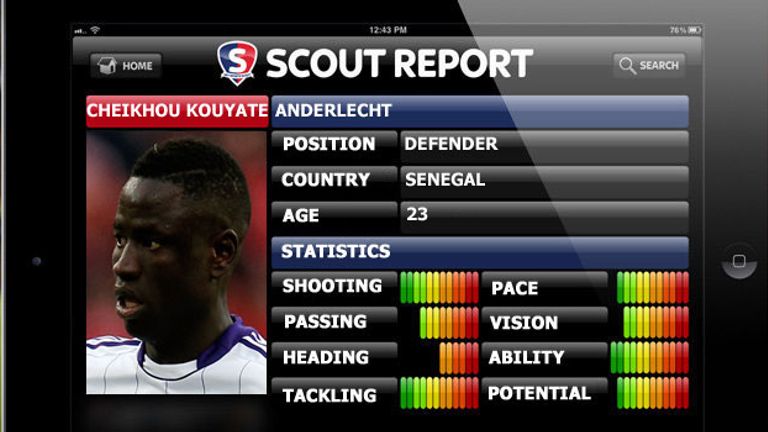 Our scout will report back and you can comment on what you think of their appraisal.
You can only nominate a player by emailing here, including the word 'Scout' in your subject line, and please check to make sure we have not already covered the player.
You can also now interact with the scout via his Twitter feed! You can get in touch with him and interact here or just search for @skysportsscout.
The latest player to be spotlighted is Anderlecht's Cheikhou Kouyate.
The scout reports...
Anderlecht's Cheikhou Kouyate is still only 23 but he has been a first-team regular for a number of years, and is he Premier League bound?
Kouyate has never hidden his desire to play in England and he is not short of suitors as Manchester City, Arsenal, Everton, Newcastle, West Ham, Norwich and Southampton are just some of the clubs to have watched him over the past 18 months.
Kouyate is a commanding 6ft 4in, but his physique is somewhat slender - reminiscent of Patrick Vieira - and some believe he is comparable to the former Arsenal star.
Kouyate operates at centre-half for Anderlecht, but he has been known to play in midfield for both club and his country, Senegal, and it does appear that he could have a future in midfield.
Good on the ball, Kouyate reads the game well and is able to stride forward at will, lending himself to a role further up the field.
Kouyate has long been seen as a star in the making, since being picked up by RWDM Brussels aged just 16 after they spotted him playing in his native Senegal for Yego Dakar.
However, due to financial issues, Brussels stopped paying Kouyate for a number of months and in 2008, at 19, he left them on a free transfer and was snapped up by Anderlecht on a four-year deal. They loaned him to K.V. Kortrijk for the rest of the season.
His spell with Kortrijk was enough to persuade Anderlecht he was ready, and since returning to the Constant Vanden Stock he has never been out of the first-team.
With Belgium showing an interest in him, he decided to stick with Senegal - making his debut in early 2012 - and he would go on to feature for them in the Olympics.
The scout says...
It is something of a shock that Kouyate is still in Belgium, having attracted so much interest from around Europe, but especially England.
He looks well suited to the Premier League, but something is clearly putting the scouts off - possibly the reason is that he does look like a midfielder in the making and they may be unsure about him in defence, but that would be harsh. He will be moving to a big league very soon.
The Scout rating...
Shooting: 6 out of 10
Passing: 8 out of 10
Tackling: 7 out of 10
Heading: 8 out of 10
Pace: 7 out of 10
Vision: 7 out of 10
Current ability: 7 out of 10
Potential ability: 10 out of 10
OVERALL SCOUT RATING:60/80
Current value: £4million
Potential value: £20million
Your opinion...
You have read our opinion of Cheikhou Kouyate - now we want your views. Have you seen Kouyate in action? Do you agree with our assessment? Do you think he will make it?
Get in touch, either using the form below, email or the scout's Twitter feed - @skysportsscout.
Would Cheikhou Kouyate make your team? Pick your Sky Sports Fantasy Football team for the chance to win over £100k in prizes. Play for free here.