Sky Sports Scout - Alberto Moreno
Sky Sports Scout is where we scour the globe looking for the best talent. Next up is Alberto Moreno.
By Sky Sports Scout - Tweet me: @skysportscout
Last Updated: 21/05/14 12:09pm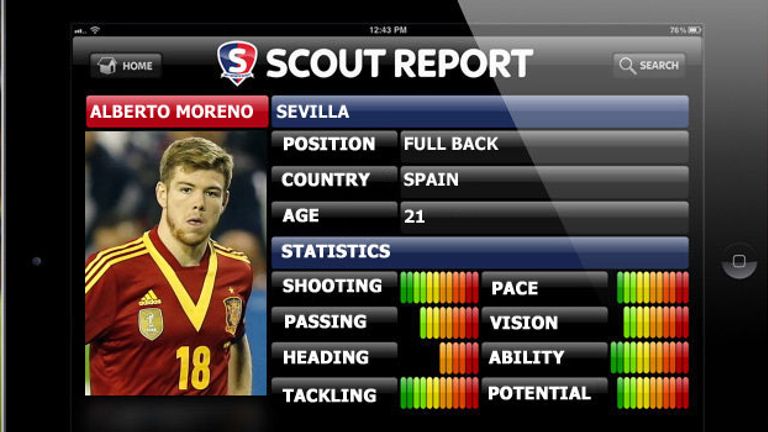 Our scout will report back and you can comment on what you think of their appraisal.
You can only nominate a player by emailing here, including the word 'Scout' in your subject line, and please check to make sure we have not already covered the player.
You can also now interact with the scout via his Twitter feed! You can get in touch with him and interact here or just search for @skysportsscout.
The latest player to be spotlighted is Sevilla full-back Alberto Moreno.
The scout reports...
Alberto Moreno has recently made the breakthrough into the full Spanish squad and we check on one of the latest starlets to emerge from La Liga.
Born in Seville, Moreno is a life-long fan of his hometown club and was signed up by their youth set-up aged 13.
It did not take long for him to progress and in 2011 he was promoted from the youth to Sevilla's B side, where he continued to impress.
In 2012 he was handed his first-team debut when he came off the bench in a match with Athletic Bilbao but he had to wait another 12-months before making his first start - but from that moment on he has not looked back.
He signed his first professional deal in February after making his full debut, and he was then called into Spain's Under-21 squad.
Suddenly Moreno was in the limelight and after a great finish to the season, he started this campaign as first-choice left-back ahead of Spanish international Fernando Navarro.
Then in October, just six-months after becoming a regular for Sevilla, he was called into Spain's senior squad, and he made his debut in the World Cup qualifying win against Georgia.
Now many are tipping Moreno to make the squad for the World Cup finals - providing the back-up for Jordi Alba ahead of Arsenal's Nacho Monreal.
And after looking closely at Moreno, there really is nothing to suggest that he could not make it.
Although Moreno seemingly come from nowhere, the fact Sevilla have taken their time with him has paid dividends, as they did not rush him and then when he made his first-team bow earlier this year - he was clearly more than ready, as he performances have shown.
Diminutive at 5ft 7in, Moreno is full of power and pace - but unlike many modern full-backs, he is a top quality defender.
Yes Moreno loves to get forward, but the accuracy of his crossing and passing is a stand-out feature.
The fact he maybe offers more in defence than somebody like Monreal clearly has pushed him to the forefront of Vicente Del Bosque's thoughts.
Sevilla have also moved quickly to hand him another new deal - this time a five-year contract befitting of his stature as an international and they hope that will be enough to fend off interest.
Both Chelsea and Manchester United are said to be closely monitoring his situation and Sevilla could do well to hang on to him.
The scout says...
Barring any stupid bids in January, Moreno should finish the season with Sevilla - which would clearly be the best thing for him.
His main focus is to make the plane for Brazil and if his progress continues then a big move is a matter of when and not if.
The Scout rating...
Shooting: 6 out of 10
Passing: 8 out of 10
Tackling: 7 out of 10
Heading: 7 out of 10
Pace: 8 out of 10
Vision: 7 out of 10
Current ability: 7 out of 10
Potential ability: 10 out of 10
OVERALL SCOUT RATING:60/80
Current value: £12million
Potential value: £30million
Your opinion...
You have read our opinion of Alberto Moreno - now we want your views. Have you seen Moreno in action? Do you agree with our assessment? Do you think he will make it?
Get in touch, either using the form below, email or the scout's Twitter feed - @skysportsscout.
Would Moreno make your team? Pick your Sky Sports Fantasy Football team for the chance to win over £100k in prizes. Play for free here.